Description
Conway Stewart Walnut Capulet Fountain Pen
The Montague and Capulet series from Conway Stewart celebrates the principal characters of Shakespeare's eternal classic Romeo and Juliet, bringing a graceful and elegant slim design to life in the hand.
Based on the original Babbage model, these pens feature a construction of hand cast acrylic resin for the cap, barrel and gripping section. The Capulet is available in three refined marble colours: Bracken, Walnut, and Pistachio, while the Montague is crafted in gleaming Classic Black finished with graceful guilloche style engraving.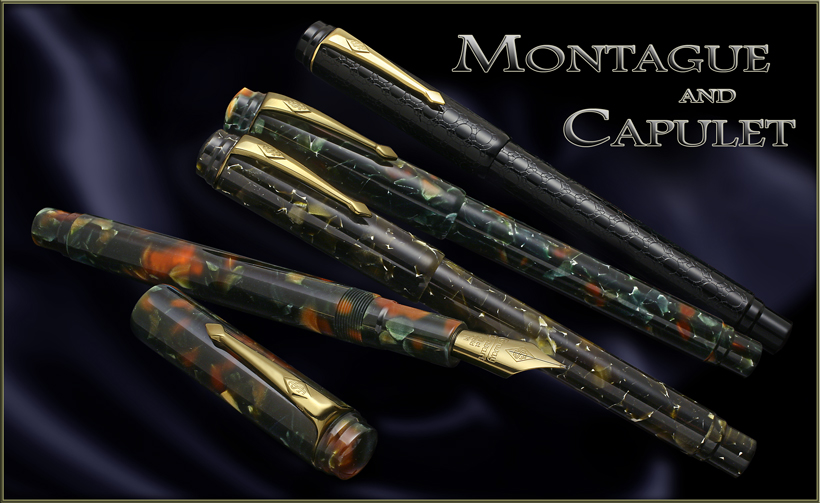 These pens have taken the Conway Stewart collection to a new level of everyday practicality, with their slim lines and perfectly balanced light weight, they fit superbly into today's busy lifestyles. Practical to use for day planners or briefcases — the Montague and Capulet are a perfect accessory for every executive and aficionado of fine writing instruments.
While remaining comfortable in the hand, this new series is designed to take on a role as both functional and elegant. The fountain pen version is fitted with our large 18 carat solid gold nib in a choice of eight nib grades ranging from Extra Fine to Extra Broad, Italic Fine, Italic Medium, Italic Broad, and utilises the reliable, easy to use cartridge converter system. The Montague and Capulet are also available as roller balls for those who prefer the ease of use without forsaking the graceful flow of liquid ink on paper.
The packaging for the new Conway Stewart Walnut Capulet series has been designed to house your writing instrument and to serve as a showcase pen stand for the desk. The display box is crafted of luxurious full grain leather in a rich black color. Not only is this an elegant and stylish presentation to house and protect your gift, the top of the lid can be reversed to make an executive desk stand for display.
As with all our Conway Stewart pens, every writing instrument is crafted in our workshops located in Plymouth, the Heart of Devon, England.