British Bespoke Pens/Conway Stewart Winston Green Fountain Pen
Up for sale is a British Bespoke pens Winston in green. British Bespoke pens is the company that bought all the parts from Conway Stewart after they went out of business. So although, not a company anymore, this pen is made of of the already made parts from the now bankrupt Conway Stewart. This pen is like new with a Medium nib.  It comes complete with box and papers.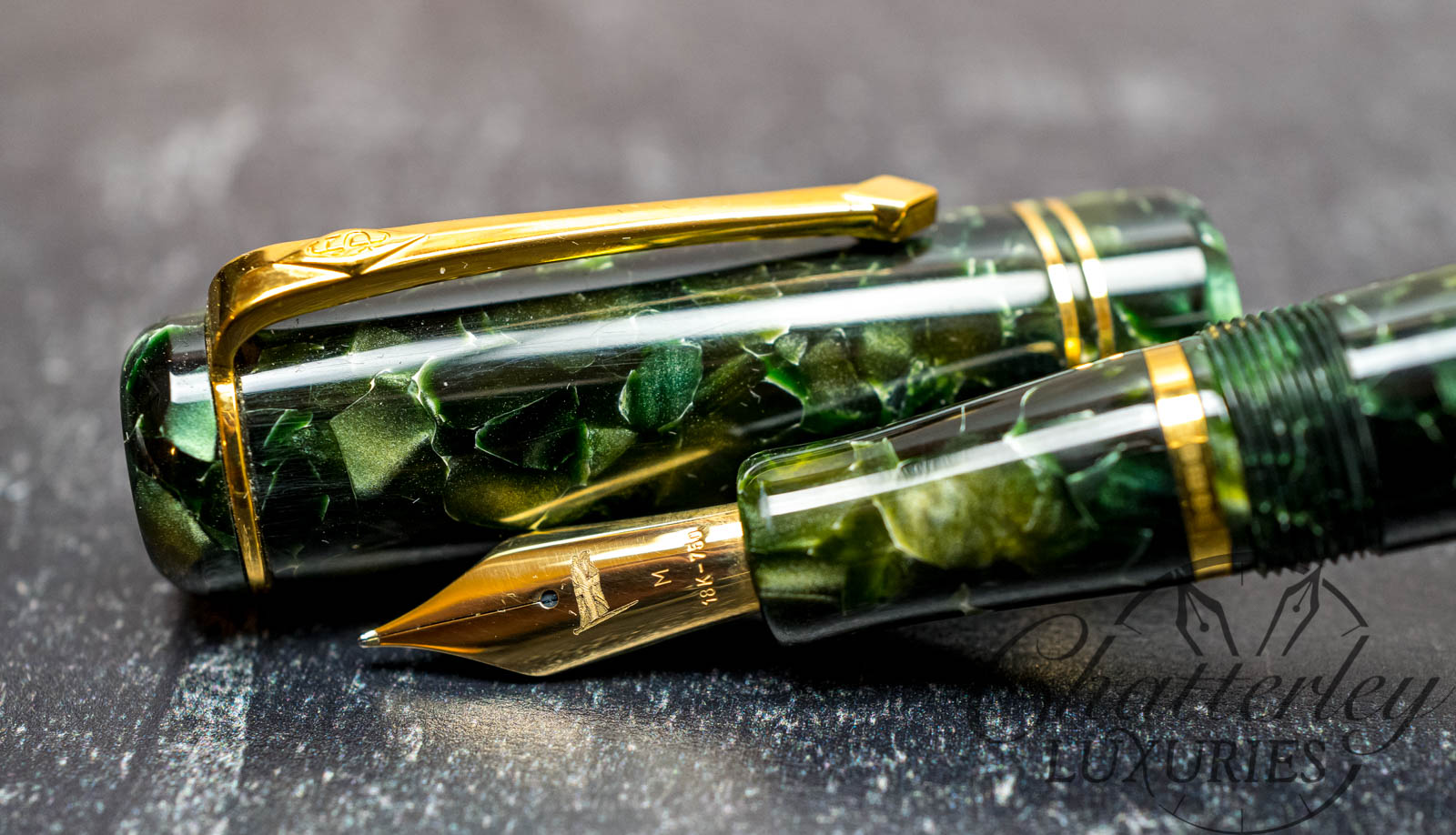 Here is the original information from Conway Stewart about the pen this British Bespoke is modeled after.
To compliment the classic favorite Conway Stewart flagship model Churchill, the Winston brings a fresh, modern style to the timeless oversize flat top look. The barrel is set off with a thin ring at the bottom, and a band at the section, while the cap features a pair of thin rings. With a slight taper to the barrel end and a gently rounded cap top, the Winston brings the flat top design into the twenty first century, while still holding true to the classic styling cues that made the original Conway Stewart pens of the 1920s famous.
The Winston is the ideal choice for those who want a large pen, one that stands out in a crowd, but which still stays true to the classic style and feel of a classic vintage Conway Stewart design. The top mounted clip allows the pen to sit low in the pocket, making the Winston a more practical choice for everyday use, and added to the Conway Stewart Classic Brown Winston is a carefully balanced solid brass liner to the barrel to give this model a comfortable heft without making it too heavy for comfortable use.
The Conway Stewart 'Winston' is inspired by the great man and the result is a substantial pen robustly built with subtly accents of solid 18Kt gold or solid sterling silver.
The Winston named in honor of Sir Winston Churchill, a well known and respected Prime Minister of the 20th Century. Sir Winston Churchill was a man who was larger than life and had opinions to match. If you are looking to make your mark in this world, the Winston is the pen for you.