Chatterley Montegrappa Arcobaleno "Rainbow" Extra Otto Artist Proof Fountain Pens
Please note: Chatterley Loyalty pricing is available on these, but in order to ensure you get the pen you want since there is only ONE of each pen, the process is a little different. If you would like to purchase one of these limited editions, add it to your cart and check out with the pen as normal so you don't miss out on your pick. You will then be emailed a coupon code for the loyalty discount of $100. This $100 off coupon code can be used for a future purchase on anything you want in the store. Wondering if you get loyalty pricing? Click here… 
We are proud to announce the latest Chatterley Collaboration with our friends at Kenro and Montegrappa. This edition is a little different than editions we have done in the past.
In order to decide which colors/materials we wanted to do for a larger future project, we ordered 28 Extras in 28 different Resins and Ebonite's.  Montegrappa was happy to accommodate us as we will be using these to select the next Chatterley Limited Edition.
Each pen is made to the highest standard of Montegrappa's excellence.
In this collection the pens are made from 2 different materials. Resins from Turnt Resin Company and Classic Quality Ebonite from Germany.  These pens were named after the names given to the materials by both companies.  Both the resin and the ebonite flow through the entirity of the pen from blind cap to section to cap.
They have 18k Gold #8 nibs with Ebonite Feeds and fill via Montegrappa's in house Piston Filler.
Each pen has the Engraving AP on the cap band.
They come in a small Montegrappa gift box with full warranty.
The Ebonite version has a MSRP of $1625 and the Resin version has a MSRP of $1550.
And now… The pens…
Alaskan Sunrise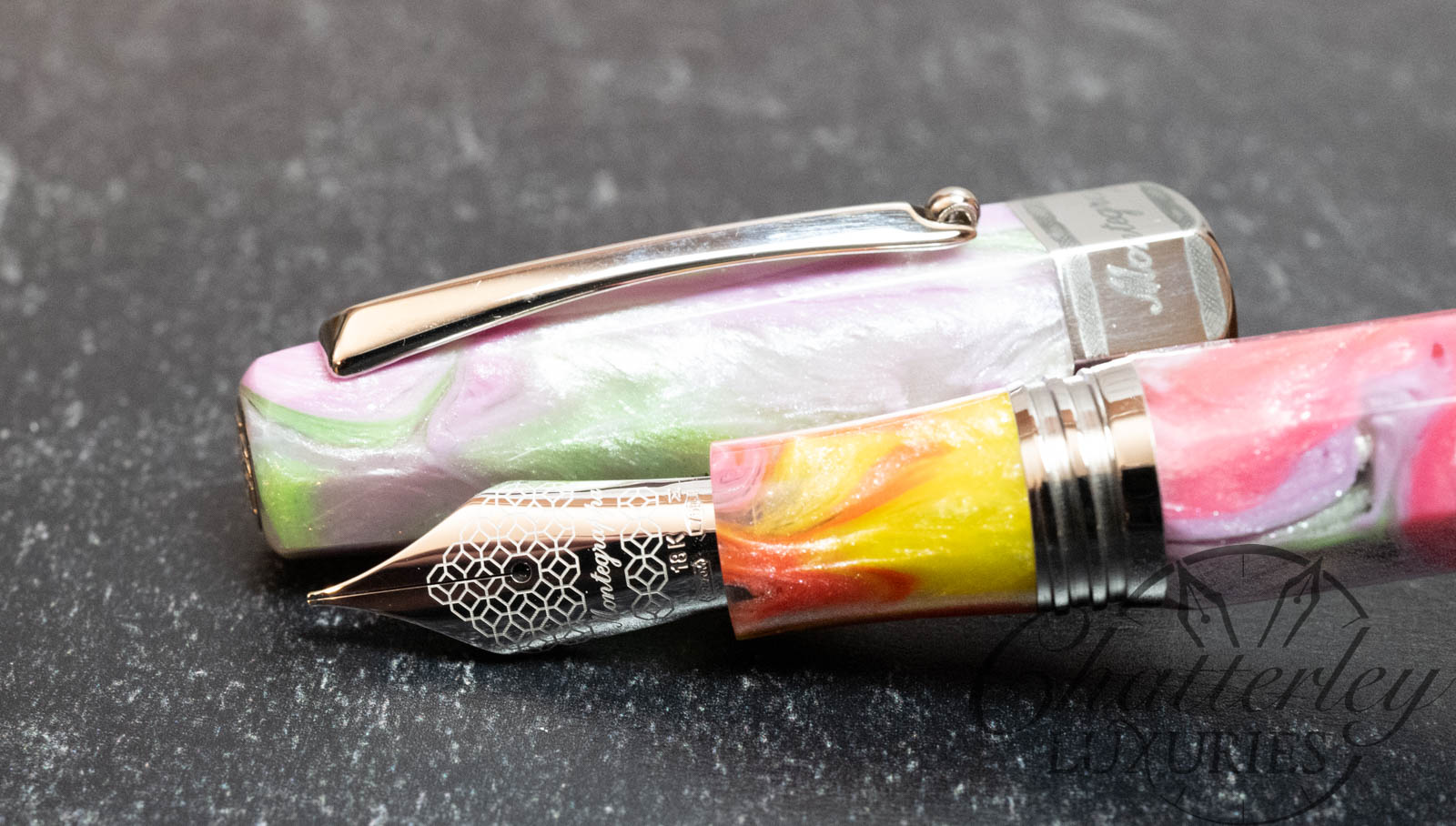 Ansel Adams (Sold Out)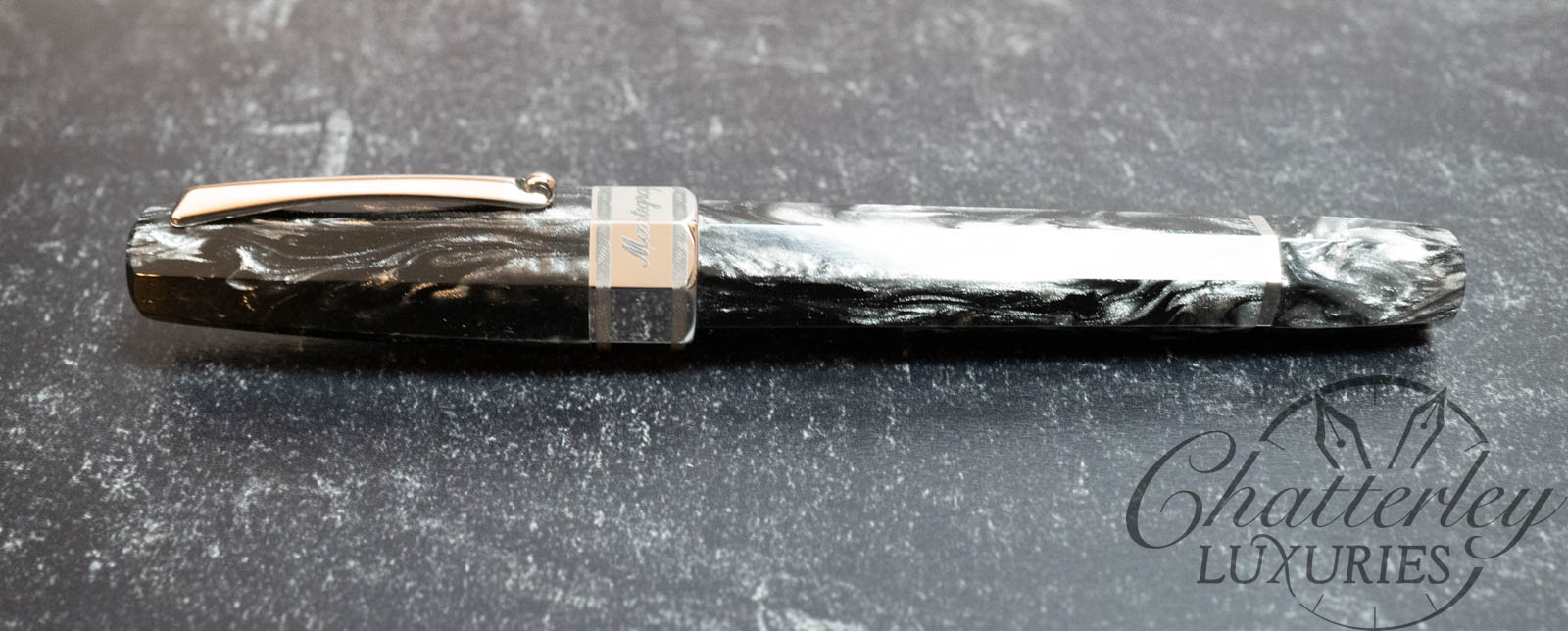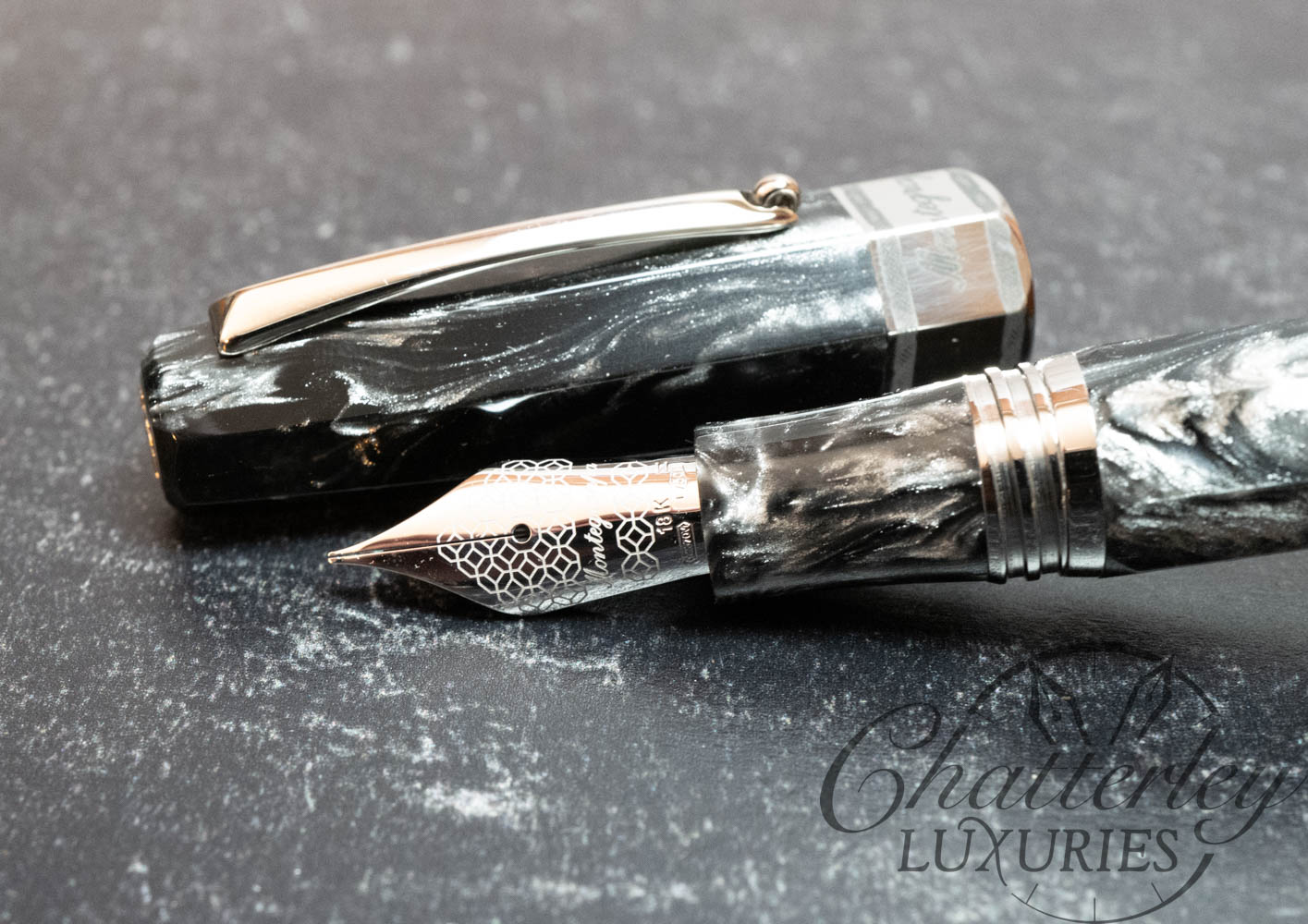 Aphrodite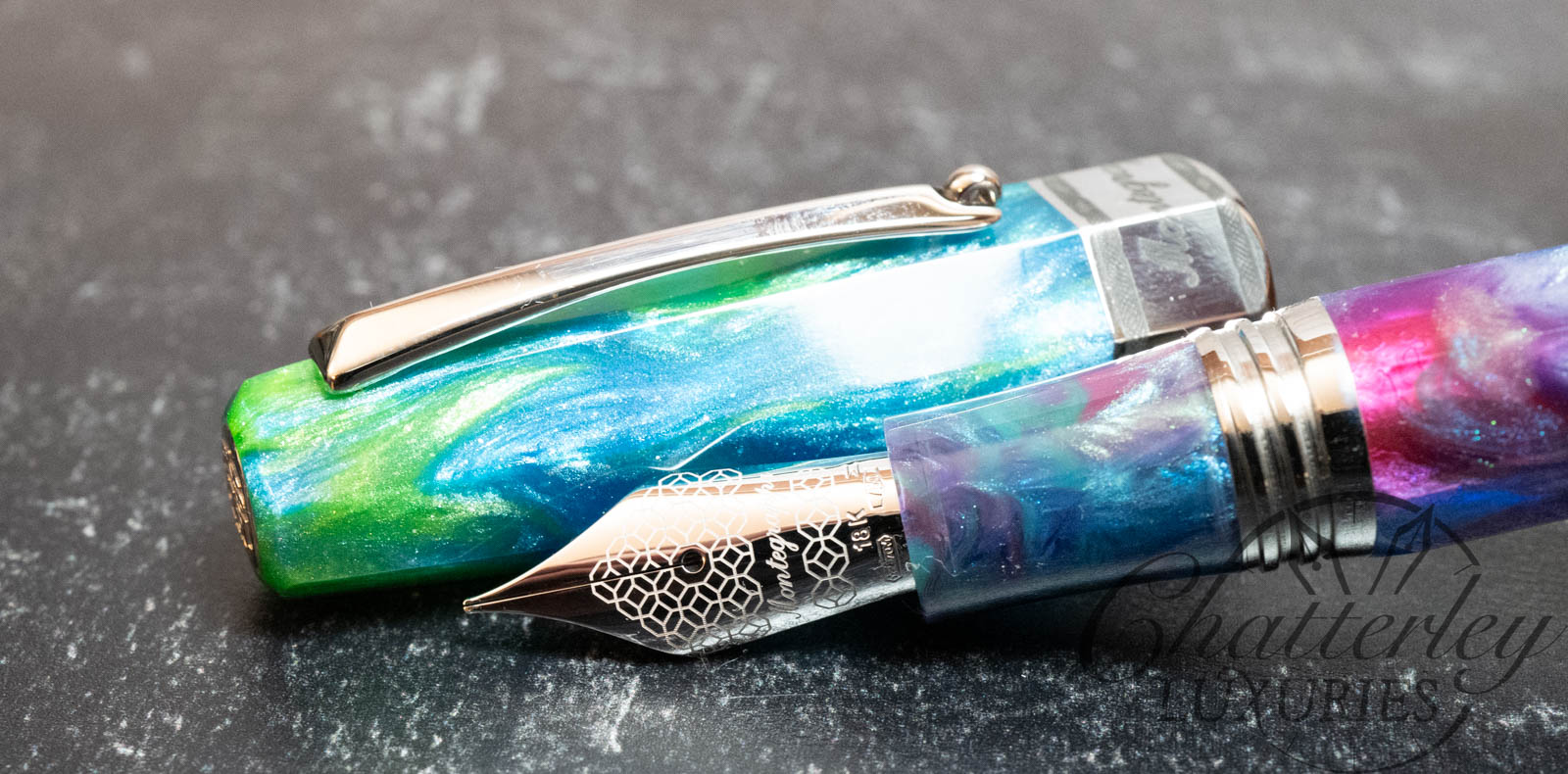 Arion's Keeper (SOLD OUT)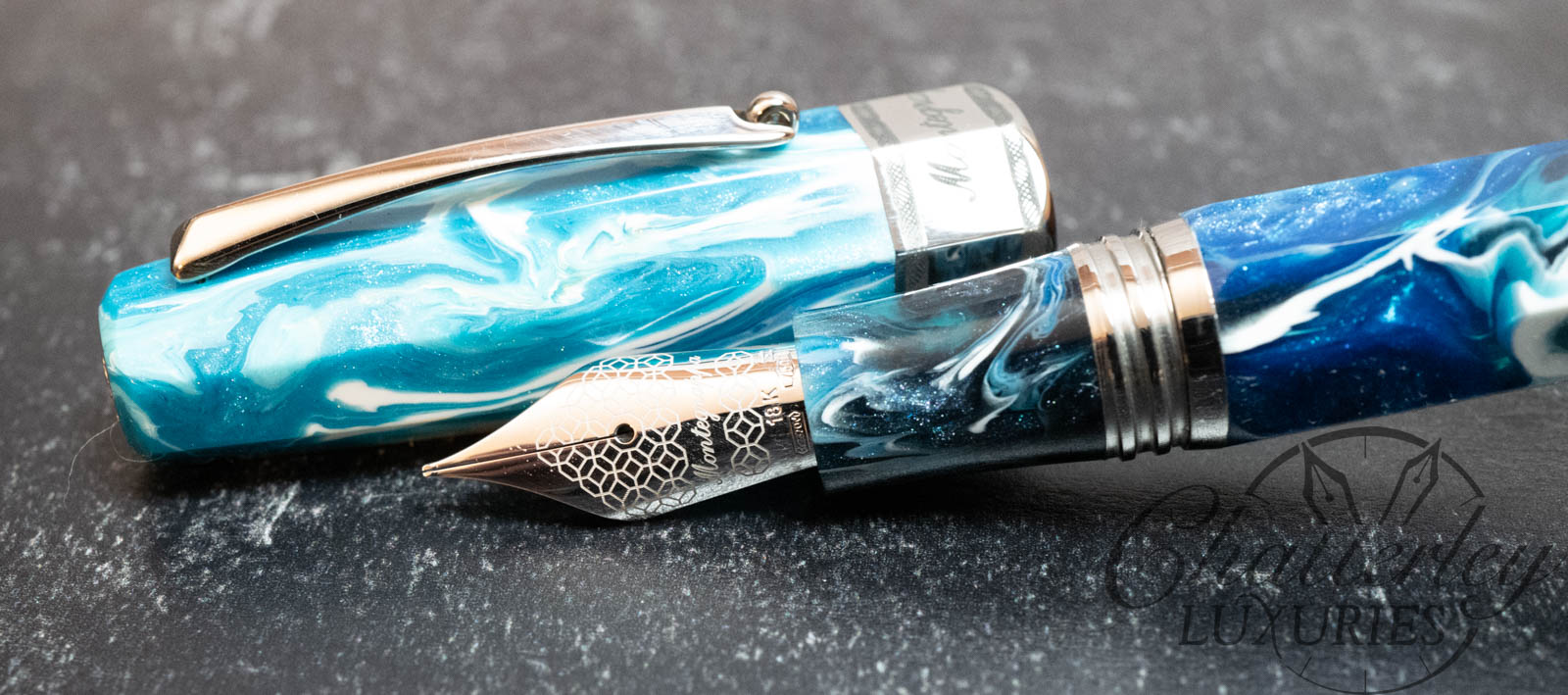 Asterales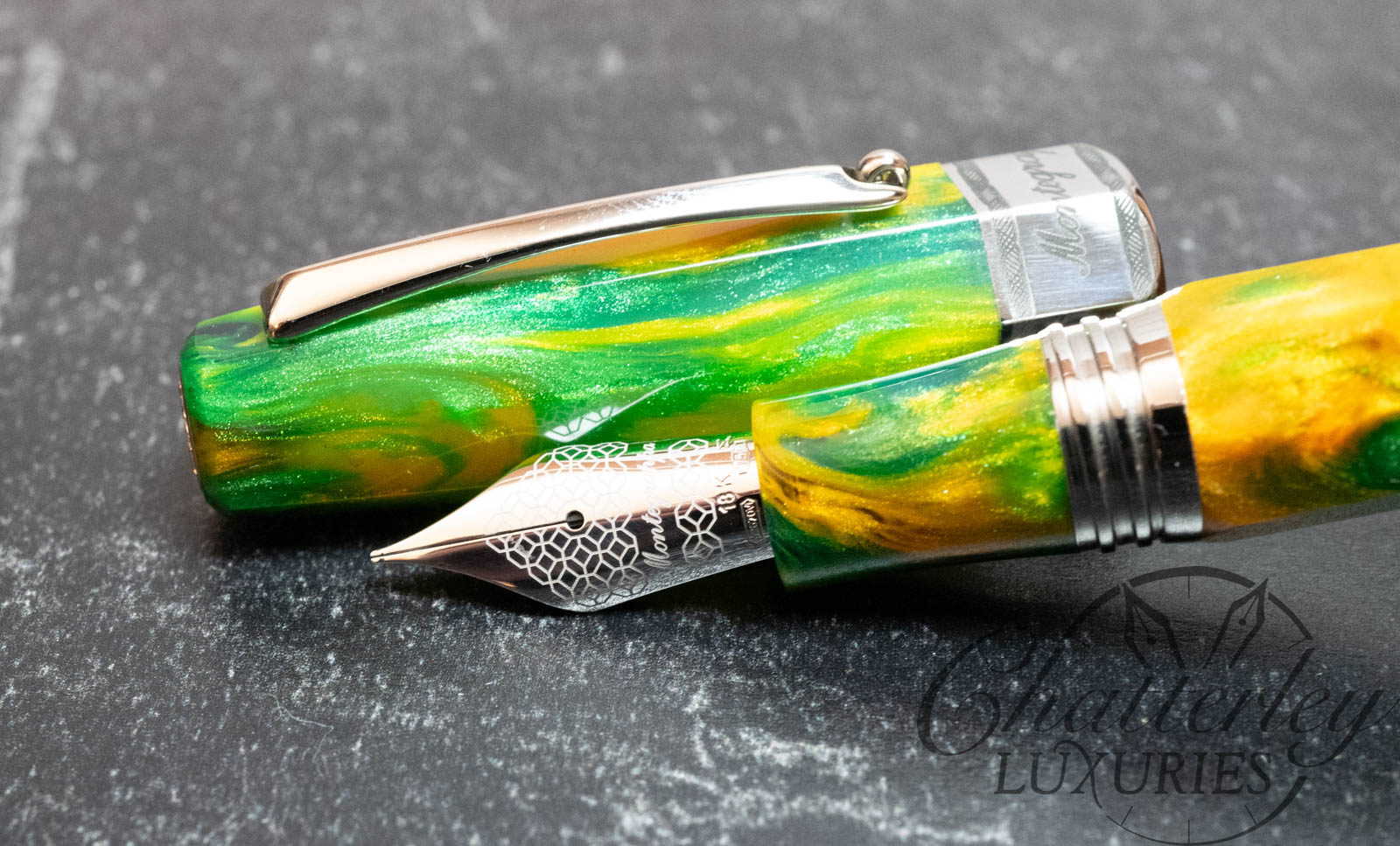 Brown Sugar Milk Tea (Sold Out)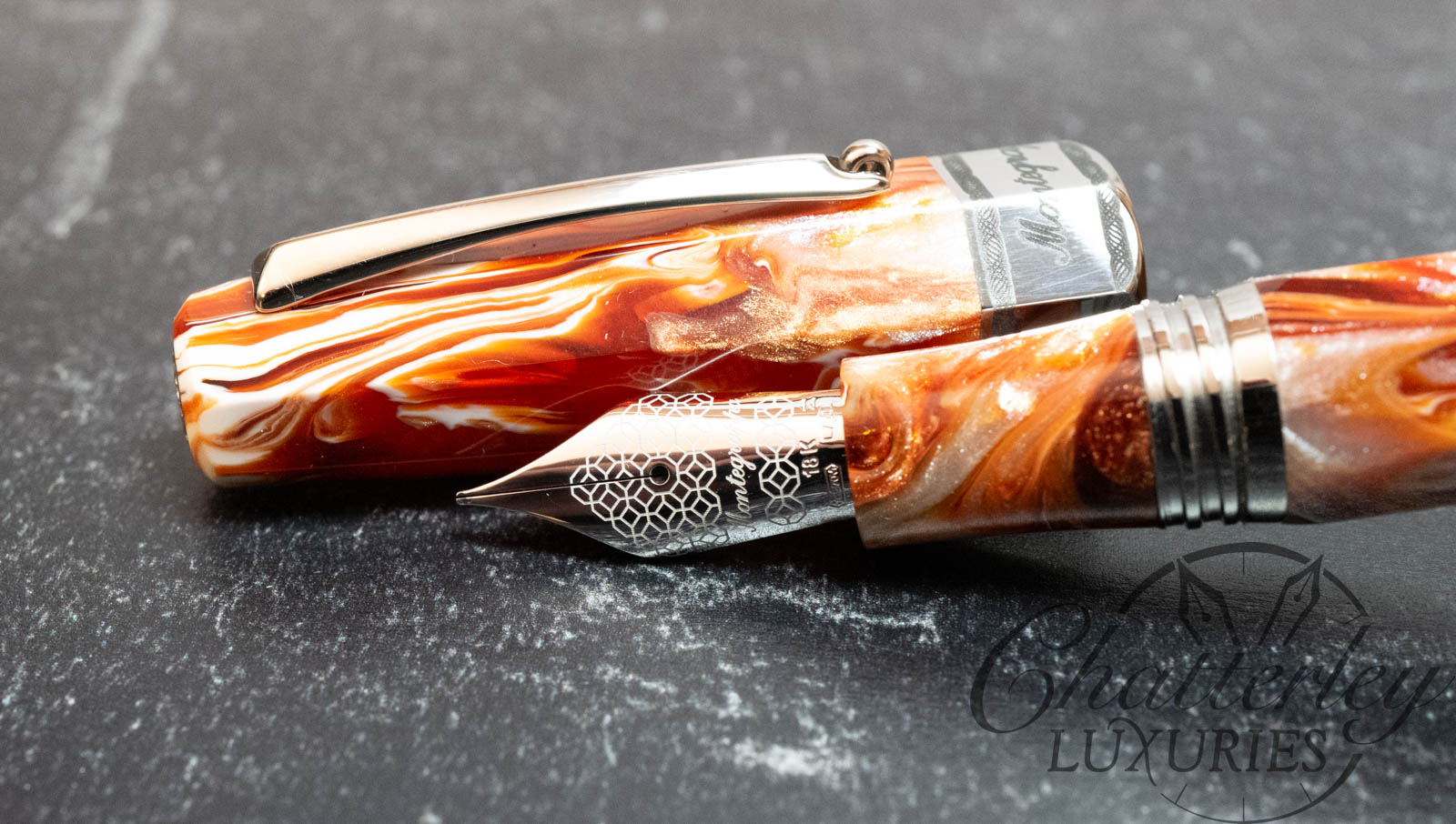 Jungle (Sold out)

Male no 01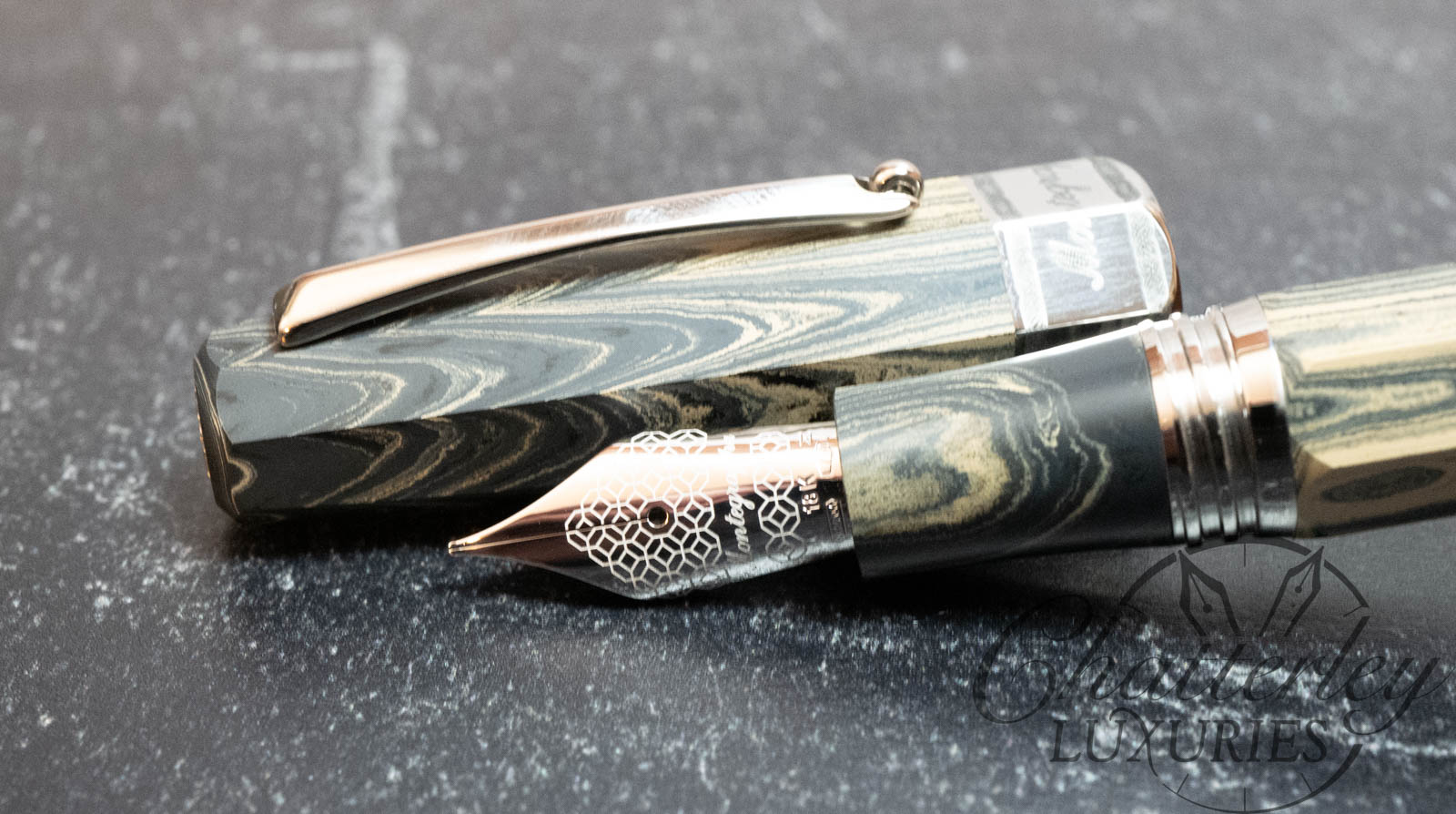 Morgan Fry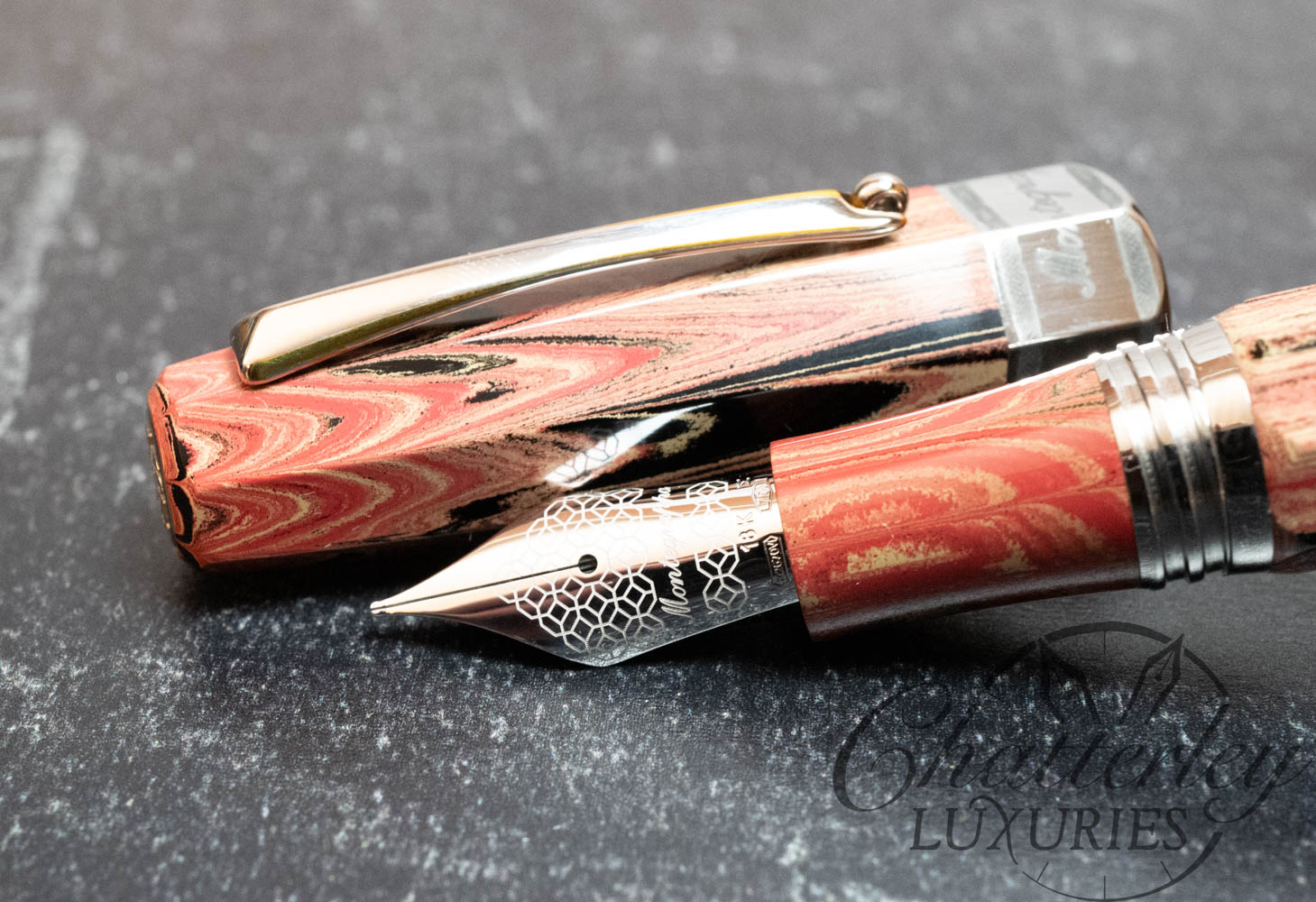 New York (Sold Out)

Opal (Sold Out)


Red/Green (Sold Out)

Shadow Ice (Sold Out)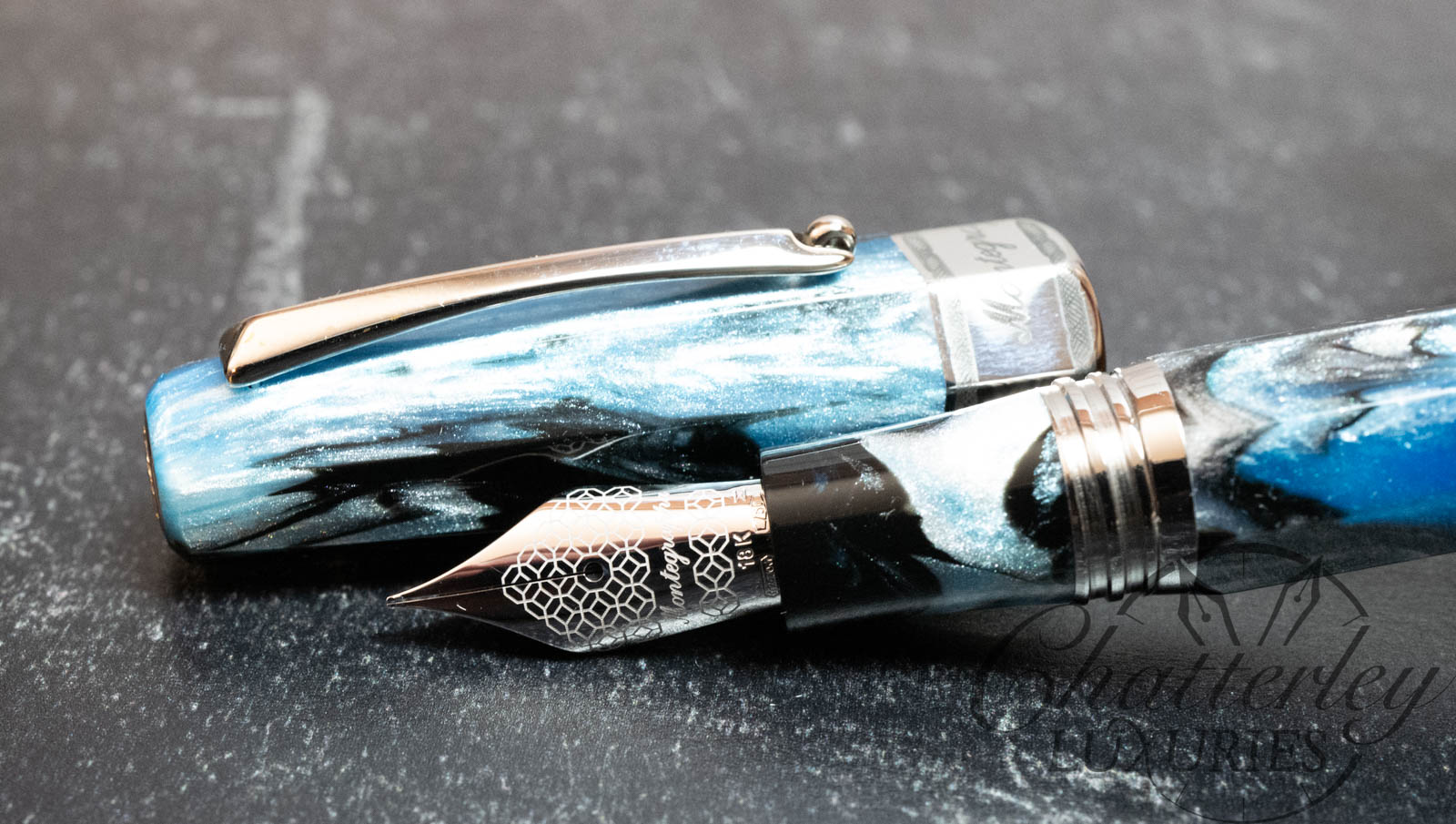 Tundra (Sold out)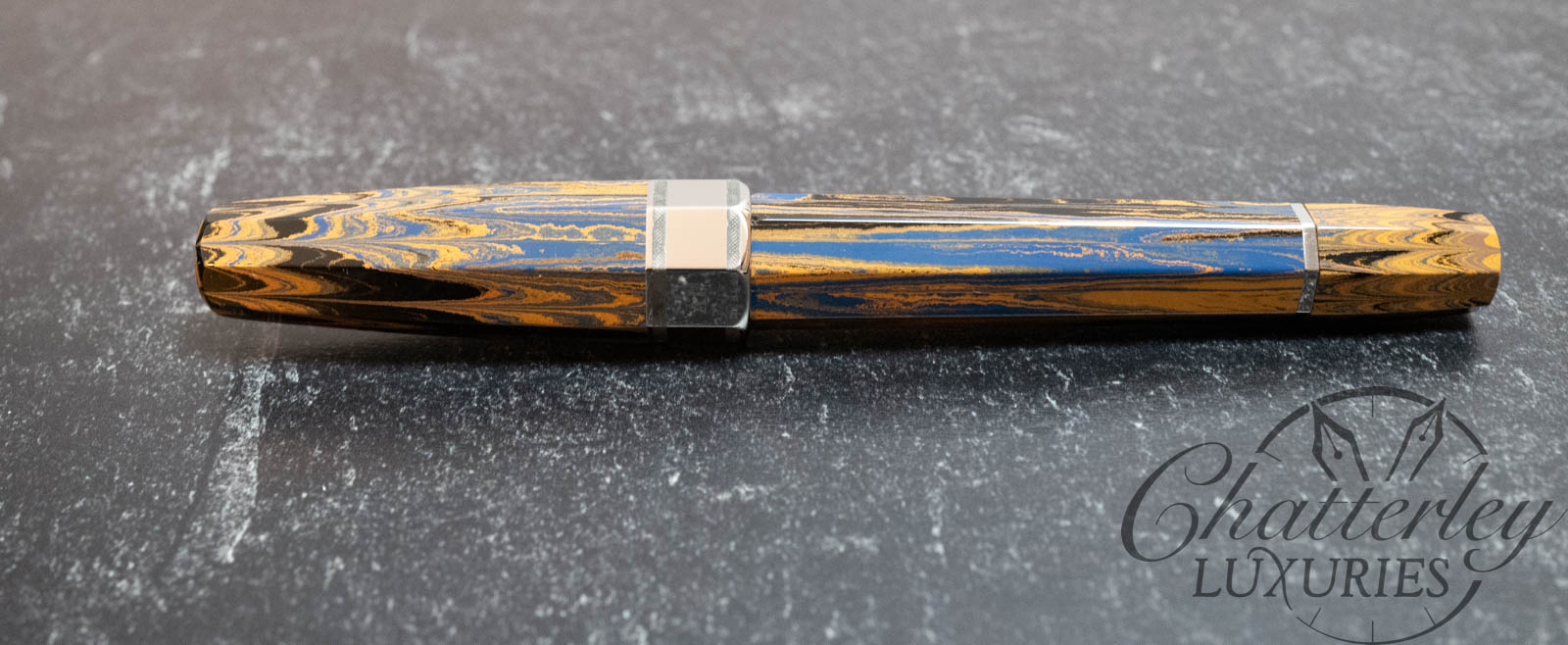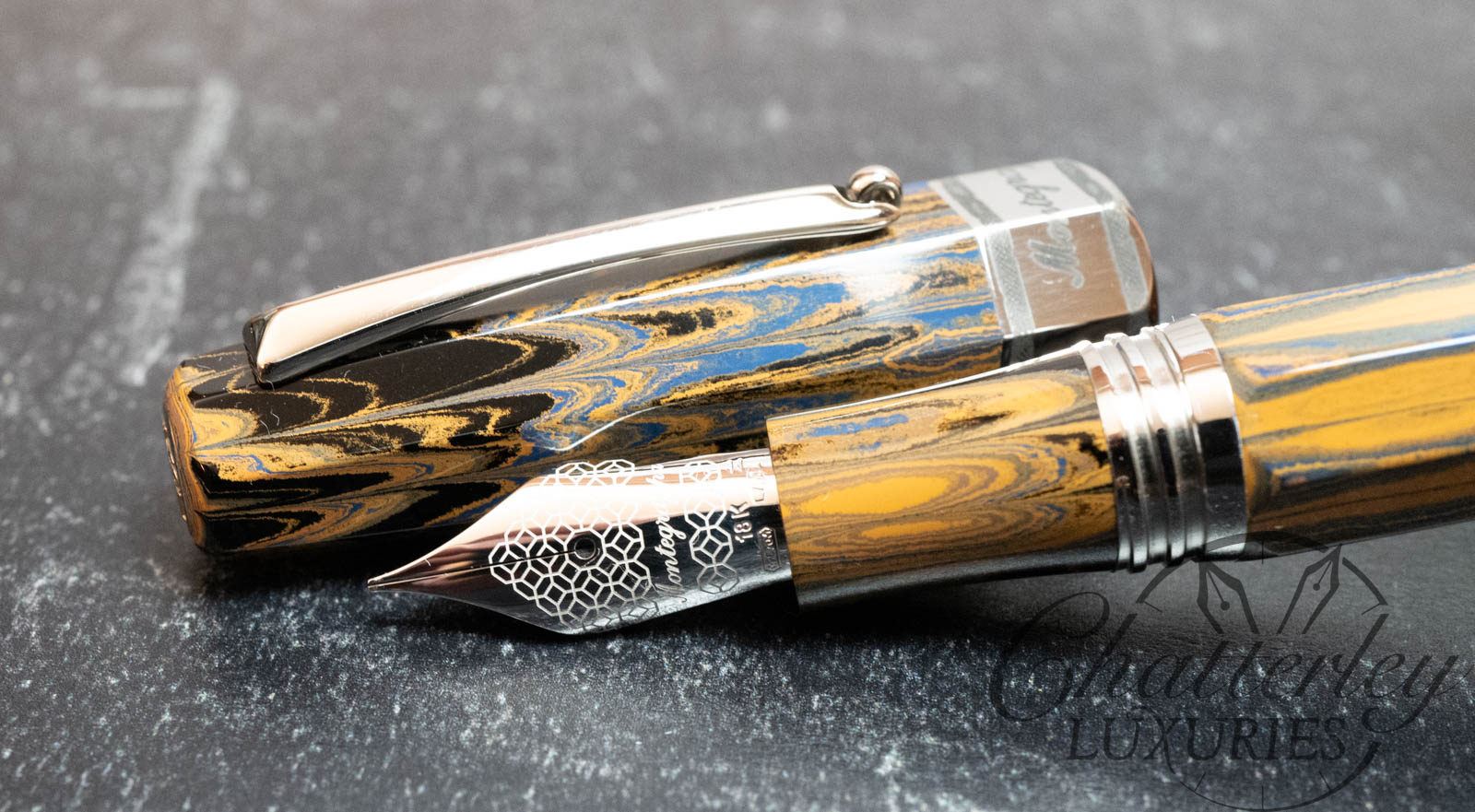 About the Extra Otto:
Among the many signature details of Montegrappa products, including the pocket clip with roller for easy ingress to and egress from pockets, the octagonal shape has long been a part of the Italian house's design language. In 2012, the year of its centenary, Montegrappa revived the use of the eight-sided geometric shape that recurs throughout its designs.
Octagon now characterises numerous Montegrappa writing instruments, including the Reminiscence, the Privilege, the Symphony, the Emblema and the NeroUno. For 2014, the octagon has been applied to the most enduring of the company's pen ranges: the Extra 1930.
In adapting an octagonal cross-section to the legendary Extra 1930, Montegrappa has created the Extra Otto. The octagon is the example of geometric perfection that has long provided Montegrappa with a timeless motif, one that also provides its own unique feel and level of comfort for writers who bond with their favourite pens.