Flash Sale-Visconti Kaleido Fire Opal Fountain Pen
Visconti are delighted to announce the new 'Kaleido' collection, a colorful collaboration with USA resin manufacturer, Jonathan Brooks, of the 'Carolina Pen Company'.
Two spectacular but uniquely different resins were selected for their irresistible display of vibrant, shimmering colors: Unicorn Galaxy and Fire Opal. Both resins are made by Jonathan in the USA and then sent to Italy where they are hand turned at Visconti's Florentine factory into their iconic 'Kaleido'. A classic Visconti pen that is impeccably designed and weighted offering the perfect everyday writing experience.
Visconti go further adding patented innovations that pen enthusiasts have to come to admire and appreciate from Visconti: the iconic 'Ponte Vecchio' bridge clip, Hook Safe Lock closure system and Visconti's high power vacuum filling system. Finally Visconti add a newly detailed ring with a  swirled 'V' logo design to accentuate the collection.
Jonathan Brooks has, once again, created two irresistible resins that give pen enthusiasts the feeling of seeing rich colors and swirling shapes meld into each other like you would in a kaleidoscope brought to life in a modernized version of a classic Visconti pen.
The 'Kaleido' is offered in two unique resins:
Unicorn Galaxy with palladium trim
Fire Opal with yellow vermeil trim
Both resins were selected for their color saturation and mystifying swirling. The Unicorn Galaxy has a spray of silver flecks spiraled in with the color and the Fire Opal is dusted with gold flecks to add to the luminescence of the resin and give a kaleidoscope effect.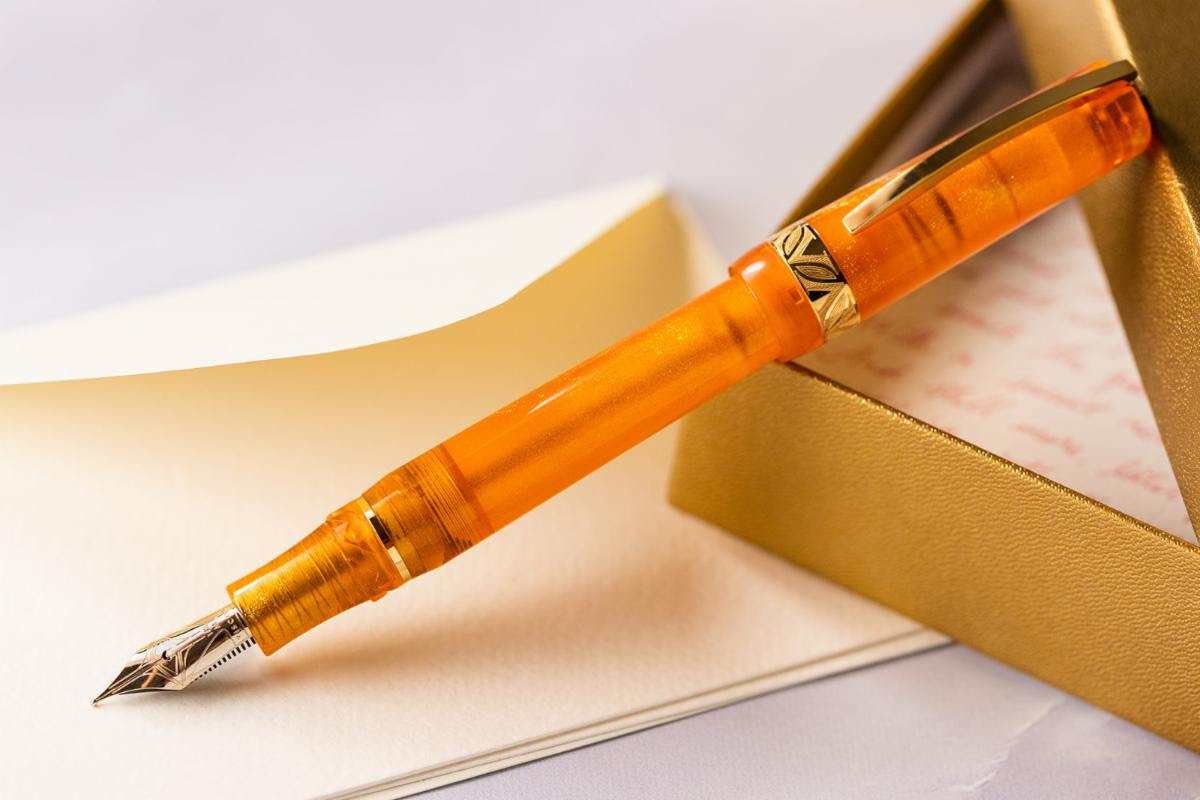 Each pen is numbered and available in fountain pen only. The collection features Visconti's power-filler filling system. The pen cap is secured with Visconti's patented hook-safe lock closure system.
Each pen features the Visconti in- house 14kt gold nib available in EF, F, M, B, and Stub widths and is presented in a luxury gift box.
KP03-11-FP – Fire Opal Fountain Pen $795.00
Fountain Nib: 18kt yellow gold: EF, F, M, B, S
Filling System: Power Filler
Material: Acrylic resin, made in the USA
Trims: Yellow Gold Vermeil