Description
Pelikan Fountain Pen Souveran M1000 Black with BB nib
This pen has been lovingly used and is in excellent condition. The pen does not come with box or papers and it is fitted with an 18kt gold Double Broad nib.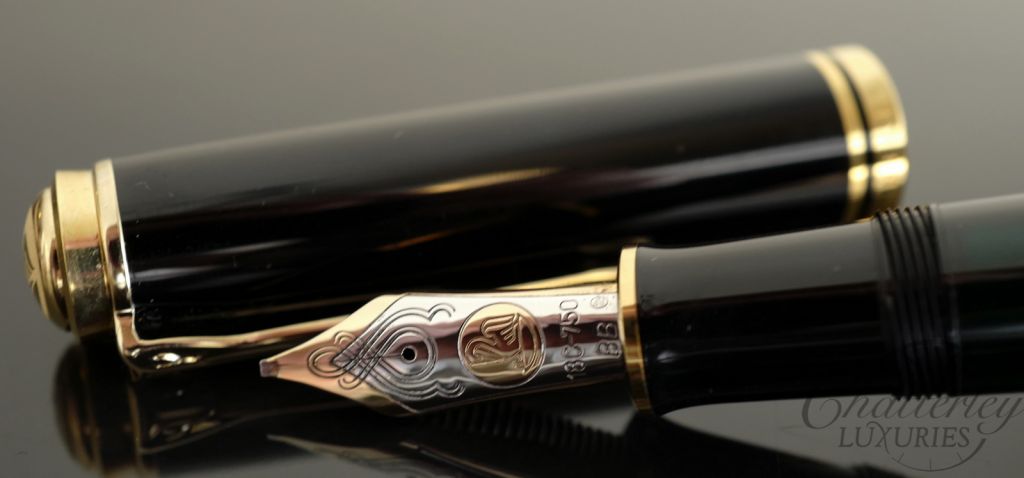 In the year 1929 Pelikan was the first company in the world to introduce the differentiated piston mechanism. This technique causes the spindle inside the fountain pen to turn quicker than the end piece of the barrel, with the help of two different threads. To this date, this fountain pen exists in many different variations, and though it has been developed in design and technical details over time, the basic mechanism remains the same.
If you love classics, you should own a Souverän writing instrument.
This is one of the largest fountain pens of Pelikan and it has a length of 14.7cm (with closed cap). The barrel and cap are both made of high-quality resin in shiny black while the clip and the rings are palladium plated to get the silver sheen. The 18kt gold nib has been completely covered with rhodium to make this classical fountain pen sleek and modern.
The nib on the Pelikan Fountain Pen Special Edition Souverän M1000 is a large #8 size nib, and compliments the pen wonderfully. This pen fills via piston filling system.