Description
Stipula D'Inverno Etruria Demonstrator Limited Edition Fountain Pen #01/18
This limited edition was numbered to 18 pens worldwide with the Gold nib. This is the #1/18 pen in the edition, it is the last one, we have sold out of the rest of the edition. This pen is fitted with a 1.1 Stub nib, and other nibs are available if you prefer something different contact us directly at info@chatterleyluxuries.com.
In collaboration with Chatterley Pens, Stipula has just released the latest limited edition exclusive to Pentime, the Etruria D'Inverno Demonstrator Fountain Pen. Quality construction and technologies are a hallmark of Stipula's line of fine writing instruments, and this pen falls right into that. What has been created here is an Etruria size fountain pen with a retractable nib, just like the original D'inverno. The trim is 925 stamped Sterling Silver and is designed in the same fashion as we have all come to love with Stipula's Etruria collection.
The material is clear resin through and through, allowing the user to see the internal mechanism that is inside. The retraceable nib units sliding parts its visible as well. The mechanism is made out of Aluminum and delrin-a very technical type of nylon which self lubricating and elastic enough to support the sliding movements of the mechanism itself.
The pen was made with two different nibs, one version is with Stipula's Titanium T-Flex nib and the other is with a single tone 14kt gold nib. The gold nibs are available in either Fine, Medium or 1.1 Stub. Again both versions are equipped with their in-house piston filling system and Stipula's lifetime warranty. Each version is limited to 18 pens worldwide and carry an MSRP of $995 for the version with the gold nib and $895 for the version with the titanium nib.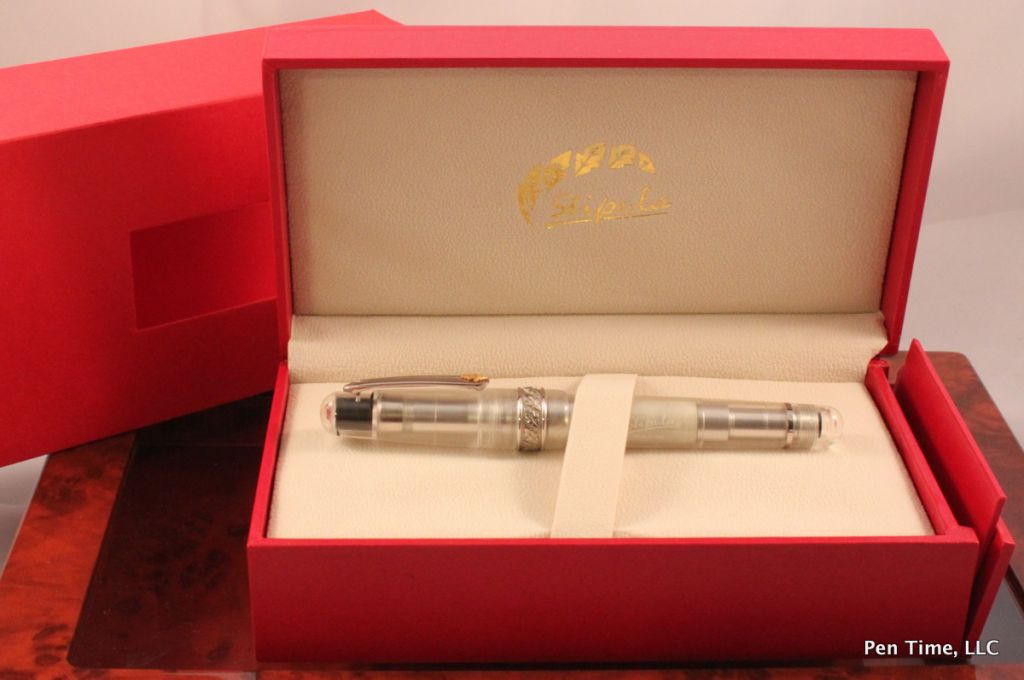 This pen is available with an Extra Fine, Extra Flexible nib. The nib goes from EF-BB with no problem. The nibs and Feeds have been modified to do this. The flow has also been adjusted. If you have never used a flex nib, its very wise to contact me first to see if a flex nib is for you. These nibs are beautiful to write with and can really add amazing character to your writing style, but the nibs are soft. This means, the room for error is less than a standard nib. And too much pressure, or too much pressure at the wrong angle can bend or spring tines.