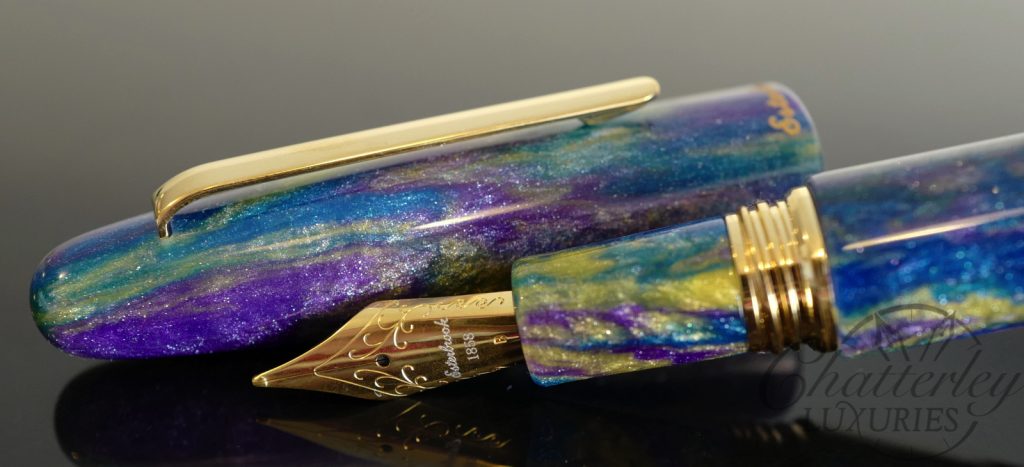 Esterbrook Estie Peacock Fountain Pen Collection From the Esterbrook Company: Introducing our most regal Estie to date: the Estie Peacock.   For this
View product.
Esterbrook Estie Rocky Top Fountain Pen Collection From the Esterbrook Company: Introducing our the Estie Rocky Top  Rising along the border of Tennessee
View product.
Montblanc Masters for Meisterstuck Firenze Alligator Brown Special Edition Fountain Pen This is pen is brand new, sealed with its
View product.
Founded in 2005 by owner Bryant Chatterley Greer.
Here at Chatterley Luxuries we specialize in fine writing instruments and timepieces. We are passionate about the products we sell & pride ourselves in the best customer service.  We offer quick, and often same day shipping.
We are authorized retailers and proud to sell Fine Writing Instruments and supplies from Armando Simoni Club, Aurora, Classic Pens, Conklin, Danitrio, David Oscarson, Graf Von Faber-Castell, Leonardo, Marlen, Montegrappa, Namiki, Nettuno, Pelikan, Pilot, Pineider, Platinum, Porsche Design, S.T. Dupont, Stipula, Taccia, Tibaldi, Visconti and Wahl Eversharp.
The Romance of Fountain Pens…
"There is something romantic about using a Fountain Pen. Flushing, filling it up with ink, writing a letter or drawing. In a world where so much of what we do is automated and electronic, the disconnect is real. From a young age I was always into pens and pencils of all styles. When I was in grade school, we were not allowed to use Fountain Pens, but I was still intrigued by them. When I was 13, I did a "Memoir" and dedicated a page to Pens and Pencils. I even went so far as to  "create" my own pens. The "first" Chatterley Pens. This passion carried over to adulthood where I realized I could find restored Vintage Pens and Modern Pens as well! Although we have been retailing Fountain Pens for over a decade now, I still buy and collect Fountain Pens, adding to my collection when ever I can.  My passion and romance with Fountain Pens is just as strong as ever, if not stronger." -Bryant Chatterley Greer
We are here if you have any questions, please do not hesitate to contact us. We specialize in superb customer service and pride ourselves with one of the fastest response times to questions and inquiries. Call us anytime at 520.891.8567 or email us at info@chatterleyluxuries.com or bryant@pentime.com
We are always interested in buying pens and also take consignment pens. So if there are pens in your collection that don't get the use they should, or you have your sights on something else, let us help you sell it. We will image, field questions and ship your pens.
We hope you enjoy our site and if you have any questions/suggestions, don't hesitate to email us.