Conklin Nozac Word Gauge Blue Yellow Limited Edition Fountain Pen
This pen has been lovingly used.  It does not come with box or papers.  It is equipped with a 14kt Fine nib and employs a power filler system.  It is limited edition number 229/898.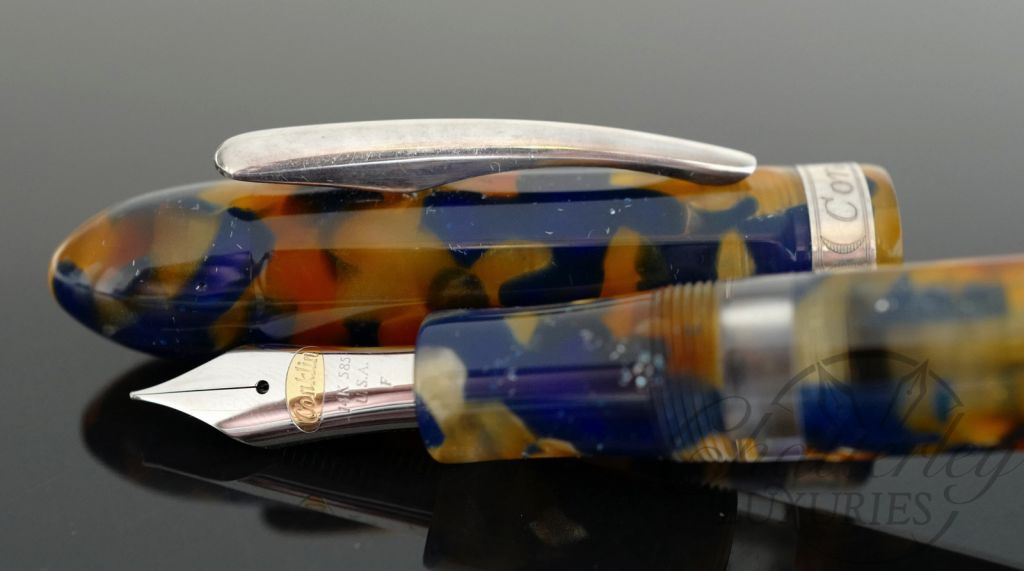 Introducing the Conklin Nozac, made in collaboration with Visconti.
Conklin, the legendary name for fine writing instruments returns with the release of their famous Nozac Word Gauge in a one of a kind Limited Edition Fountain Pen.
Originally released in 1931, the Nozac Word Gauge is recognized today as one of the the all-time classics. The barrel of the pen contains a word gauge which actually allows the writer to view their remaining ink supply and determine how many words they have left to write.  Based on the original model, Conklin and Visconti pay a spectacular tribute to one of the most famous fountain pens of the golden age.
This unique writing instrument is made of acryloid, a special combination of celluloid and acrylic which creates a truly vintage appearance. Each oversized fountain pen is twelve faceted with the Conklin name delicately engraved into each barrel. A solid sterling clip and band are added to enhance the elegance of this time -honored writing instrument. Based on the original model, The Nozac Word Gauge limited edition is a fountain pen worthy of it's legendary name.
The filling mechanism of this pen is Visonti's double reservoir power filler system.