Description
Montegrappa America's Cup Limited Edition Fountain Pen
This pen is in mint condition and has a Medium nib. Comes complete with box and papers. The boat box is VERY cool. A box like this alone made in Italy like this one alone would be around 1k today.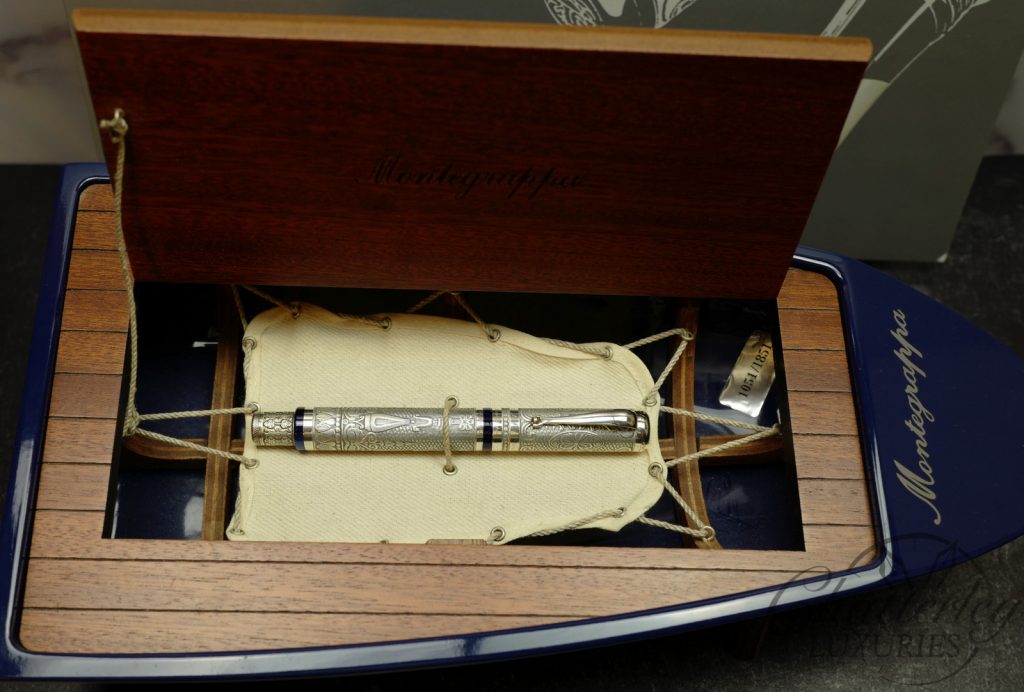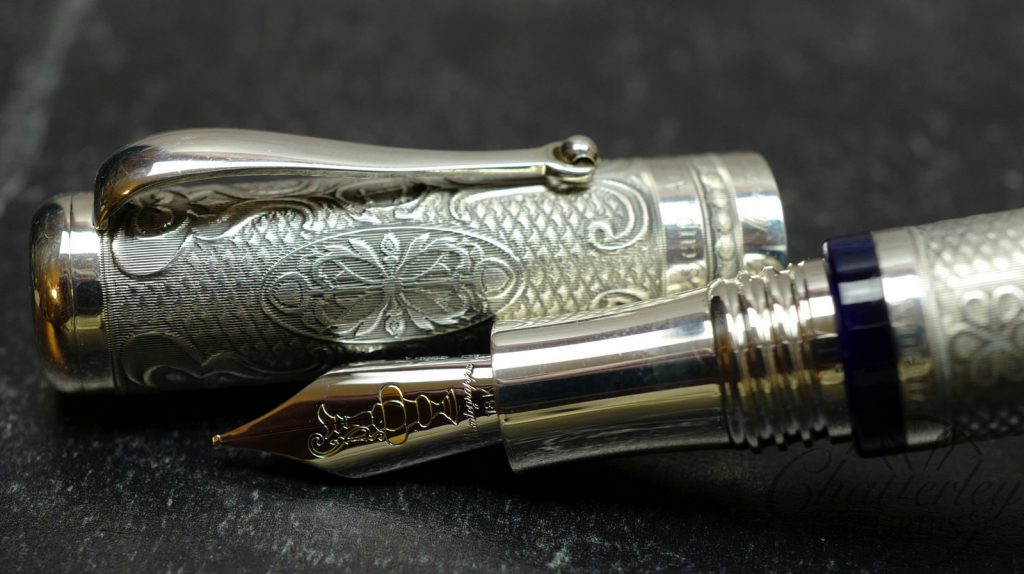 The cap, barrel, end-cap, clip, rings and little buttons of the Americas Cup 2003 Limited Edition are all made from sterling silver. The fountain pen has a piston filler and is fitted with an 18K gold nib, partially rhodium plated and engraved with a picture of the America's Cup as well as the Montegrappa logo. Such a wonderful pen, designed to celebrate the most important sailing competition in the world, could only come in an equally original and evocative presentation box.
The numbered case of the Montegrappa limited edition is shaped like a ship's hull, carved from a single piece of wood with reflective navy blue lacquer. The deck is represented by the mahogany lid with a central, hinged opening with two hinges and a special handle. Lifting the lid, the inside of the hull is revealed, containing the numbering and the mahogany bulkheads, complete with hooks and fabric support for the pen, created with the canvas originally used in the world of sailing. The outside of the central opening in the lid is decorated with a stylized image of the America's Cup, while the inside is hot-stamped with the Montegrappa logo.
The three-dimensional image is obtained by cutting the surface with tiny linear cuts of different depths and removing small quantities of metal. This process produces a surface that is characteristically different in the way it reflects light from those generated by a mechanical pantograph engraver or any other means of generating a relief image. The difficulty lies in the fact that the image has to be engraved on a cylindrical surface. Many times a single drawing takes up to months as any error can result in onerous consequences: matched to perfection, the meeting point where the engraving starts and ends can be sometimes difficult, even to an expert hand. This advanced technology is exclusively used by Montegrappa and has made it famous for the innovative and imaginative application to its fine writing jewels.