Montegrappa Ammiraglio Corsani Ebonite Limited Edition Fountain Pen
This pen is lovingly used, but in perfect condition, it comes with its original box and a H-M 18k nib. A beautiful Ebonite.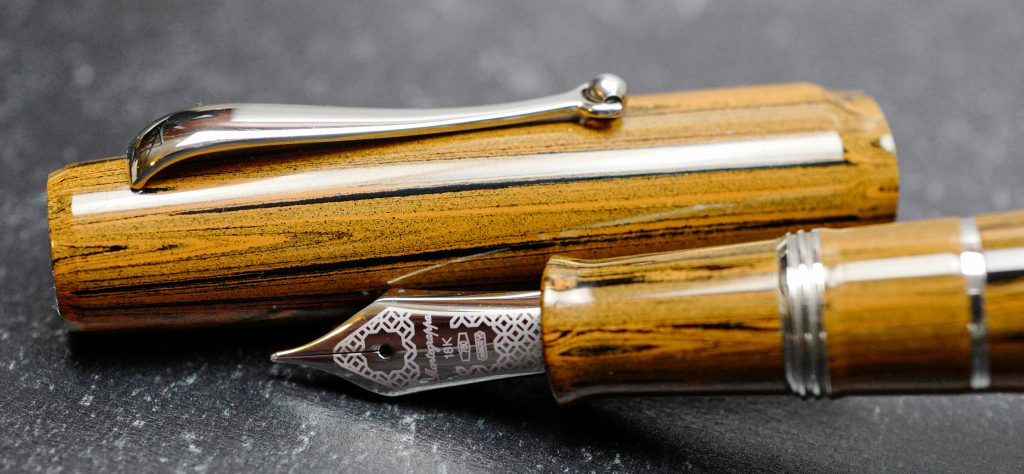 The Ammiraglio 1939 collection by Montegrappa has been a huge success. The pen inspired by a historic model of the Venetian company was created in a beautiful celluloid combined with the best solid gold nib in the world: the Japanese Sailor.
We wanted to propose a new version in a very limited series in light of the small number of nibs left. To preserve the vintage character of the collection, we have chosen to dress the pen with another material that has contributed to the history of the fountain pen: ebonite!
Three beautiful classic colors in a limited series of 20 pieces per shade.
As it is recognizable as our style, we have followed a minimalist and sober philosophy by eliminating the rings and proposing ebonite on the entire pen including the grip section. The heart of the fountain pen remains the wonderful 18kt gold Sailor nib made exclusively for Montegrappa.
Piston filling as in the best Italian manufacturing tradition. The size of the pen is: length from closed cm. 14.5, open cm. 13 and the cap 6.7 cm.
We thank Montegrappa for giving us his experience and technical skills at the service of our creativity!