Montegrappa Extra Otto Malachite Green Limited Edition Fountain Pen
This pen has been lovingly used.  It comes complete with box and papers.  It is equipped with an 18kt Fine nib.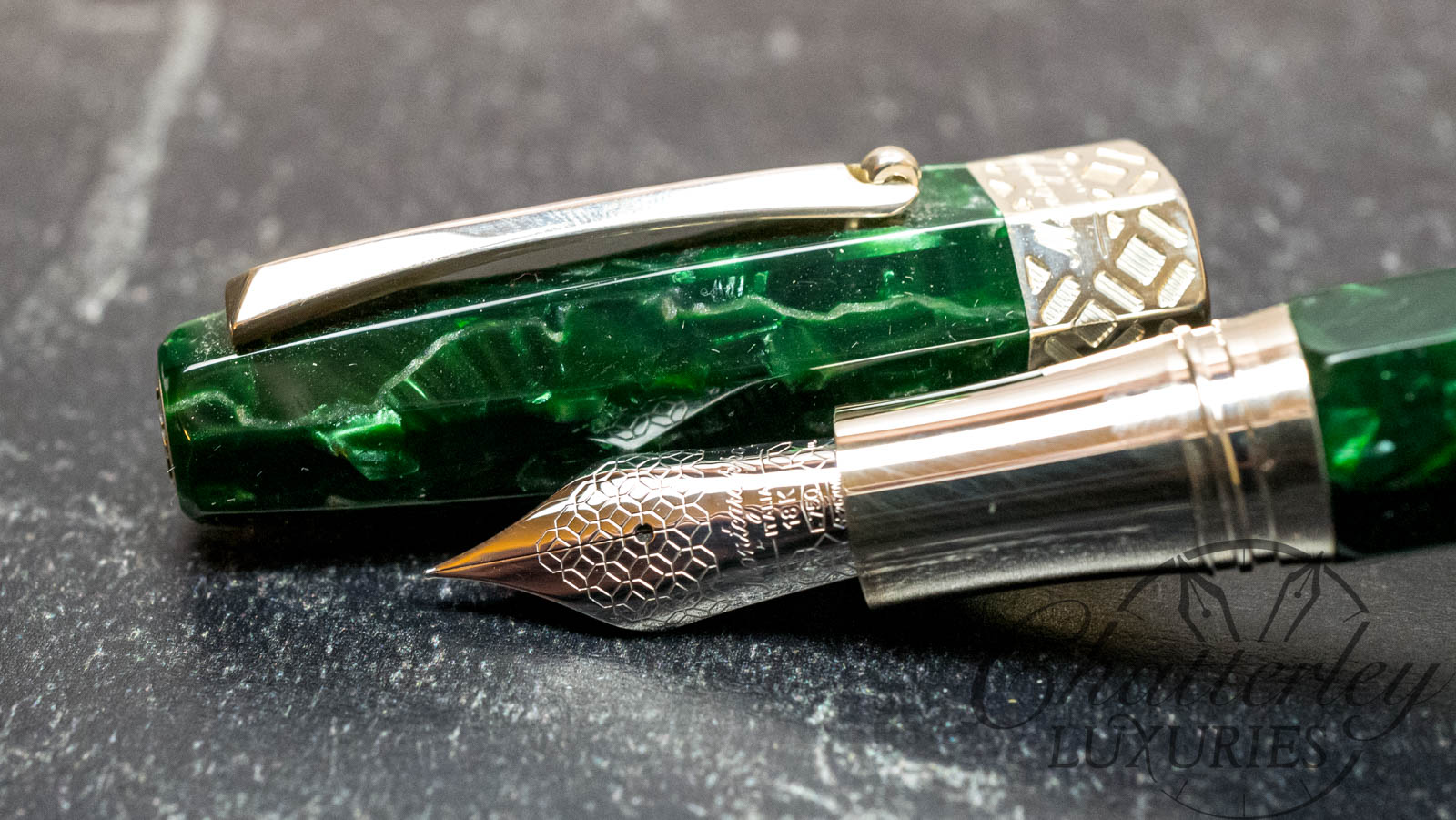 The Extra Otto from Montegrappa. A Limited Edition pen made from true Celluloid and with Sterling Sliver trim. It fills via piston filler and boasts the oversize #8 nib with an Ebonite feed!
Among the many signature details of Montegrappa products, including the pocket clip with roller for easy ingress to and egress from pockets, the octagonal shape has long been a part of the Italian house's design language. In 2012, the year of its centenary, Montegrappa revived the use of the eight-sided geometric shape that recurs throughout its designs.
Octagon now characterises numerous Montegrappa writing instruments, including the Reminiscence, the Privilege, the Symphony, the Emblema and the NeroUno. For 2014, the octagon has been applied to the most enduring of the company's pen ranges: the Extra 1930.
In adapting an octagonal cross-section to the legendary Extra 1930, Montegrappa has created the Extra Otto. The octagon is the example of geometric perfection that has long provided Montegrappa with a timeless motif, one that also provides its own unique feel and level of comfort for writers who bond with their favourite pens.
Made of celluloid, the natural material that is employed in the manufacture of the finest pen barrels and caps, Extra Otto is offered as both a fountain pen and a roller ball in three exceptional new colour patterns: green-hued Malachite with the look of a semi-precious stone, Shiny Lines with glistening grey-hued stripes and the metallic look of the black-and-white Zebra.
All Extra Otto fountain pens are fitted with 18k gold nibs, and can be ordered with one of eight nib widths, from 'extra fine' to 'stub'.  The trim on all Extra Otto writing instruments is made from sterling silver, and Montegrappa's signature octagonal motif is engraved on the cap's band. Extra Otto's clip, fitted with the company's roller, also boasts its own secret: a red lacquer backing.