Montegrappa The Old Man and the Sea Limited Edition Fountain Pen
Contact us for our Chatterley Loyalty pricing, info@chatterleyluxuries.com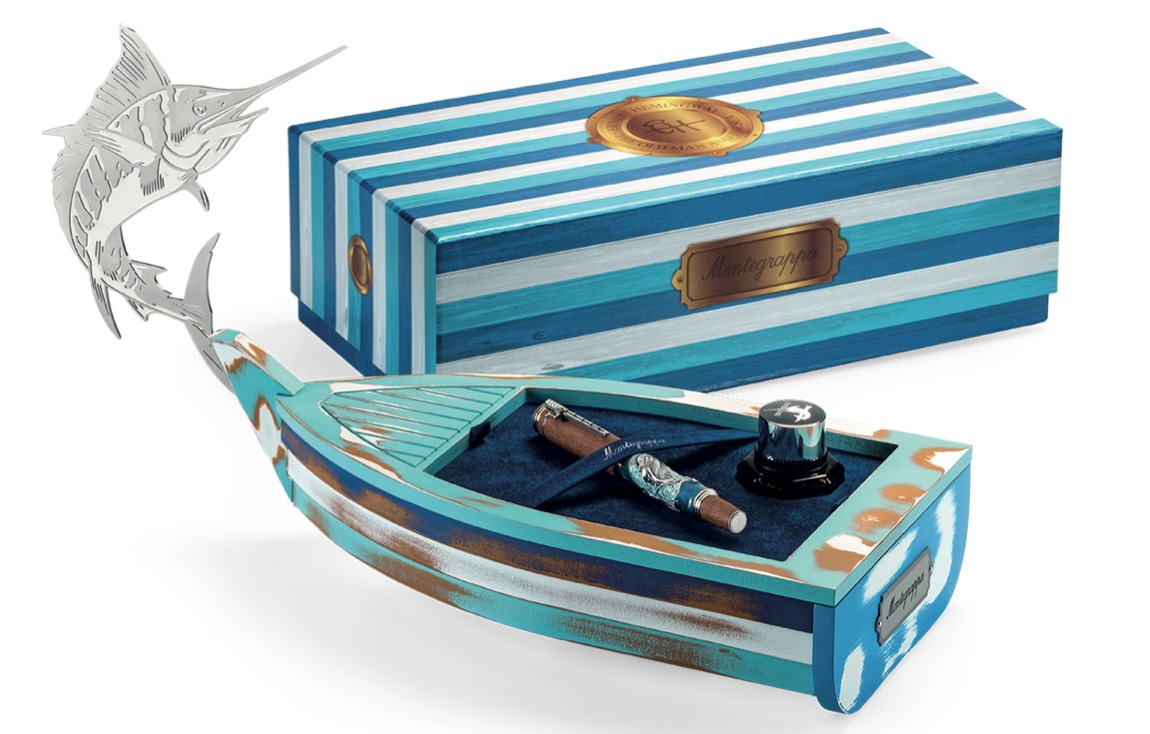 Montegrappa returns to one of its foundational themes with the release of a new, small-batch Limited Edition made with the cooperation of Hemingway Ltd., the Ernest Hemingway Estate. The Old Man and the Sea is a tribute to heroism.
The Old Man and the Sea is a stylistic and thematic departure from the Hemingway collector series (2016-2020). While past editions dealt with the author's life, this newest creation pivots to the plot of one of his most iconic stories: the fictional account of the plucky fisherman, Santiago, and his epic struggle to bring a giant marlin to shore.
Written in Cuba, The Old Man and the Sea was the last volume of fiction published during Hemingway's lifetime, and many – including the author – have called it as his finest work. After premiering in LIFE magazine's 1 September 1952 edition, it earned Hemingway the 1953 Pulitzer Prize for Fiction. Editions of 70 pieces per mode on two tiers reference the 70th anniversary of this prestigious award.
Lost wax casting and hand-enamelling capture the central elements of Hemingway's story. A carved cap and blind cap represent Santiago's skiff in kotibé mahogany, while enamelled segments depict sea and sky – providing a backdrop for the edition's centrepiece. Inspired by early editions of the book, a full-length sculpted silver barrel dramatizes the fisherman's struggle with the marlin. 
Further detailing includes a silver fishing-rod clip, sculpted trim rings, an engraved grip section and a high-relief cap top brandishing Hemingway's game-fishing monogram. On the lower barrel, translucent ocean-blue enamel reveals sculpted detailing beneath: the ocean's currents and the sharks who torment Santiago's attempts to return to shore.
The Old Man and the Sea is issued as a fountain pen and rollerball on two tiers: sterling silver and vermeil (24K yellow gold-plated silver). Fountain pens are equipped with a Montegrappa piston-fill mechanism and a 6mm custom 18K gold nib (EF, F, M, B, Stub 1.1) with ebonite feed.
Custom packaging for this edition has been designed with display in mind, and comprises an antiqued wooden replica of Santiago's boat, designed to be fitted with a die-cut marlin mascot in solid metal. 
  MSRP $5395