Omas Ogiva Cocktail Fountain Pen-Vodka Lemon
This pen is brand new. It comes with box but does not include papers. This pen is an un-numbered Prototype.
This pen is fitted with a rare 52 degrees nib. These nibs do not come up often. Its basically a broad nib, but slanted slightly to 52 degrees.
1925–2015, Omas has been writing their history for 90 years.
A cocktail to toast their 90 years!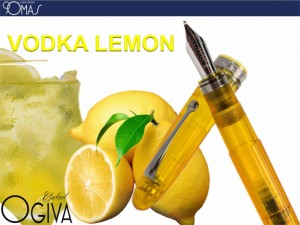 The Ogiva Cocktail collection celebrates the 90th OMAS Anniversary with three colors inspired by some of the most popular cocktails: deep red of the Bloody Mary, intense yellow of Vodka Lemon and vibrant blue of the Blue Angel.