Sailor Pro Gear Classic Ribbed Black Fountain Pen
This pen has been lovingly used.  It does not come with box or papers.  It is equipped with a 21kt Naginata Togi Medium nib.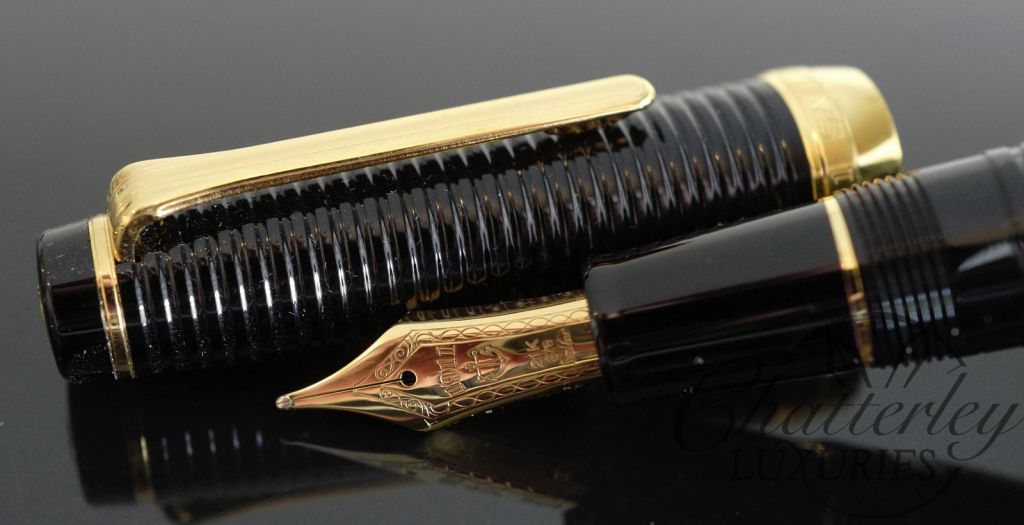 The classic black Sailor Pro Gear is even more intriguing with the introduction of the Sailor Pro Gear Ribbed Black with Gold Trim fountain pen. Ribbed pens date back to the now-collectible Waterman's 100 year pen of the late 1930s and early 1940s. Just as they did then, these pens provide an exceptional gripping surface as well as a wonderfully corrugated visual experience.
Black finish with gold trim is a classic combination, and the ribbed texture takes it to new heights.  A classic Sailor anchor emblem in gold adorns the flat end cap. Sailor has a company history stretching back to 1911, and a reputation for quality and value that few other pen manufacturers can match.
This Naginata Togi nib provides variable line width depending on the angle of the pen to the paper – the lower the angle, the broader the line.