Visconti Limited Edition Mecca Fountain Pen
This pen has been lovingly used.  It is equipped with a 23kt Palladium Medium nib and comes complete with box and papers.  It is LE #399/622.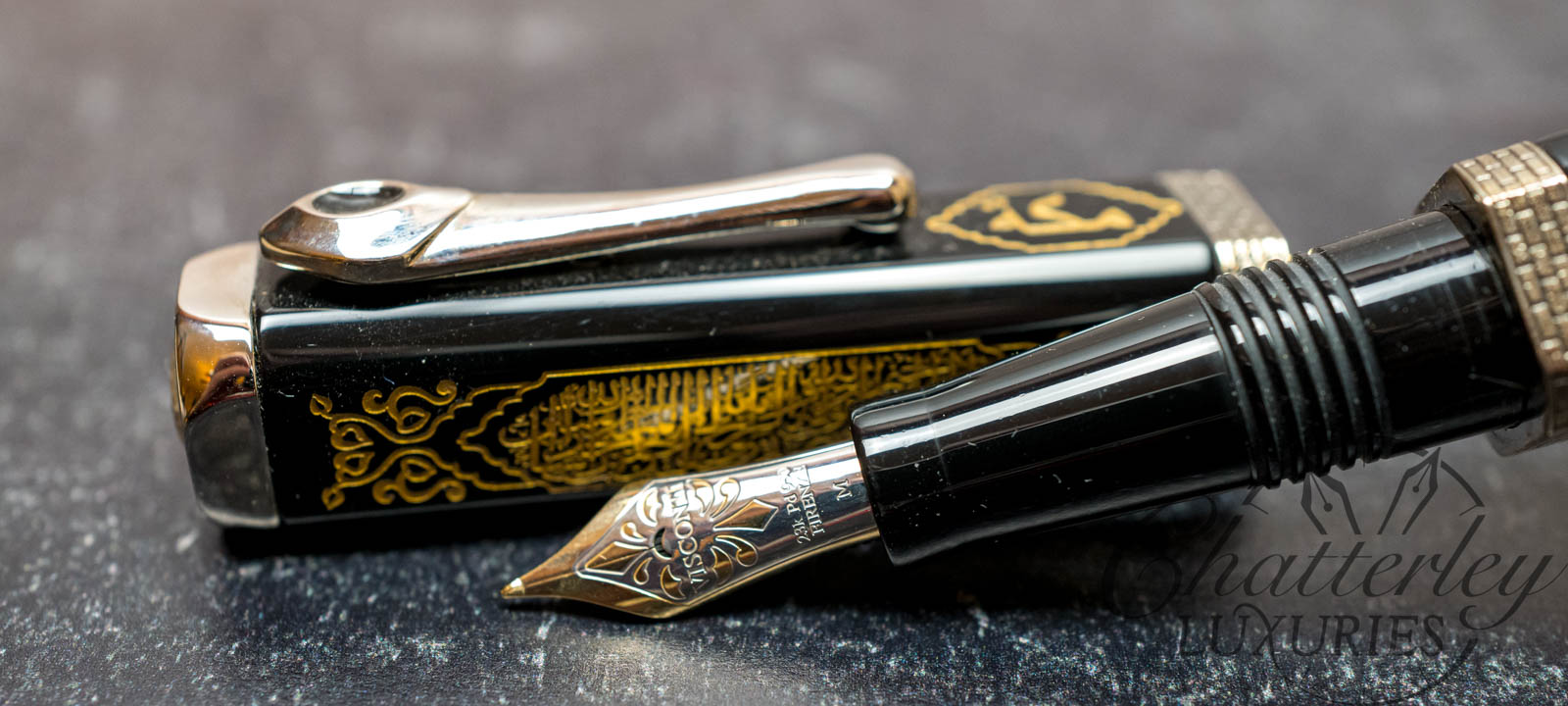 Visconti is known to pay special attention to themes that have impact, changing and describing life and the world in which we live. The Mecca, along with the Medina are the latest additions to the Mystic Pen Collection, a series of fountain pens dedicated to all people and religions of the world. The Mecca and Medina pay tribute to the spiritual leader Muhammad, the founder of Islam. The great city of Mecca is the birthplace of Muhammad. Just outside of the city in a cave is where he received his first revelations from God, and thus, began the religion of Islam.
The Mecca Limited Edition Fountain Pen is turned from shiny black lucite to create a shape reminiscent of the architecture of the Kaaba, the most sacred site in Islam. This cube shaped building located in Mecca predates Islam and was built by Abraham, the father of the Hebrew nation. The Kaaba was made of granite from the surrounding hills outside Mecca. Each of the four sides is scrimshawed with Arabic verses from the Qu'ran. They are inspired by the Kiswah, an embroidered black cloth that covers the Kaaba. The rings evoke the stone pieces used to build the structure.
The Visconti Mecca Limited Edition Fountain Pen features a power piston-filler and Visconti's 23K 950 palladium nib that is amazingly flexible for superb response. The nib is available with XF, F, M, B, BB or STUB point. Limited to 622 pieces in honor of the year Muhammad and his followers migrated to Medina, also known as the Hijra.