Visconti Limited Edition Skeleton Watermark Iridium Rainbow Fountain Pen
This pen is lovingly used. It has box and papers and is in great condition. This pen in particular is one of the nicest examples of the Rainbow. The coloring is really nice. The nib is a 23k PD Broad nib, that has been modified to a Predator by Mark Bacas.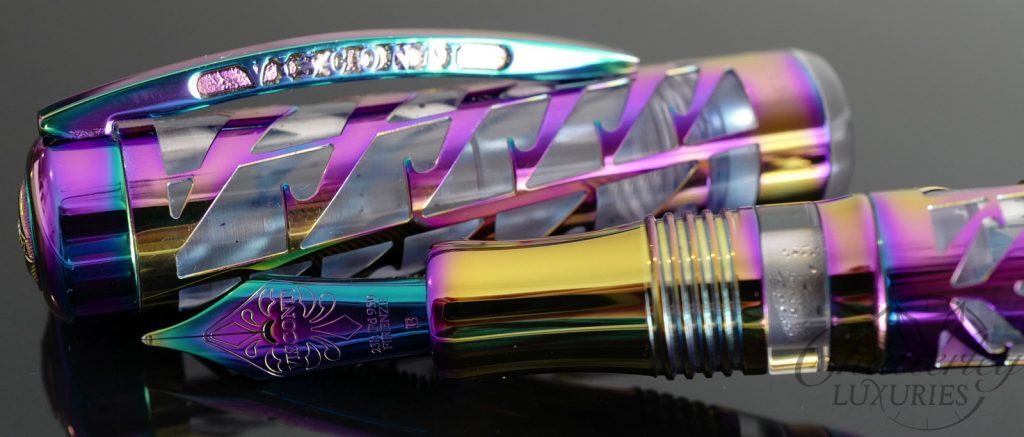 The Watermark is a pen that demonstrates one of Visconti's greatest skills, the artisanal craftsmanship of the cut out filigree, an ability to achieve intricate details with absolute precision.
Visconti began crafting filigrees  back in 1993 with the launch of the Visconti Uffizi and over the years refined and improved the technique with pens like the Skeleton or the Ripple. To create a new design requires many months of work. This time the decision was made to create a new design that recalls the Visconti logo like a paper filigree and now in Iridium.
The logo is repeated along the body and cap of the pen, and given the name 'Watermark'. The design of the pen identifies strongly with the Visconti brand, much like a watermark is an identifying pattern in paper. The filigree is cut out from a solid tube of sterling silver and requires over 20 manual operations to reach the final status.
Retail   $1,995.00
Sterling Silver with a Rainbow PVD
18k Gold Nib in F, M and Stub
Limited to 888 pens worldwide