Visconti Opera Master Demonstrator Clear Fountain Pen
This pen is NOS (new old stock) and complete with box and papers. The swirls on this pen are really amazing.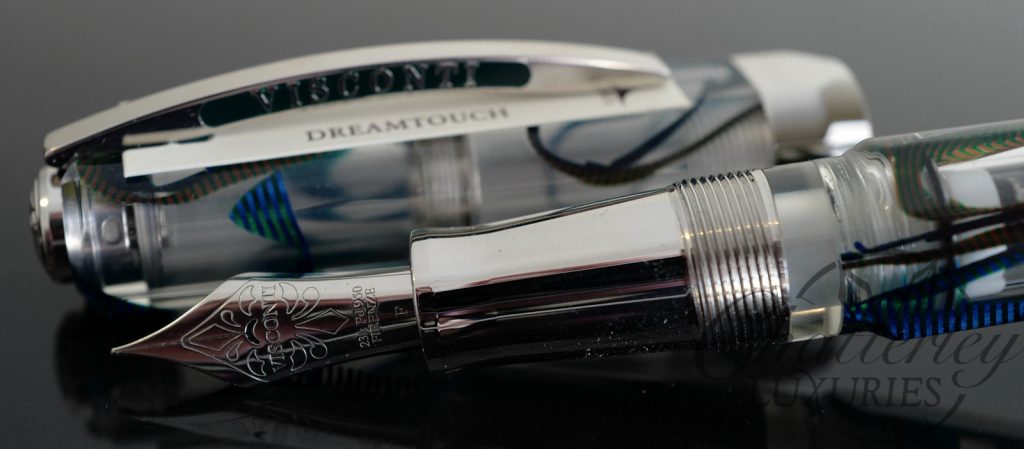 Visconti Opera Master Demo Collection celebrates Visconti's tenth year since the creation of the "Double Reservoir power Filler" system. This system was registered at the Italian Patent Office On July, 31st 1998 by inventor Dante Del Vecchio. This prestigious filling system allows you to safely transport fountain pens during air flights, avoiding ink-leakages and at the same time boosting more ink for more writing, even up to 10 times more than any other pen.
Ten years after the very first patent Visconti has applied the same Double Reservoir Power Filler to its new Opera collection, creating the Opera Master Demo Limited Edition Collection. In order to appreciate its fine mechanism, the components and to enjoy the view of the ink too, Visconti has manufactured the Opera Demo in 3 new semitransparent colors usually called "demonstrator".
You'll love the rich, lustrous, classic blue with pearlescent and black swirls and platinum trim. Or select the eccentric clear, which contains striped swirls of green, blue, and just a touch of orange, also platinum trimmed. The Amber Tortoise contains dark flecks along its syrupy beauty and is finished with a bright gold trim. Each Opera is transparent or translucent to demonstrate the Italian craftsmanship of the double reservoir power filler system from the inside out.
The squared circle shape of the barrel, combined with the metal section, offers an ideal balance in the hand for pleasurable writing. Every single pen is polished twice: externally and internally to give the right finishing to acriloyd and to let you appreciate Visconti's finest craftsmanship. This fine writing instrument is limited to 888 pieces.