Visconti Opera Master Essence Limited Edition Fountain Pen Collection
Contact us for our Chatterley Loyalty pricing, info@chatterleyluxuries.com
Visconti is thrilled to announce its latest launch, the Opera Master Essence collection, a collaboration with renowned resin artist, Jonathon Brooks. The Opera Master Essence collection is a tribute to Visconti's exceptional craftsmanship and attention to detail along with Brooks' incredible resin mixes. Ignite your creativity with the rosy and golden hues of the Firestorm, or experience a piece of the universe with the scintillating greens and blues of the Stargazer.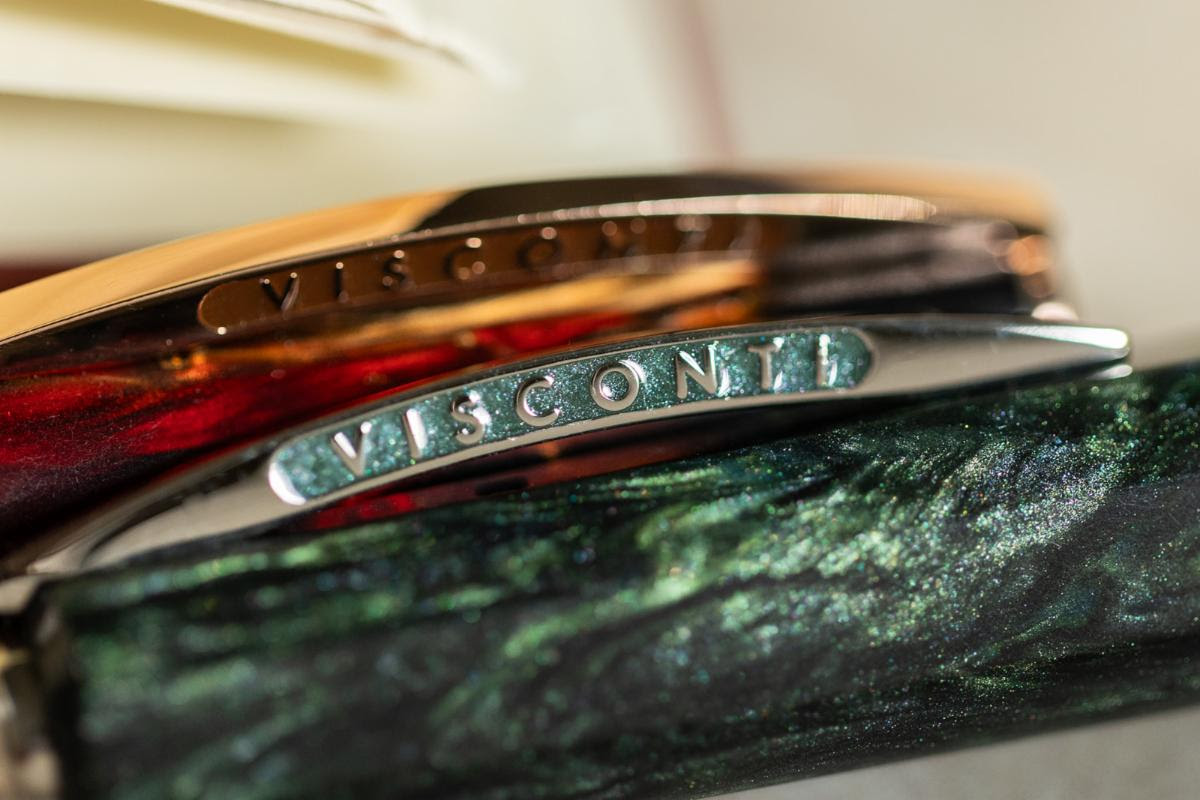 Jonathon Brooks Resin
The Opera Master Essence collection is crafted with two new resins by Jonathon Brooks – Stargazer and Firestorm. These resins are a true reflection of Brooks' creativity and unique style.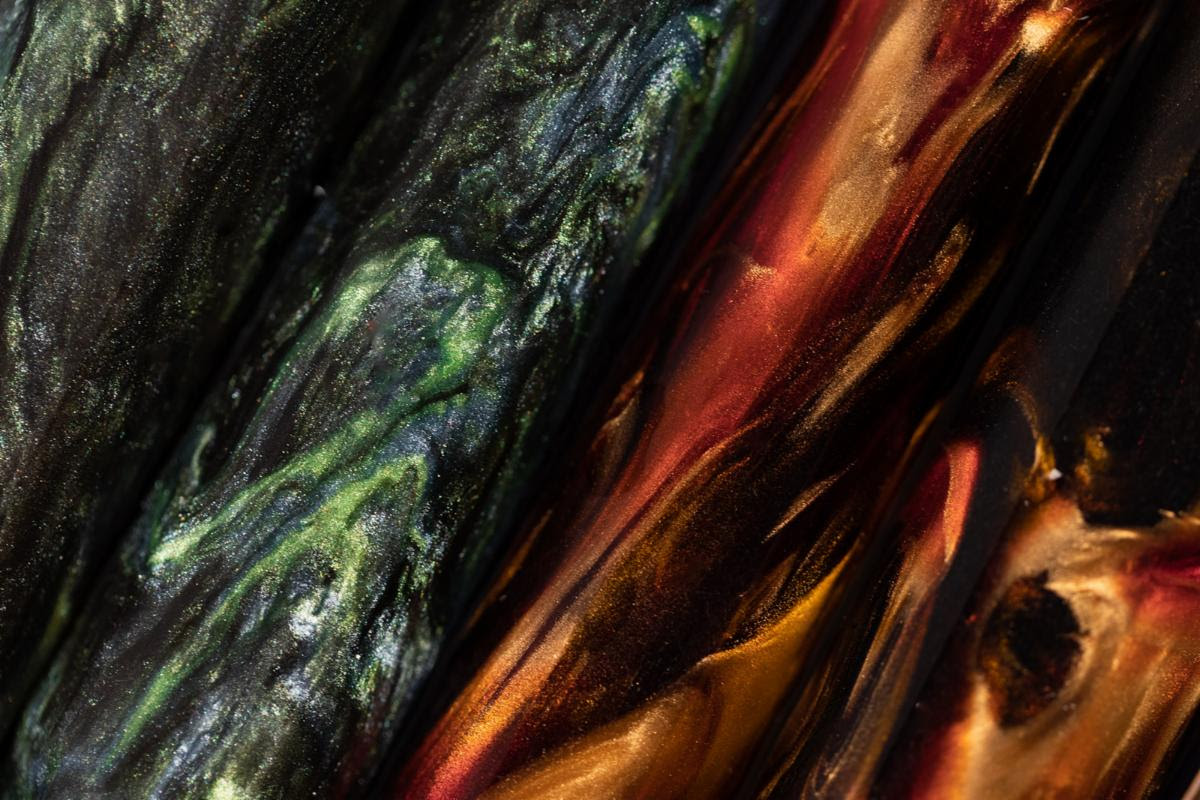 18k Gold Nib
Visconti's 18kt gold in-house nib, hand-crafted and manufactured in Florence, Italy. Available in EF, F, M, B, and Stub widths.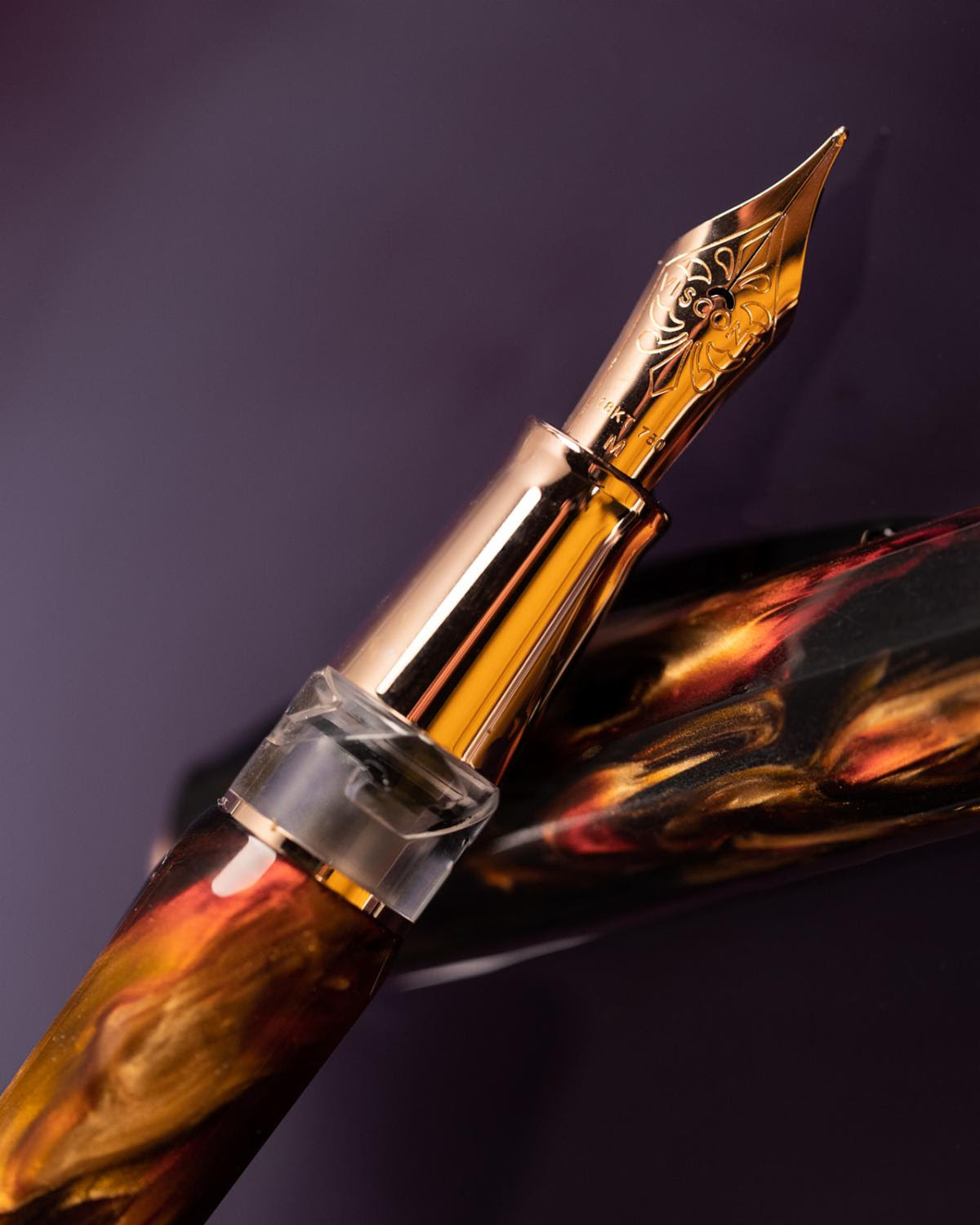 Double Reservoir Power Filler
A vacuum filling system that is easy to use and has considerable benefits. Patented in 1998, this is arguably the most advanced filling system ever developed in fountain pen history. The user is able to fill the pen with the equivalent of 10 cartridges of ink, and thanks to the two reservoirs, prevents ink from leaking during air travel.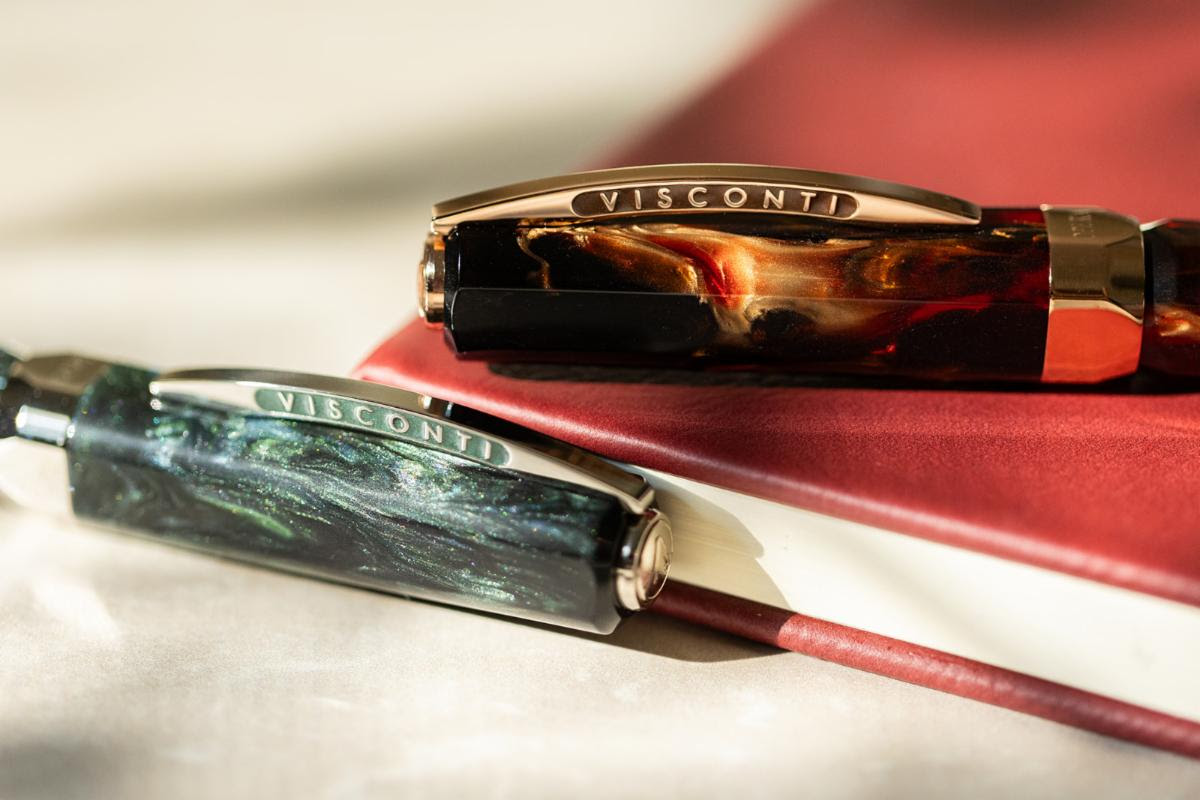 Hook Safe Lock
This revolutionary closing system is very satisfying to operate and was created to lock the pen body into the cap to prevent the possibility of the pen accidentally unscrewing and leaking inside a pocket or bag.
Opera Master Essence Collection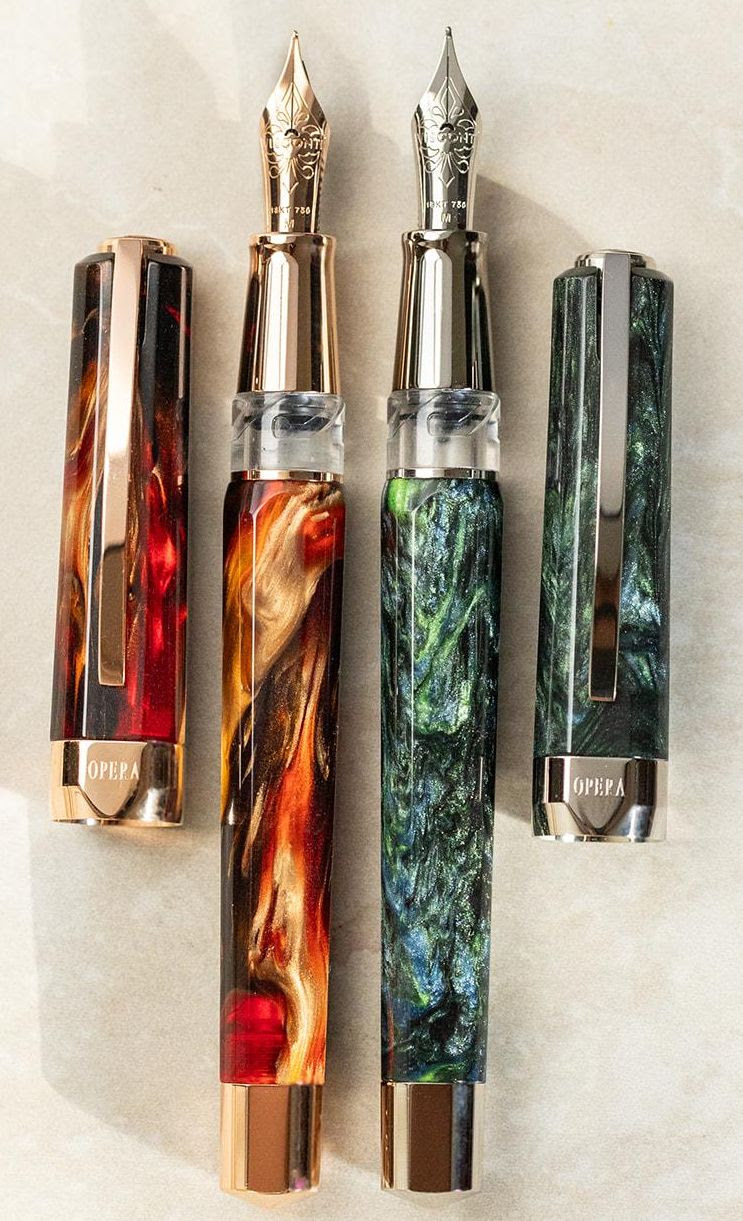 Stargazer
The Opera Master Stargazer is a glimmering resin that evokes a sense of otherworldliness, with its various blue hues, and vibrant green colors trimmed in palladium. The Visconti name on the Ponte Vecchio clip is accented by a sparkling teal enamel, perfectly complimenting the resin's cool color palette.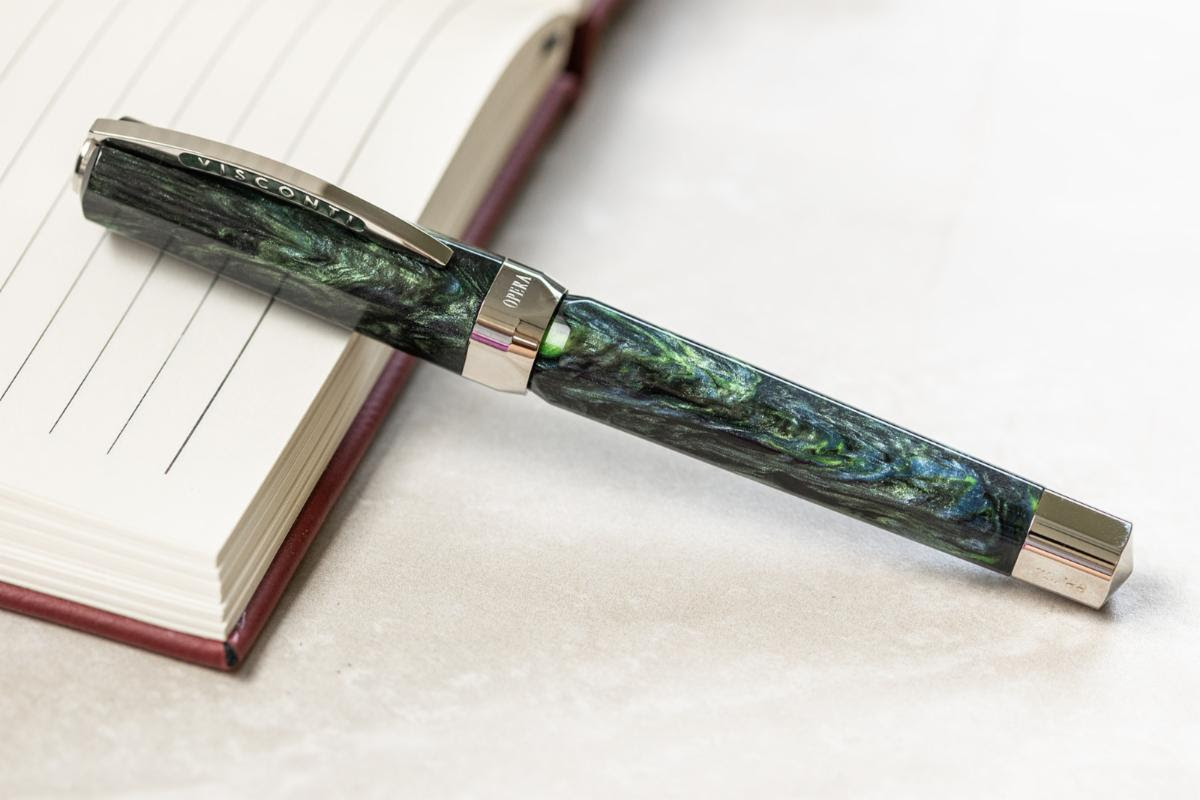 Firestorm
The Opera Master Firestorm is a rich resin, with its deep red and brown hues accented by a golden shimmer and fitted with rose gold trim. The Visconti name on the Ponte Vecchio clip is filled with a subtle sparkly amber enamel, accenting the resin's warm color palette well.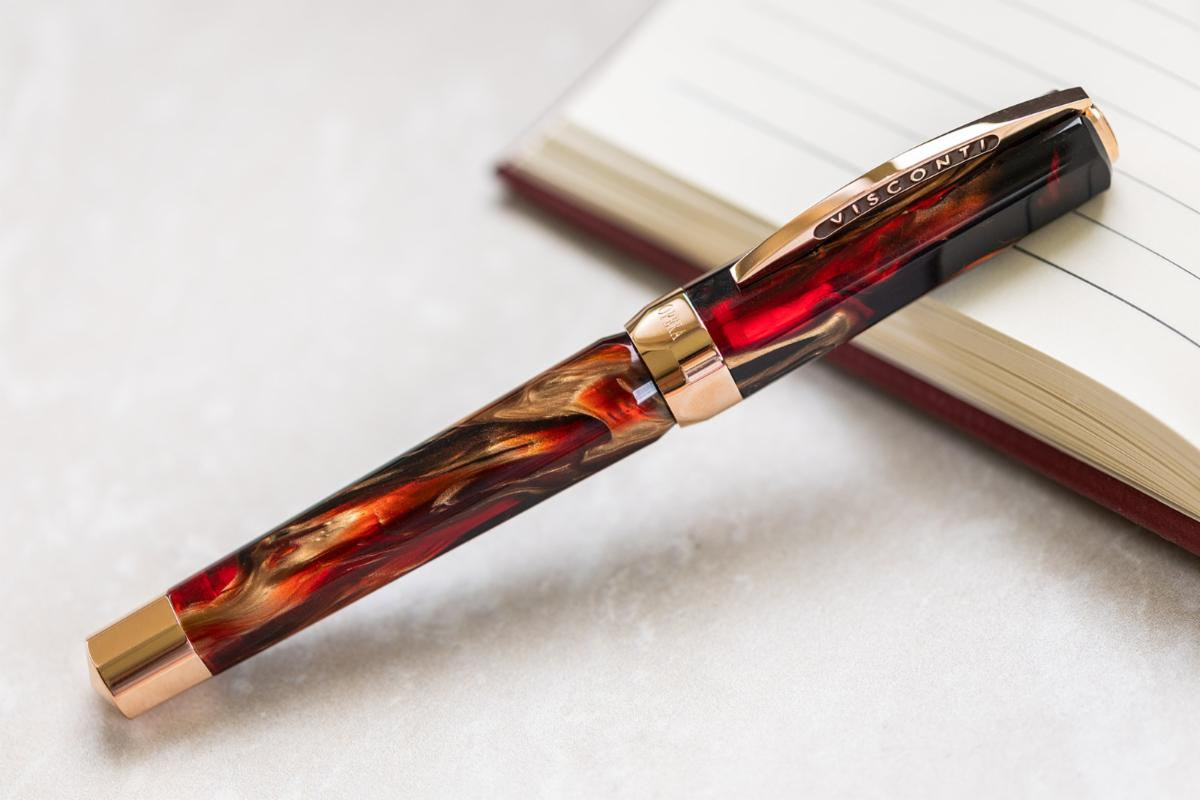 Retail Pricing & Item Codes
KP28-11-FP – Stargazer Fountain Pen $1,195
KP28-12-FP- Firestorm Fountain Pen $1,195
Edition: Limited to 88 (each edition)
Fountain Nib: EF, F, M, B, S
Stargazer-18kt white gold, Firestorm-18kt rose gold
Filling System: Power Filler, Double Reservoir
Material: Acrylic Resin
Trims: Palladium or Rose Gold Plated