Visconti Van Gogh Fountain Pen – Gauguin's Armchair
This pen has been lovingly used.  It comes complete with box and papers.  It is equipped with a Steel Medium nib that has been modified to a custom BLS (Butter-line Stub) by Pendleton Brown.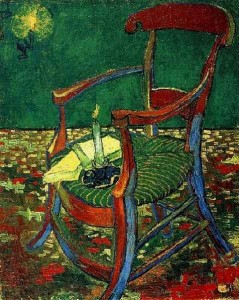 Van Gogh 125th Anniversary Collection, a range of pens inspired by paintings from one of the world's most acclaimed artists.
The original Visconti Van Gogh collection enjoyed more than 10 years of success worldwide and provided an exceptional range of pens in a multitude of colors. Once again, Visconti has provided further inspiration and innovation – a range of writing instruments not only inspired by the artist's color and technique, but also the emotion of the individual paintings themselves.
Visconti has worked hard to formulate palettes of color that accurately reflect the technique and emotion of each of Van Gogh's paintings.  Never before have pens been created that were inspired from a specific canvas – difficult work considering the diversity of objects and techniques used by Van Gogh. Through meticulous and painstaking choice of color and palette mix, each Visconti pen is unique and has emerged to represent a specific Van Gogh painting.
The pen itself utilizes Visconti's eighteen-faceted design, the many edges enhancing the vivid colors of the pen.  The trims and the clip are rose-gold plated.  The cap trim ring has delicately engraved Tulip design, one of the symbols of the Netherlands, and each pen is presented in a uniquely shaped gift box that is decorated with a faithfully reproduced image of Van Gogh's 'Self Portrait'.  Visconti has employed their popular magnetic closure system.  The rose-gold plated steel nib is available in a medium nib grade.  This pen employs a cartridge convertor filling system.