Description
Artus Pen (one off) Silver Foil Fountain Pen
This pen is an oversized pen, but not as big as the "oversized" pens we see today. Similarly sized to a Danitrio Takumi which is not the biggest pen, but still bigger than a Montblanc 149. It has a number 6 sized nib and fills via Cartridge Converter. This pen is a one off, non production pen. Meaning a one of kind. This pen has the artists signature on the section as well as the Artus A. The lacquer work is amazing on this pen, and with the gold leaf added it makes it extra unique. The pen starts with Ebonite and then get many layers of Lacquer. This pen can be fit with a Fine, Medium, Fine Flex or 1.1 Stub nib.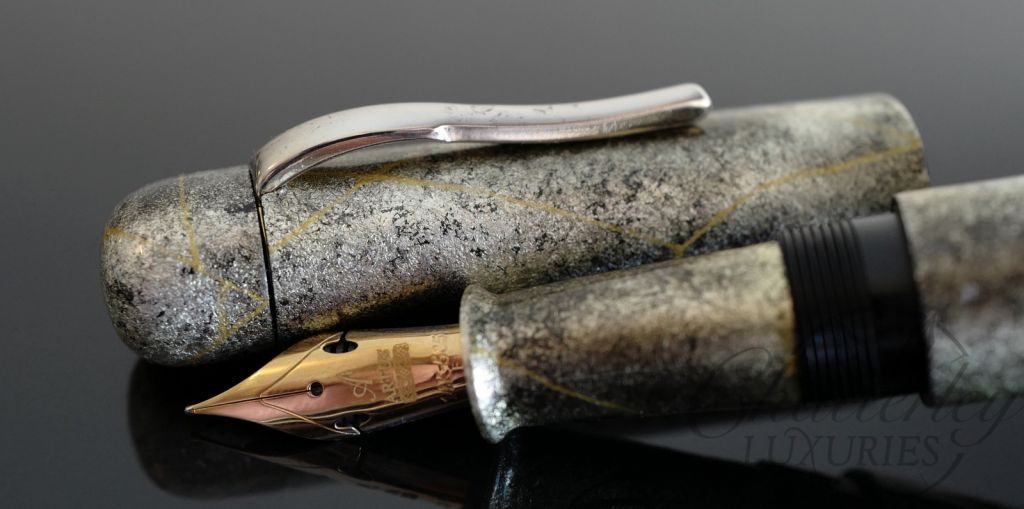 Artus was established in 1993 in the central part of Russia, since that, they have been concentrating on making and promoting top quality lacquer art, both modern and vintage. And in trying to keep the ancient complicated techniques and traditions of old Russian icon painting and combine them with Japanese ways of using the lacquer and maki-e.
During almost 20 years they have been very carefully selecting and building relations with the best painters who studied 5 years in the State schools of Palekh, Fedoskino and Mstera art. All of them have their masterpieces in numerous private collections in USA, Great Britain, Singapore, China, Germany, Italy etc. and in the State Museums: Moscow Decorative and Applied Art Museum, Palekh State Museum of Art, Ivanovo State Museum of Art, Museum of Russian Art, Minneapolis, USA – just to name a few.
Artus has done many projects with well known Italian pen makers Ancora (nearly all the Limited editions) and some with Aurora and Japanese Sailor. And starting from 2010 decided to make our own brand Artus -limited edition and one of a kind fountain pens, concentrating on quality of all the materials used, including the best possible nibs; customer care and ideas of International arts being presented on unique writing instruments.