Aurora Mar Adriatico Limited Edition Fountain Pen
This pen has been lovingly used.  It is equipped with an 18kt Medium nib and comes complete with box and papers.  It is LE number 431.  The sterling silver does have some tarnish to it, but we are happy to polish it prior to shipping if you would like us to.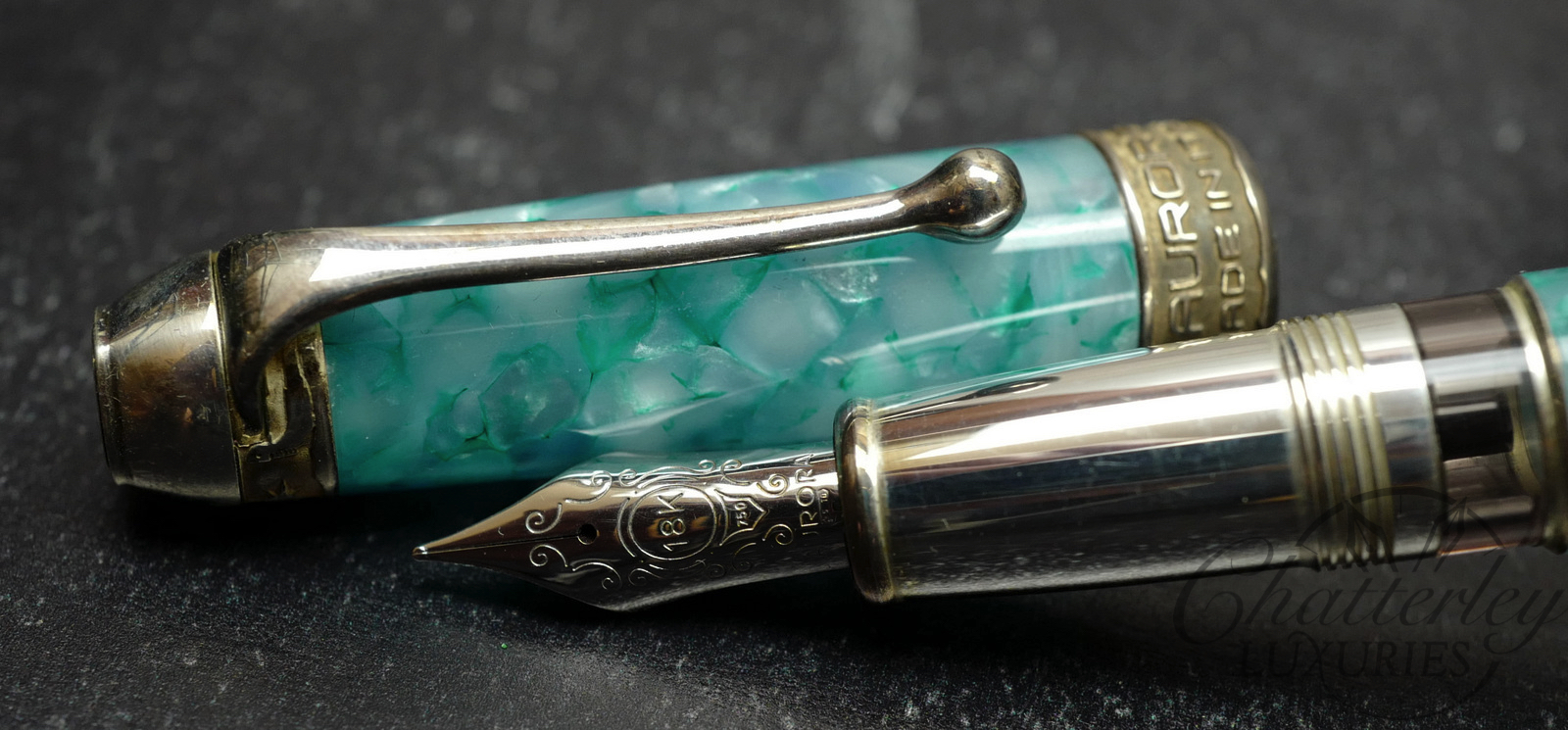 The new limited and numbered edition series dedicated to the Italian Seas that are inspired by the culture, landscape and history of the seas and outline areas. 
This is the second in the series. And is dedicated to the Mar Adriatico, (Adriatic Sea)
 The light blue with turquoise veined marbled resin is inspired by the seas colors and is very hard to capture in photos. The depth and color truly resembles the water as it ripples on the coast.
The pen is adorned with Sterling Silver trim, which is then rhodium plated to help prevent the silver from tarnishing. It utilizes Aurora's in-house reliable and generous piston-filler.
The most characteristic symbols have been developed on the decorations of the rings. The bottom ring is decorated with an anchor and row, as the Adriatic is a popular place to sail. A beach chair depicted on the center ring and represents the amazing beaches along the Adriatic coast.
 Limited to 480 pieces worldwide. The Mar Adriatico  comes with a solid 18k gold rhodium plated nib.
The Adriatic Sea is a continuation of the Mediterranean Sea, separating the Italian Peninsula from the Balkan one. The western coast is in Italy, and the Eastern one belongs to Slovenia, Croatia, Bosnia, Montenegro and Albania. Its name comes from the Etruscan colony Adria. The Mediterranean climate and the beautiful shores of this sea helped the ex-Yugoslavian countries to become some of the uprising tourist destinations in the world. Many luxurious resorts are built on the Eastern shore of the sea currently, especially in Croatia and Montenegro.