Chateau Monarch Celluloid CN02 Limited Edition Green Arco Rose Gold Trim Fountain pen
This pen was part of a set where someone didnt take the green pen and bought the Grey only. Very unlikely scenario, but we have this amazing pen available.
The pattern is one of the nicest!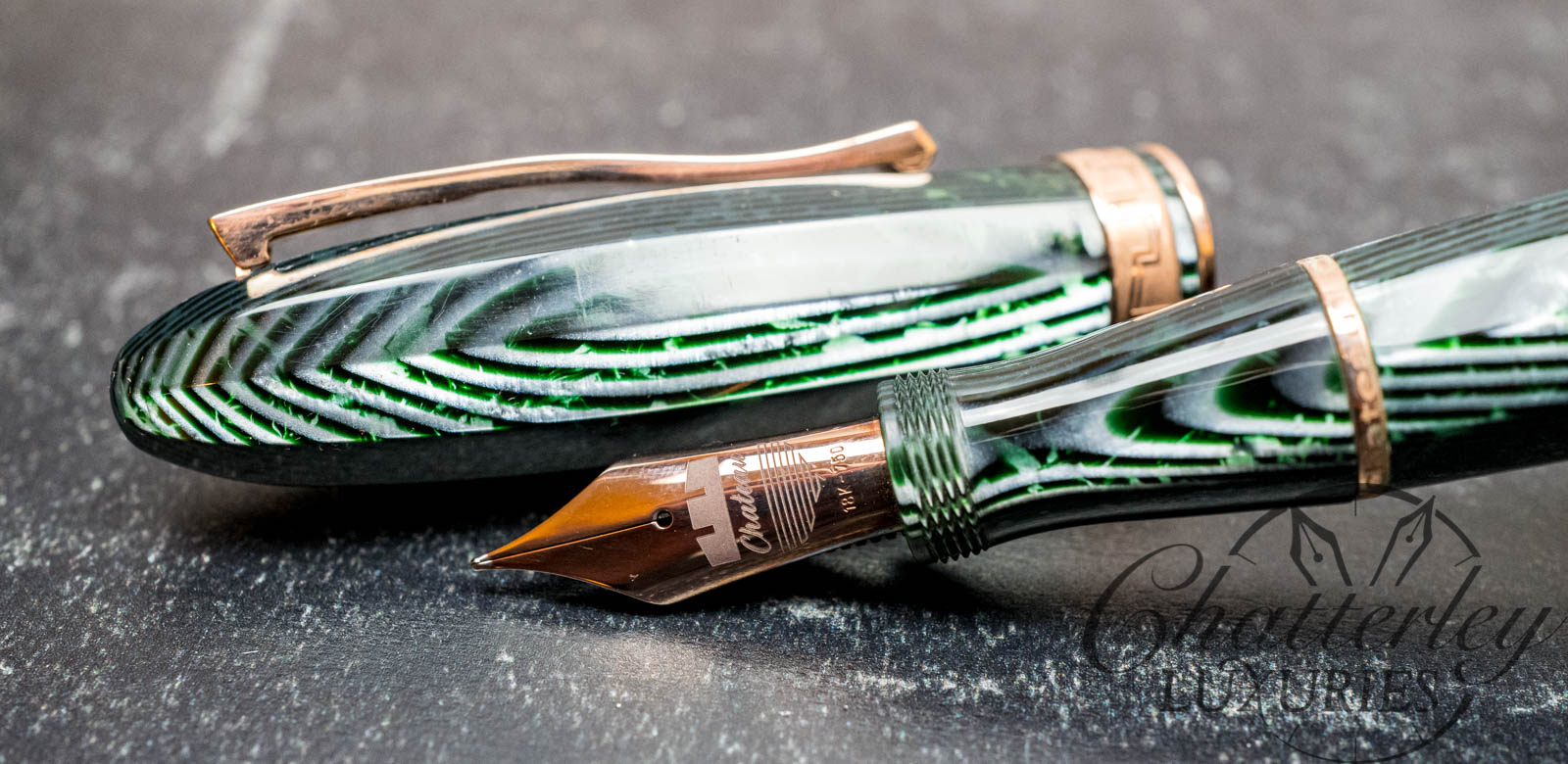 Introducing the Chateau Monarch. The first Fountain pen from Chateau. These pens are truly amazing to hold and handle. The quality of them are top notch. Although it may look like a simple pen to manufacture, its quite the opposite. The Faceted and Tapered shape alone is difficult when hand turning pens. The cap ring really shows amazing detail and the  beauty of the double enabled clip process is really hard to capture. The CN01 is the Omas Smoke and the CN02 is the Arco Green.
Available in three trim colors. Limited to only 10 pen in trim. Rose Gold, Ruthenium and Silver. The nib is an 14k #8 nib in Either Fine, Medium or MB (Medium Broad) The MB nib is a custom Chateau nib and is more like a western wet Medium or like a wet Japanese Broad.
-Made in the USA.
-Oversized hand turned body and cap.
-Body and cap are Faceted, tapered and domed
-Oversized #8 nib
-Piston filler.
-Hand casted robust clip with white enamel on"embrasures" and clear logo.
-Acid engraved trim (Done in Switzerland)
Dimensions
Length with Cap on-165mm or 6.5 inches
Length from nib to end of body-144mm or 5.71 inches
Girth of body at largest part (middle)-16mm or .63 inches
Girth Section at smallest part-11mm or .43 inches
Lovingly crafted in the USA!
Below is a stock picture…