Chatterley Pens / Stipula Pallazzo Vecchio Limited Edition Fountain Pen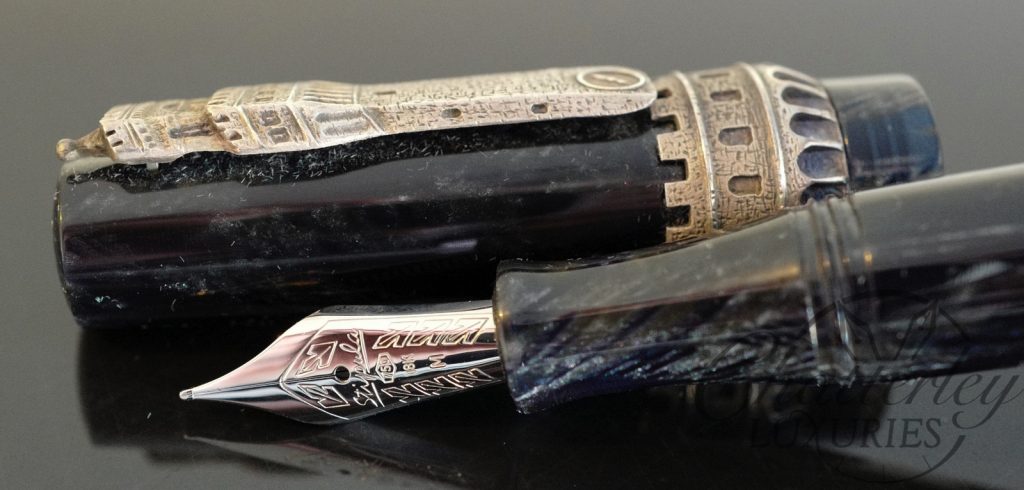 The Palazzo Vecchio (Italian pronunciation: "Old Palace") is the town hall of Florence, Italy. This massive, Romanesque, crenellated fortress-palace is among the most impressive town halls of Tuscany. Overlooking the Piazza della Signoria with its copy of Michelangelo's David statue as well the gallery of statues in the adjacent Loggia dei Lanzi, it is one of the most significant public places in Italy.
It was this building that was in the inspiration for this exclusive pen. Made with a dashing blue herringbone celluloid. This pen is made with a true in house piston filler. The clip and ring on the cap are a hand designed representation of this ancient world renown complex. The clip is made to look very 3 dimensional, but is in fact a nice flat clip that is useful as well as artistic. All the trims are 925 Sterling Silver.
The nib is 14kt gold and comes in either F, M or Stub.
This pen is available with an Extra Fine, Extra Flexible nib. The nib goes from EF-BB with no problem. The nibs and Feeds have been modified to do this. The flow has also been adjusted. If you have never used a flex nib, its very wise to contact me first to see if a flex nib is for you. These nibs are beautiful to write with and can really add amazing character to your writing style, but the nibs are soft. This means, the room for error is less than a standard nib. And too much pressure, or too much pressure at the wrong angle can bend or spring tines.
This exclusive pen is limited to 15 worldwide and is numbered as such. The MSRP on the Pallazzo Vecchio Limited Edition Fountain Pen is $1195