Closeout-Montegrappa Nazionale Flex Cinnamon Limited Edition Fountain Pen
These pens are brands new, complete with box and papers. But at a crazy closeout price!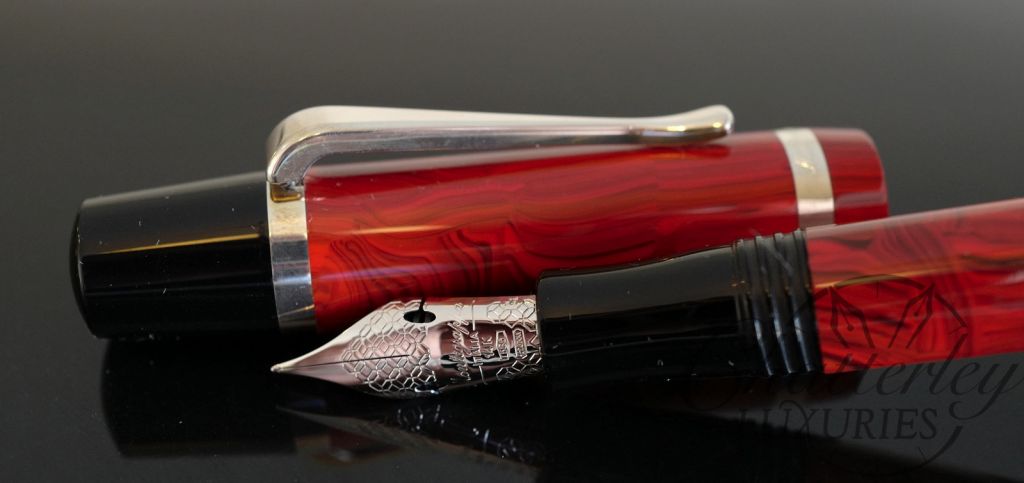 While fountain pens are intrinsically "retro" by nature, the technology has evolved over the millennium since the first pen appeared with its own ink reservoir first. The modern fountain pen has been refined to a state where contemporary materials, new inks and other advances have eliminated any operational issues, while the form has embraced everything from ornate commemorative pens to minimalist devices devoid of any protrusions.
What has embodied the spirit of the fountain pen user of the 21st century is his or her respect for the art of writing, and the way that a fountain pen encourages the user to exercise care. Underscoring this is another level of appreciation: that of the aesthetic of the legendary pens of the 1930s. The key recreating the pens of the golden age is to apply these values to writing instruments that incorporate the niceties of modern construction, while retaining all of the virtues of the original.
"Nazionale" is a model name that was a part of the Elmo catalogue, from the late 1930s. It oozes with Art Deco attitude, its colours evoking the era with exquisite tints and shadings. Now highly collectible, the Nazionale has inspired Montegrappa to revive it with a key feature not available eight decades ago.
Nazionale returns, visually remaining entirely faithful to the original style, with this limited edition being produced in celluloid. Trim is necessarily in Sterling Silver. Its mid-section metal ring is further engraved with the brand logo, while the pocket clip ends up with a decorative teardrop element, augmenting the vintage feel.
What has changed is the nib, the most crucial functioning part of any pen, to ensure that its "write-ability" matches the expectations of the modern user. The new Nazionale, to be known as the Nazionale Flex, is so-named because it is fitted with a flexible nib that allows different types of hand-writing and calligraphic experiences to be performed with the same writing instrument by simply applying more pressure to the nib.
For enhanced flexibility, the nib is made of 14k gold, and will be made available only in the grades of Extra Fine and Fine, as it accomplishes the rest on its own, according to how it is applied. The nib's cut-out shoulders offer comfortable curving, for an enhanced writing experience. Also in keeping with the era during which the Nazionale was born, which predates cartridges, this fountain pen's filling
system is piston-only.
Due to severely limited remaining quantities of the material that forms the Nazionale's cap and body, Montegrappa will issue only 100 Extra Fine and 100 Fine Nazionale fountain pens. Its collectability is therefore assured.
MSRP $1295