Conid FPN Blue Pearl Limited Edition Fountain Pen
This pen is Lovingly used and comes complete with box and papers. It has a number 8 oversized 18k Gold nib, stubbed by John Sorowka.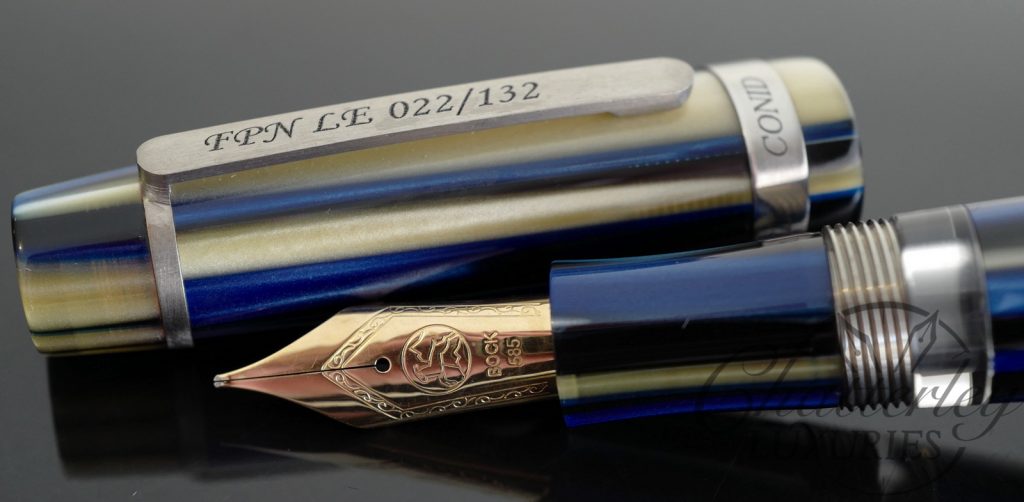 Celebration
This limited edition Bulkfiller is created to celebrate the 11th anniversary of the online platform Fountain Pen Network. Designed by Francis, one of our founders and honoured member of the FPN, this pen marks FPN's eminence and expertise in the field.
Extravagant
The high-quality acrylic housing of the pen radiates a deep and intense colour scheme.  The end of this pen is adorned with a magnificent 8mm nib in 14K gold, individually fine-tuned to fit the high and immaculate standards of the FPN public.
Intense
Created out of cellulite resembling the shimmer and exclusivity of a natural pearl, this pen is a true eye-catcher, combining contemporary elegance and exceptional colour scheme. Based on our Kingsize model, its boldness truly fits the celebration of a great companion.