Danitrio Roiro-migaki Jade Green/Turquoise on Takumi Fountain Pen
This pen is brand new, but does not come with its original box. They are short from the suppliers due to Covid.  There is also a small imperfection on the clip.  It is not scratched, it looks like the silver dripped during the plating process.  It is very minor, on the side of the clip, and not very visible unless you look at it thru a loupe.
Contact us for the Chatterley Loyalty Discount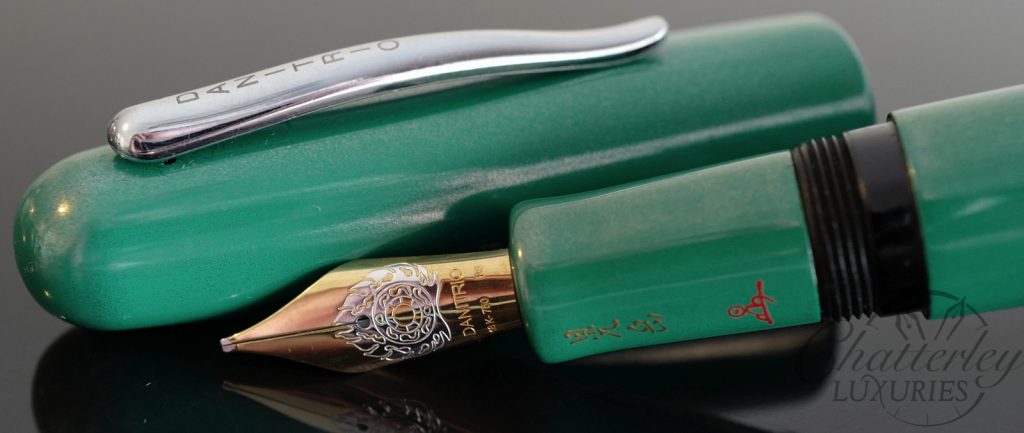 Roiro-migaki starts with the process of Shita-nuri (base painting) which takes one day to dry. Then, Naka-nuri(middle painting) preparing for final painting, also takes one day to dry. Uwa-nuri (final painting) uses oil-free Urushi, refined Urushi called Roiro-urushi is used for the final painting. After this, some special charcoal is used to burnish the surface repeatedly until the surface is shiny with luster. The work of burnishing is done differently by the craftsmen. The final finish will take a few days or more depending on the weather and humidity where the work is done. Better quality Urushi-nuri usually requires base painting 2-3 times, middle painting 2 times and final painting 3 times.
Danitrio makes remarkable hand painted pens using the Japanese skill and craftsmanship. The amount of details on the pen is remarkable. The little details may easily be overlooked. One thing to consider is how the artist uses difference sizes of gold flake to create the desired effect. This pen takes many months to finish.
Size/Shape of pen: Takumi
Base Material: Ebonite
Painting: Roiro-migaki
Cartridge Convertor Filling System