Description
Danitrio Urushi Maki-e Pinky Sakura and Butterflies by Kogaku on Takumi Fountain Pen
Danitrio makes remarkable hand painted pens using the Japanese skill and craftsmanship that has been mastered over the last few thousand of years. Good basic paintings start with base painting, which the craftsmen paint twice or three times with Urushi mixed with finishing powders to make the base hard and durable.  Then followed by the interim paintings which is done by one or two layers preparing for finishing paintings.
In Japanese culture, butterflies carry a number of meanings but are most closely associated with the symbolism of metamorphosis and transformation. They are closely linked with recently departed spirits and consequently are represented in a number of traditional family crests.
This beautiful pen by Dantrio artist Kogaku, has 4 shades of pink layered in waves across the body and cap.  Whimsical raden butterflies scatter across the whole of the pen as if they have been caught in a light breeze.  Accompanying the butterflies are maki-e cherry blossoms adding to the beauty of this piece of art.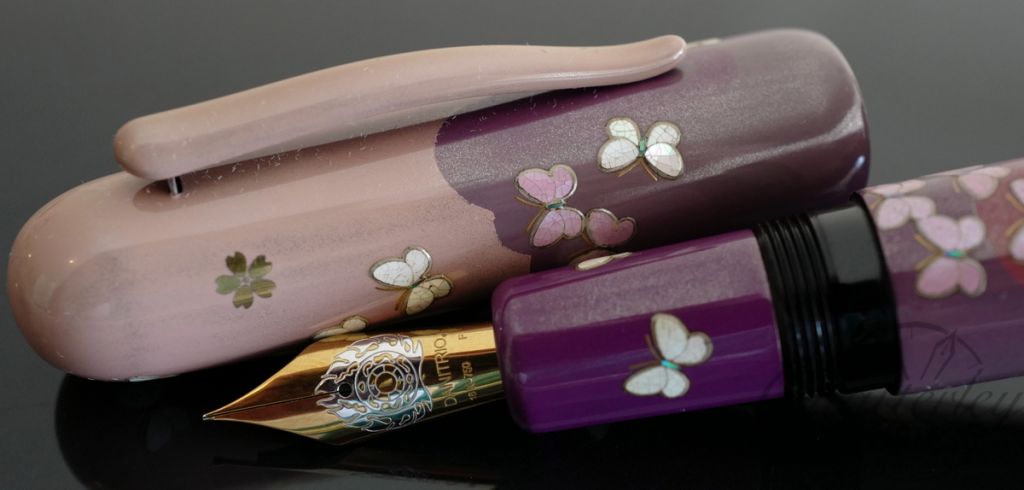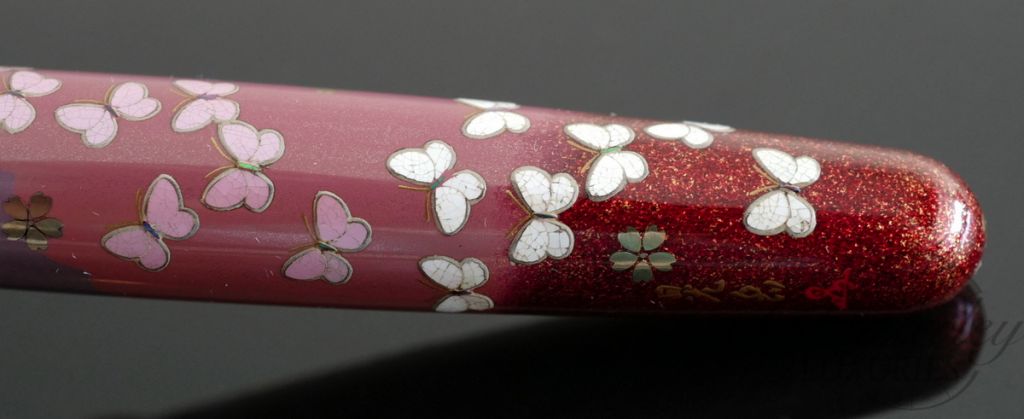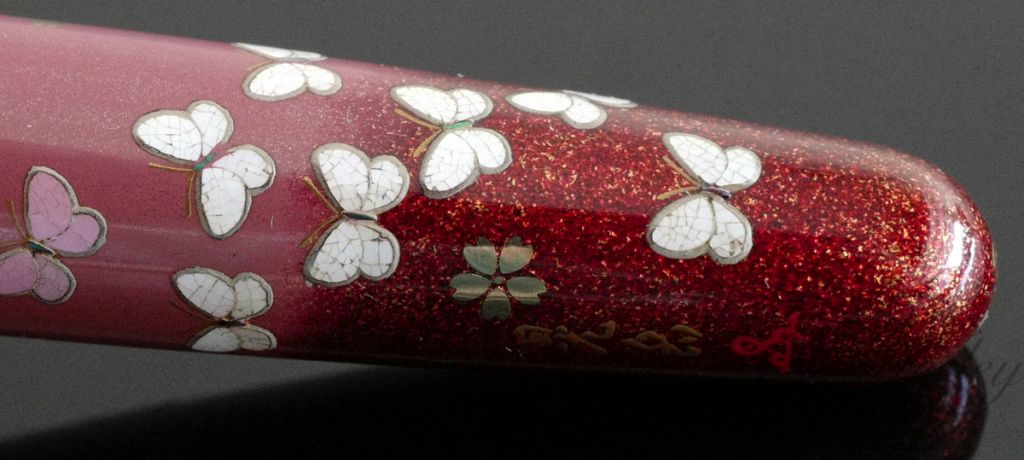 "Ra" of Raden means shells and "den" means inlay. Generally they use rather thick shell called Raden, but also use thin shell called Aogai-nuri. Those shells include Yakogai (green snail or a marble turban) or Tamamushigai (a kind of abalone imported from Mexico). The techniques of Raden have Umekomi (bury), Oshikomi (push down) and Horikomi (inlay). They also use eggshells, various semi precious stones such as lapis, malachite or coral.
The base for Urushi paintings must be smooth and strong in order to have a good Urushi painting, which will last thousands of years. When the base is ready for painting, the first painting uses Sabi, Urushi mixed with polishing powders, as its base painting and call it Shita-nuri, the base painting. Then, Naka-nuri, the interim painting with Urushi is preparing for better Uwa-nuri, the finishing part of painting. The color of the interim painting has to be selected according to the color of the finishing part of painting. All these works are usually done by Nu-shi, craftsmen of Urushi paintings, painting 7 times in average and it takes 2-3 weeks before the Nu-shi can send back the pens to our Maki-e sh, who will do more Urushi painting works or Maki-e onto the pens.
Craftsmen call Urushi is a living thing. Its qualities differ even from the same trees, for example quality is different from the trunk or branches. Different qualities from different trees or different areas or countries.  Then, crude Urushi must be refined to make more than 10 different qualities of Urushi for different usage. Genuine Urushi is like pure gold only for fine jewelry and pure gold is too expensive for cheap works with cheap materials.
The pen fills via cartridge convertor and features a #6 size 18kt gold nib.
Koichiro Okazaki. Signature: Kogaku.
Title: Dento Kogei-shi. Born in 1959.
He learnt Maki-e from a master and was recognized with Kao (authorized monogram) Omote School in 1991 by Kuda Munenori of Sado (Tea ceremony). His works have been accepted by the National Art Exhibition each year since then.
MSRP on this pen is $5600