Danitrio Urushi Roiro-migaki Purple on Densho Fountain Pen
Roiro-migaki starts with the process of Shita-nuri (base painting) which takes one day to dry. Then, Naka-nuri(middle painting) preparing for final painting, also takes one day to dry. Uwa-nuri (final painting) uses oil-free Urushi, refined Urushi called Roiro-urushi is used for the final painting. After this, some special charcoal is used to burnish the surface repeatedly until the surface is shiny with luster. The work of burnishing is done differently by the craftsmen. The final finish will take a few days or more depending on the weather and humidity where the work is done. Better quality Urushi-nuri usually requires base painting 2-3 times, middle painting 2 times and final painting 3 times.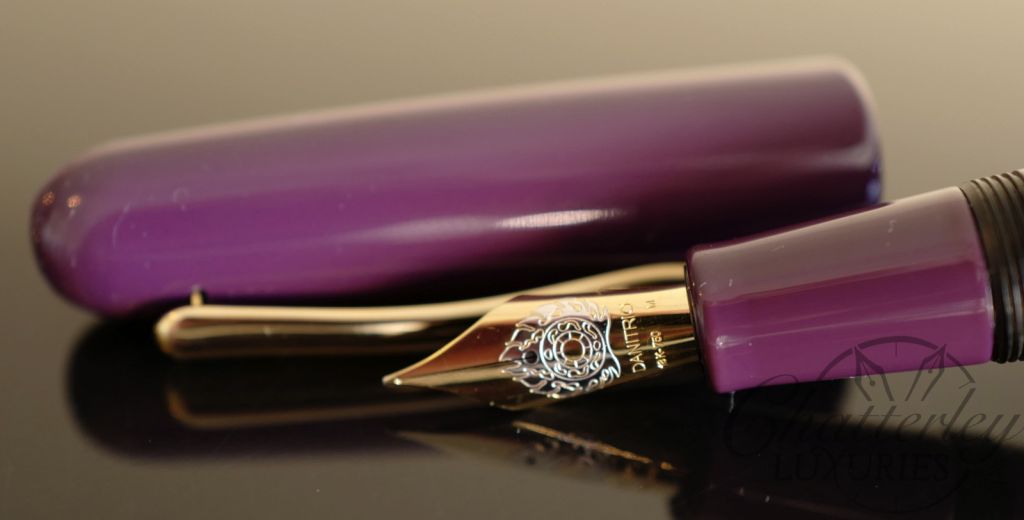 The base for Urushi paintings must be smooth and strong in order to have a good Urushi painting, which will last thousands of years. When the base is ready for painting, the first painting uses Sabi, Urushi mixed with polishing powders, as its base painting and call it Shita-nuri, the base painting. Then, Naka-nuri, the interim painting with Urushi is preparing for better Uwa-nuri, the finishing part of painting. The color of the interim painting has to be selected according to the color of the finishing part of painting. All these works are usually done by Nu-shi, craftsmen of Urushi paintings, painting 7 times in average and it takes 2-3 weeks before the Nu-shi can send back the pens to our Maki-e sh, who will do more Urushi painting works or Maki-e onto the pens.
There is no 100% transparent Urushi. The clearest Urushi still has a light brown or amber color. The interesting thing with Tame-nuri is when the transparent Urushi is painted over the color Urushi, the color will change because this transparent Urushi is NOT 100% transparent like man-made "Urushi" which is 100% clear..
This pen size is Densho, similar to Takumi, slighter thinner, but with a different filling system. This pen fills via eye dropper with shut off value.
Size/Shape of pen: Densho
Base Material: Ebonite
Painting: Roiro-migaki
Filling System: Eyedropper
MSRP $1600