Graf Von Faber-Castell 2005 Olive Green Galuchat Fountain Pen
This pen has been lovingly used.  It comes complete with box and papers.  It is equipped with an 18kt Broad nib, but the box says medium as it was a nib swap with Faber.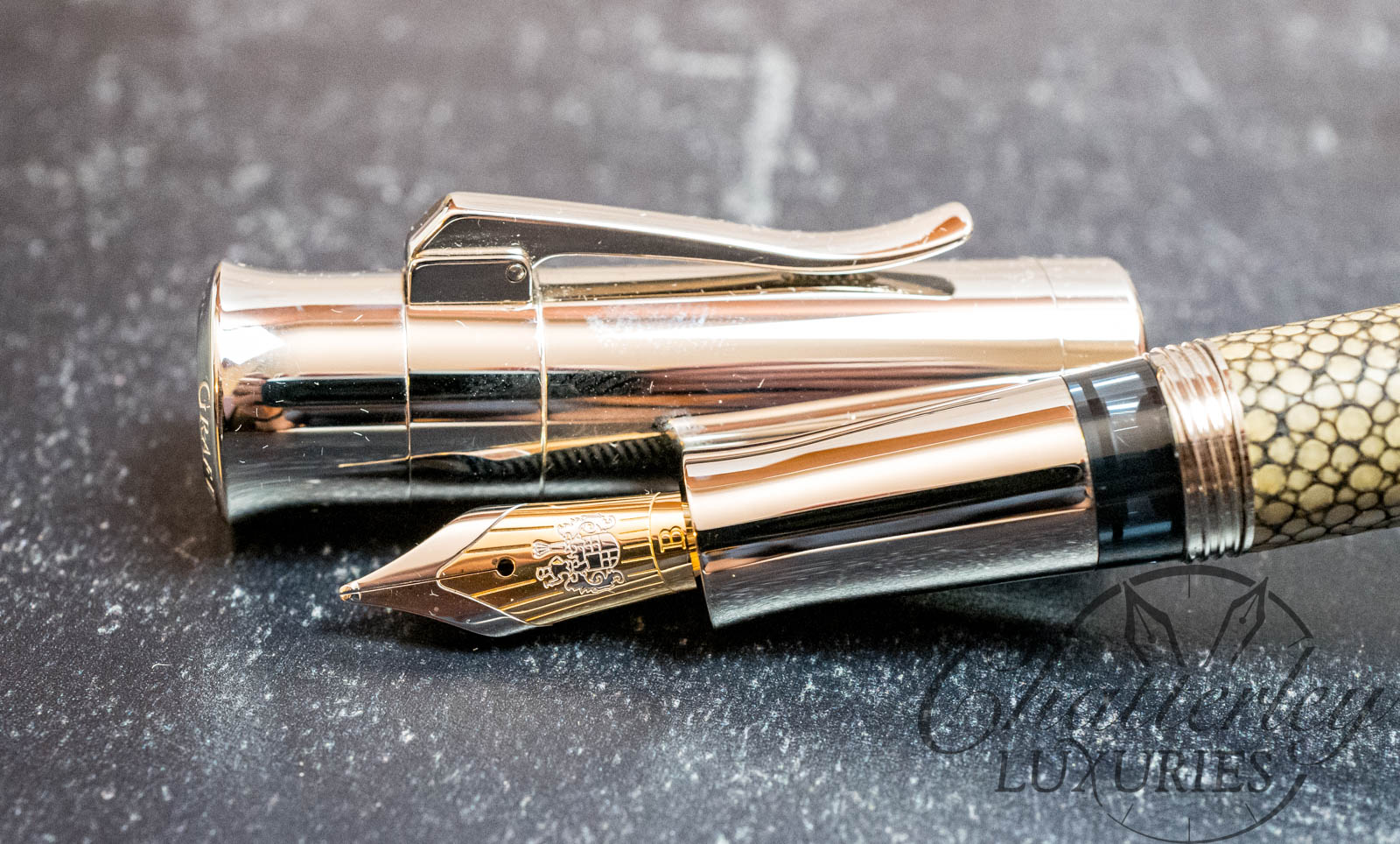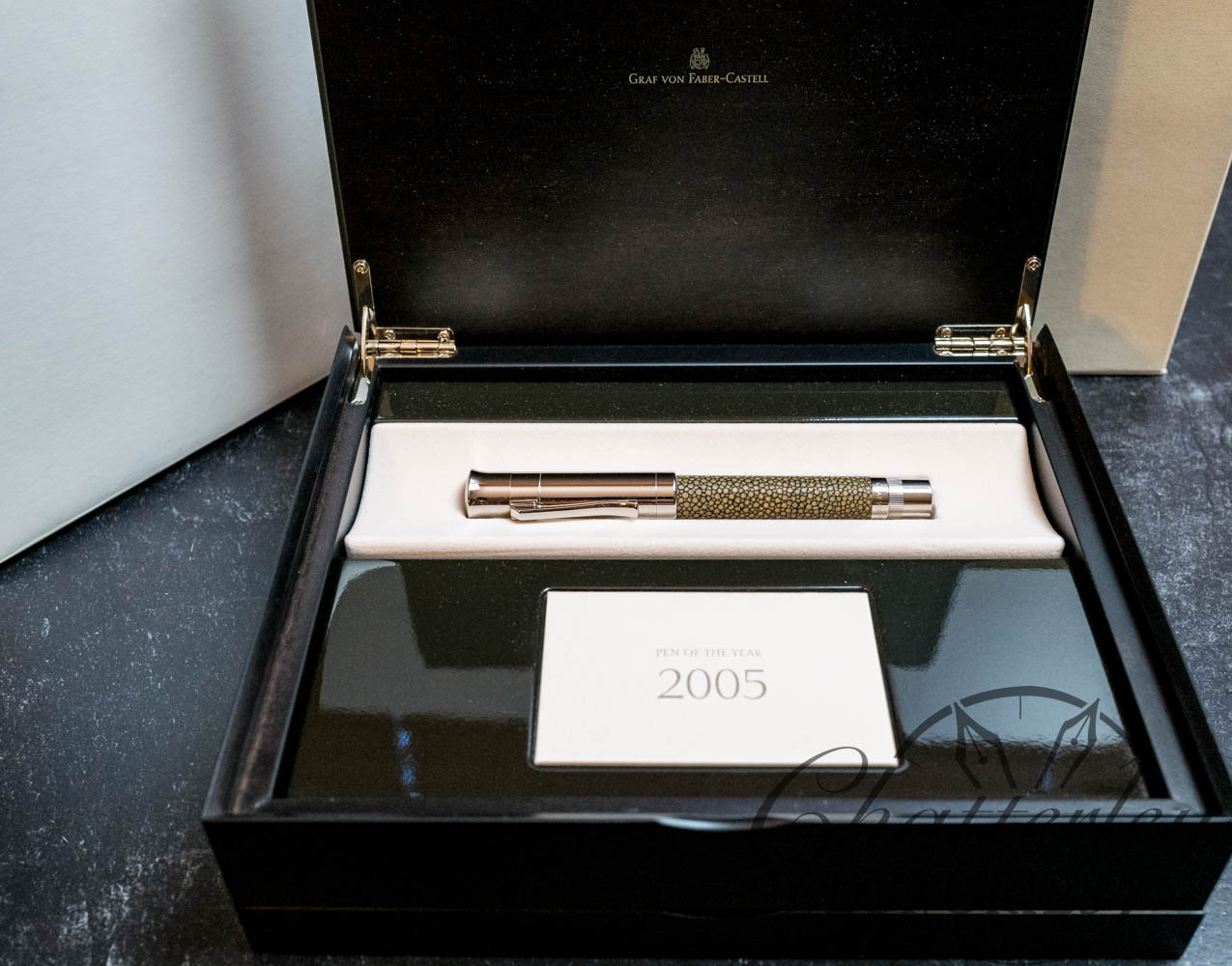 THE ESSENCE OF WRITING
Mysterious inner beauty and utmost practicality may have been the reason for the Samurai to cover their sword handles with stingray leather. Each and every detail of these masterly weapons expresses the desire to liberate the spirit from any deliberate effort.
DISTINCTION AND UNIQUENESS
Galuchat uniquely combines properties that are usually mutually exclusive.
It has a soft and smooth feel, while being remarkably resilient and tear-resistant. Both waterproof and fireproof, it is considered to be the most durable leather in the world.
Moreover, it distinguishes itself through exclusive aesthetic qualities: Each stingray skin exhibits an individually distinct pearl mosaic and develops special color nuances, some of which are derived from the anthracite grey spectrum while others elicit light olive green or ivory hues. Accordingly, the "Pen of the Year 2005" is available in two different colored models, and each fountain pen has its own distinctive color hue.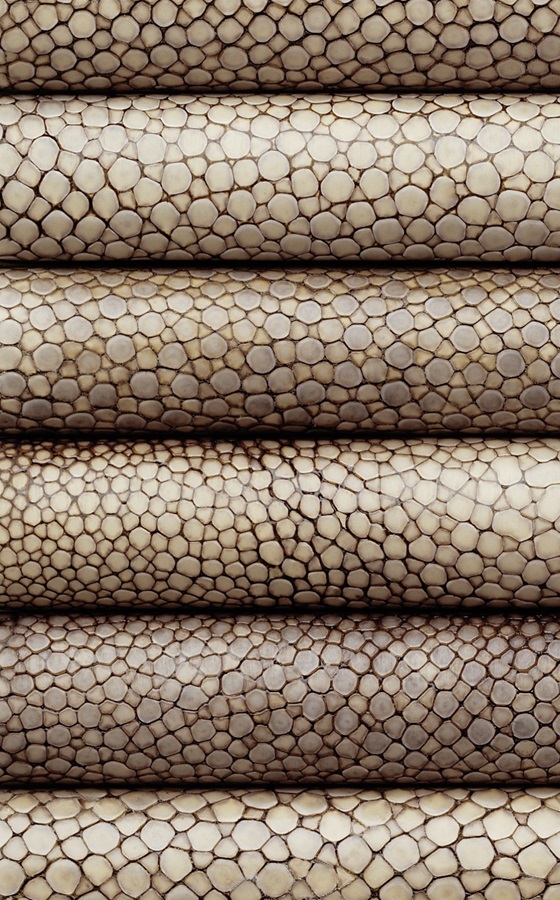 CRAFTSMANSHIP
Highly prized in luxury production during the Art Déco era, stingray leather or Galuchat places great challenges on expert craftsmanship.
Following careful selection, the skin is subjected to an elaborate vat-tanning process. However, more than thirty additional individual working  steps are required to craft the Galuchat barrel of the "Pen of the Year 2005".
Repeated careful buffing and finishing is the key to the distinctive visual appearance of each individual pen. Designed with attention to the smallest detail, the platinum-plated bridge represents a masterpiece in craftsmanship.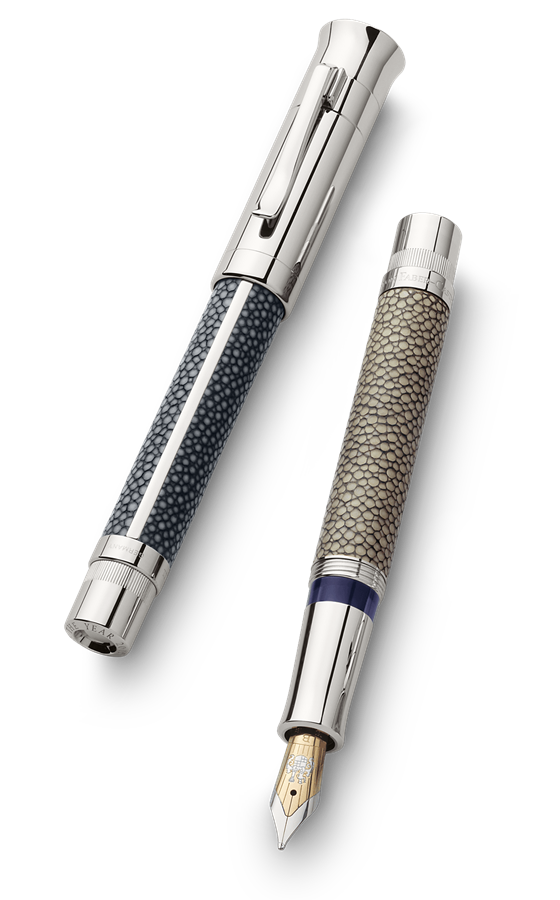 The Pen of the Year 2005
The individually numbered writing instruments are presented in an exclusive wooden case and are accompanied by a beautifully designed booklet and a limited edition certificate.
INDIVIDUALITY
The elaborate craftsmanship and individually distinct features of the barrel make each "Pen of the Year 2005" one of a kind. The 18-carat bicolor gold nib is 'run in' by hand and is available in M, B and F widths. The solid, spring-loaded clip ensures safe positioning of the pen once inserted in a pocket. A platinum-plated cover protects the turning knob of the piston-filling system.

Limited to: 2.000 fountain pens