Montegrappa Aphrodite Limited Edition Fountain Pen
This pen is like new and comes with a Medium nib. Some of the black foam inside the outer box has a little disintegrating (not unusual for an older pen)
Aphrodite, the daughter of Zeus and Dione, is the Greek Goddess of love, beauty, pleasure and procreation.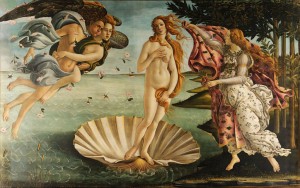 According to legend, she came to light from the foam of the sea on an iridescent shell and was transported to the island of Cyprus by a breath of air.  One day, an arrow-shot by her son Cupid, made Aphrodite fall in love with the beautiful Adonis.  Adonis was killed while out on a hunt, and Aphrodite in mourning, caused anemones to grow wherever his blood fell.  Zeus, so moved by his daughters mourning, decreed that Adonis may return as an anemone 4 months out of the year to be with his loved one.  Since then, the premature death of the young man symbolizes the vegetation drying up under the summer sun.
In 1997 Montegrappa celebrated the myth of Aphrodite by creating a fountain pen that bears her name.
The love that united Aphrodite and Adonis lives in the precious silver overlay.  The details stemming from a great manual dexterity, refine the different textures of the bark, leaves and skin.
The representation of the treasures of the sea which, according to legend, the most beautiful of all the goddesses were born are represented by the precious "mother-of-pearl" inclusions and two beads, one at the end of the clip, the other at the feet of the female sculpture.
Produced in black ebonite, Aphrodite is produced in 1912 pieces in sterling silver. The pen comes with an 18k gold nib.  This pen employs a piston filling system.