Montegrappa ZERO Cityscape Fountain Pen
These pens can come with gold plated steel nib to match the trim.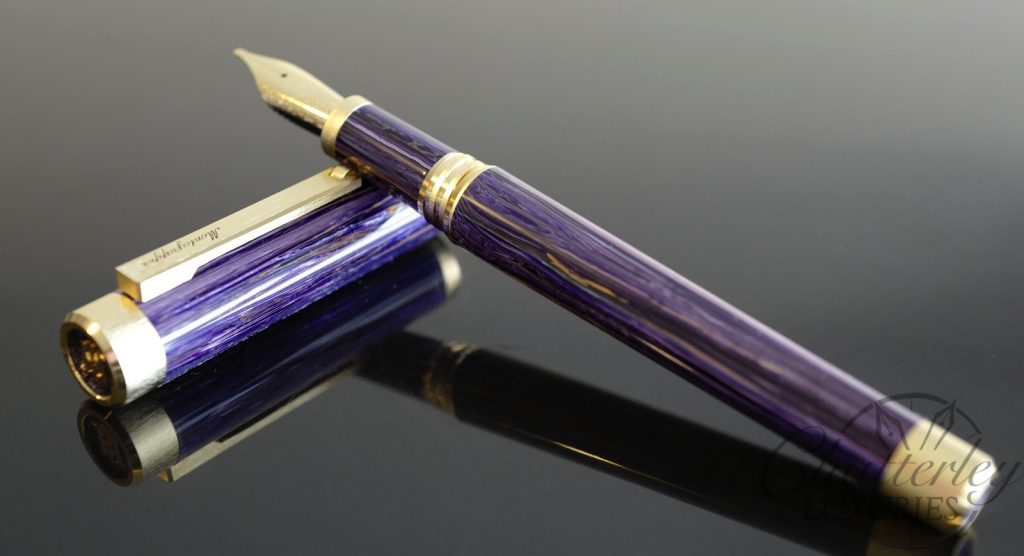 Exclusive to Kenro and their retail partners, the Cityscape Montegrappa ZERO is the newest release in the Kenro Reserve series. In this edition, the proprietary, resin material, Montegrappite, evokes the landscapes of cities around the globe. It reminds us that while we all live in different places, the skies we share are the same. The Cityscape celebrates this through the complexity and depth of the Montegrappite and the rich colors of dusk: deep purples, azures, fiery burnt oranges and a bronze trim and clip to represent the setting of the sun. The Cityscape is available in limited editions of ballpoint, rollerball and fountain pens in gold-plated EF, F, M, B and 1.1 stub nibs. 
Zero is the new signature family of Montegrappa writing instruments built in Italy and designed for bold innovation. Modern and muscular, the Montegrappa Zero resets the rules of writing instrument styling. Inspired by prestige timepieces, the cap crown features sapphire glass set in a miniature bezel. Zero's confident lines are the result of perfect geometry and precision finishing: refined design and engineering from Italy's most sophisticated pen makers. The Montegrappa Zero is built for the rigors of modern life, offering reliable mechanical performance in a casing made from of high-density acrylic and hard-wearing bronze. Gold-plated trims crafted in high-specification, Br8 bronze alloy are hypoallergenic, long lasting and exceptionally hard. Contrasting satin-brushed and polished finishes evoke the hallmarks of prestige timepieces. An all-new clip design houses Montegrappa's famous rolling sphere in a geometric profile made with high-precision diamond cutting in sturdy brass and hand finished.  Cartridge/converter fill.