Namiki by Pilot Emperor Owl Fountain Pen
In Japan, owls bring luck and offer protection from suffering.
In different parts of the country, they have historically been given a variety of other attributions (as a guiding bird and a bird which can predict the weather, for example).
Since the Meiji restoration in 1868 when Japan opened its doors to the West, the image of the owl has also changed, and the view on owls as a symbol of wisdom and education became more prominent.
Below is a picture of the Large #50 nib compared to a Montblanc 149 nib.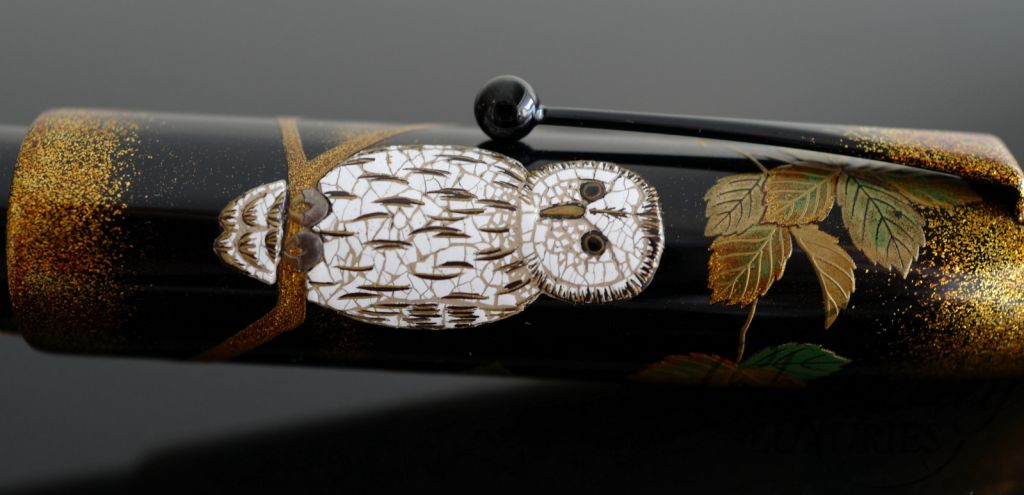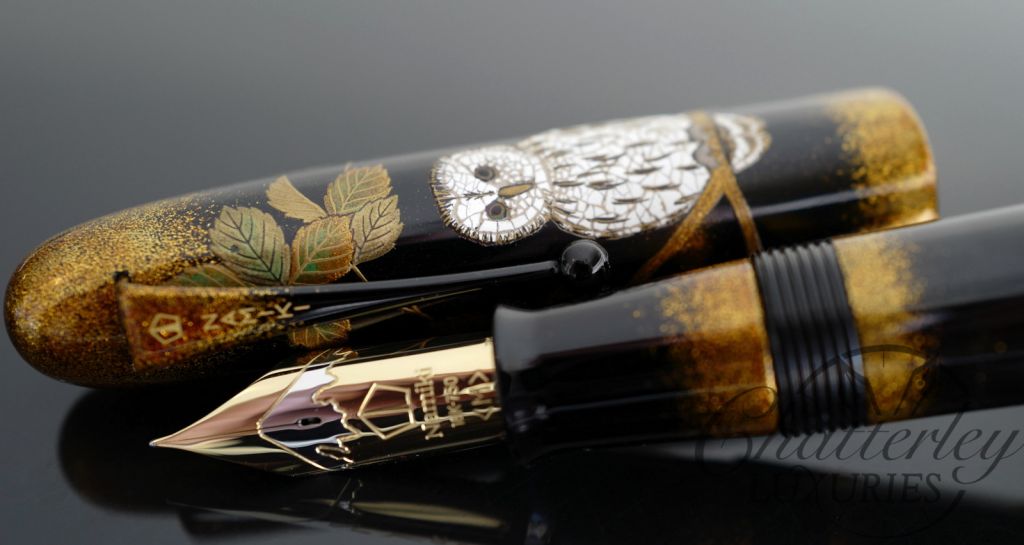 The Emperor Collection is Namiki's highest ranking series. A size No.50 (Jumbo) pen nib, the same si The Emperor Collection is Namiki's highest ranking series. A size No.50 (Jumbo) pen nib, the same size as the large Maki-e fountain pen created about 90 years ago, as well as possessing an ink stopping function and the body being shaped with ebonite, "Togidashi-Taka Maki-e (Burnished-Rased Maki-e)", where high skills are necessary, is utilized. We have prepared two types of pens, one with no clip where you can enjoy the beautiful design around the whole pen, and the other with a clip. If you have any questions please call us at (701)223-9936.
For the Namiki Collections, skilled Japanese artisans use the finest materials to create a line of writing instruments that look beautiful and perform flawlessly. We introduce Maki-e lacquering, a centuries-old technique in which multi-layered patterns are drawn on the barrel and cap with urushi – sap from Japanese lacquer trees. The hand-painted designs richly interpret scenes of nature in precious metals and lavishly colored pigments. From a culture that has revered the art of writing for more than a thousand years comes instruments that celebrate both writing and art. Where traditional techniques and modern innovations are fully realized in writing instruments that bridge art and technology, poetry and science, yesterday, today and tomorrow.
MSRP-$9,000