Omas Fountain Pen Limited Edition Wild Celluloid 360
Living the experience of handwriting as a personal enrichment, leaving behind a "sign", to remember precise and pleasant feelings lived in different moments of our lives…
In 2011 Omas released the first of their 360 Vintage Limited Edition collection witnessing the excellence of the OMAS writing instruments.  OMAS adds to the series revealed in 2011 with this 2014 Edition.
Staying true with Omas's commitment to delivering Limited Edition Collections, this pen is made of a Wild Celluloid and embellished with Rose Gold trim.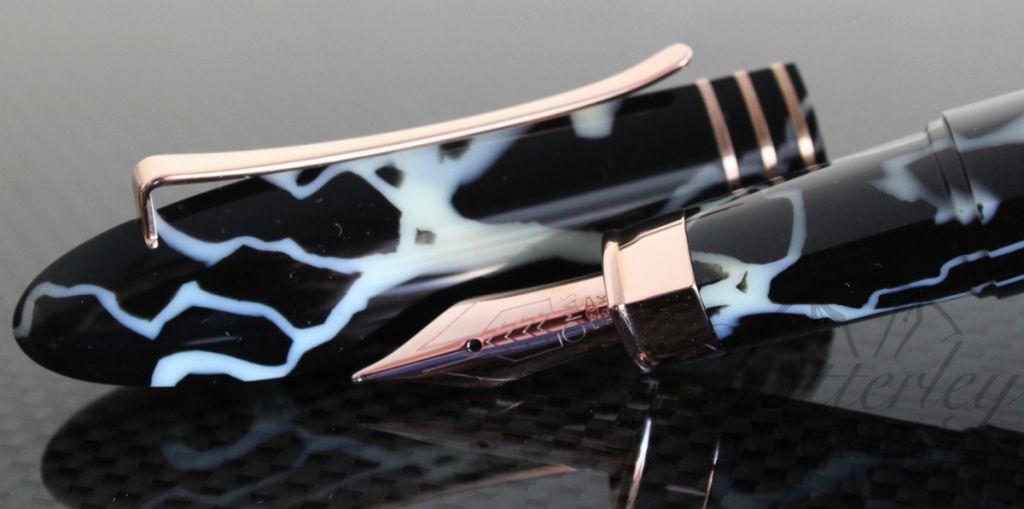 This Limited Edition is complimented by diamond-shaped engravings on both cap and barrel, adding depth and texture to this demonstrator made from high quality Celluloid.
Fitted with an 18kt nib and an ebonite feed, showcasing Omas's greek fret style trim design, this limited edition showcases the classic design that 360 lovers will recognize. The nib grades available are EF, F, M, B, or Stub widths or Extra Fine Flessible and Fine Flessible in 14kt gold.
The 360 model, with its triangular shape, is extremely ergonomic, specifically studied to maximize the pleasure of writing and make the moment of writing unique and unrepeatable.
An extraordinary experience also thanks to the precious celluloid which is made of, warm and pleasant to the touch.
Three rings embellish the cap and make the Limited Edition unique and elegant.
36 piston filled Fountain Pens and 36 Rollerballs in Wild celluloid and rhodium plated trim
Wild Celluloid 360 Fountain Pen – Model: O03A0058 – $1,595