Omas Ogiva Cocktail Fountain Pen-Blue Angel
1925–2015, Omas has been writing their history for 90 years.
A cocktail to toast their 90 years!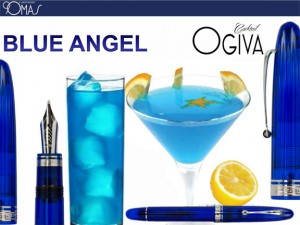 The Ogiva Cocktail collection celebrates the 90th OMAS Anniversary with three colors inspired by some of the most popular cocktails: deep red of the Bloody Mary, intense yellow of Vodka Lemon and vibrant blue of the Blue Angel.
Another tribute to the experience of handwriting, the collection "COCKTAIL" is available in Limited and Numbered Edition of 327 piston filling fountain pens, with 18k or extra flexible 14k gold nib.
MSRP on this pen is $495