Platinum 3776 Nice Demonstrator Fountain Pen
Released July 2014, this pen represents Richness, Healing Light and Transparency
Nice is a representative French resort located in Southern France. Boosting around 4,000 of history, this city has attracted aristocrats and artists since the 19th century.
Azure waters overflow with sunshine, splendid and blessed with mild climate, surrounded by the Mediterranean sea and majestic mountains, the beach is know as the "Bay of Angels."
Ultimately, personifying the mild southern French climate and the radiant sunlight which attracts celebrities from a far, as a theme, the body is translucent with a beautiful artistic silhouette.
A decor of brilliant diamond cut, this pen has an graceful elegant finish.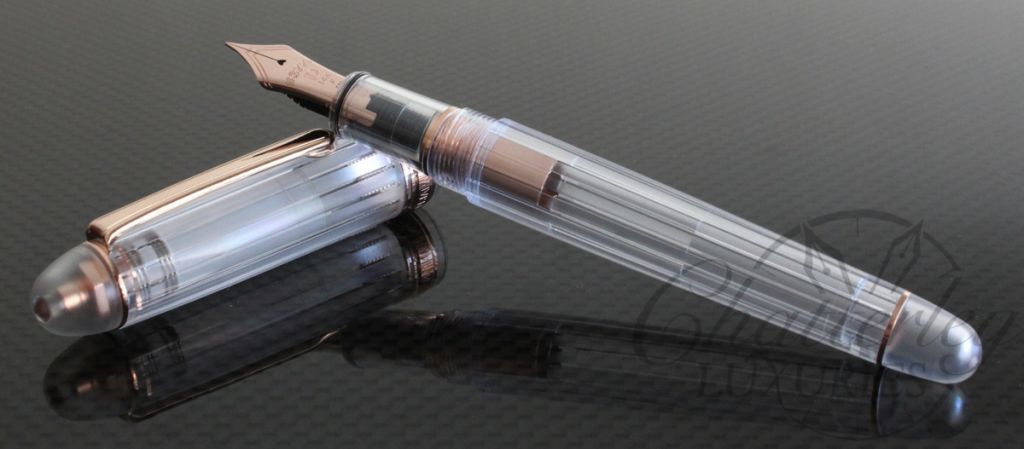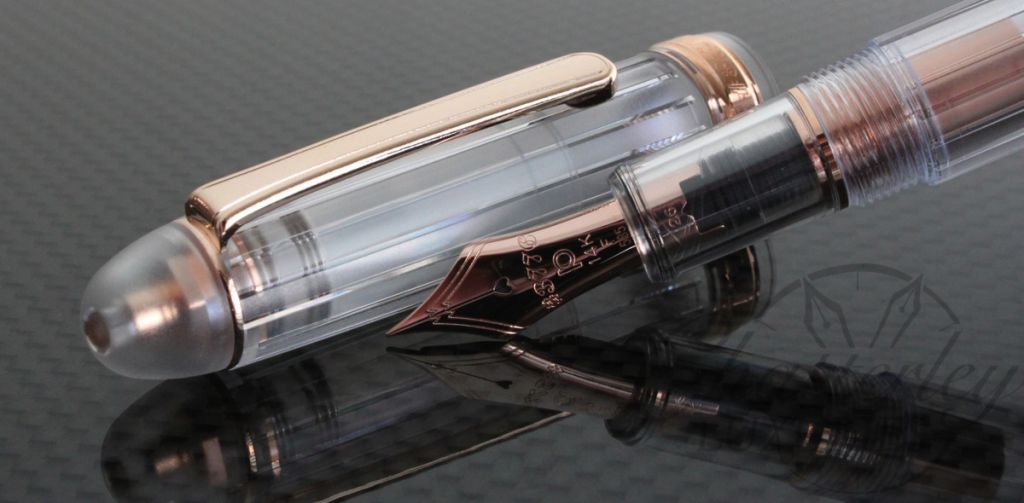 The #3776 "Century" Fountain Pen
What qualities make for the ideal contemporary fountain pen? Sleek design, comfortable writing balance, smooth flow, and fast-drying ink… At the request of customers, we at Platinum Pen have gone back to the basics to address these issues.
Every part and mechanism has been carefully studied and re-engineered. The result is the #3776 "Century," designed on the base model of the popular #3776 series pens.
◆SLIP & SEAL MECHANISM
It has normally been thought difficult to make an airtight pen with a screw-type cap. If not sealed tightly, you can experiance Ink drying out due to moisture evaporation, and problems with dried ink if the pen is not used for three to six months.
At the request of customers, the Platinum Pen Company has gone back to the basics to deal with this problem. This is the first fountain pen which has our unique "Slip & Seal" structure in a pen with a screw-type cap. Thanks to this innovation, currently being patented, it is possible to have a screw-type cap with complete airtightness.
The innovative cap contains a unique "Slip & Seal" mechanism that prevents ink from drying out in the pen. Meanwhile, a newly redesigned nib and feed regulate the ink flow. Founded in 1919, Platinum Pens is now nearing a full century of achievement.
About the Platinum #3776 Fountain Pen
The original #3776 series was designed by the late writing expert Haruo Umeda, known as "Mr.Fountain Pen," along with the design team at Platinum Pen Company. Their aim was simple- to create the ideal fountain pen. The #3776 was made available to the public beginning in 1978.
After just six months, over 150,000 pens had been sold, and its popularity has been maintained ever since. #3776 expresses the height in meters of Mt. Fuji, the highest and most beautiful peak in Japan.
Platinum Co., has made several samples of a nib and feeder according to 40,000 pieces of writing data from Nakaya (Platinum's subsidiary).
From 2009 to 2011, we have updated almost all machineries for making fountain pens and have made a new mold for not only a feeder and a nib, but also all parts of "Motosu" and "Century". "Motosu" and "Century" are entirely new fountain pen by new design, new machineries and new mold.
The #3776 "Century" celebrates this approaching anniversary and continues Platinum Pens' tradition of technological innovation. With Platinum Pens, the pleasure of writing and the use of fine writing instruments will always be evolving.
MSRP for the PNB-20000R #5 Rose gold trim is $250