Visconti Erotic Art Shunga Limited Edition Rollerball
This pen is pre-owned, but in excellent condition. It comes complete with box and papers.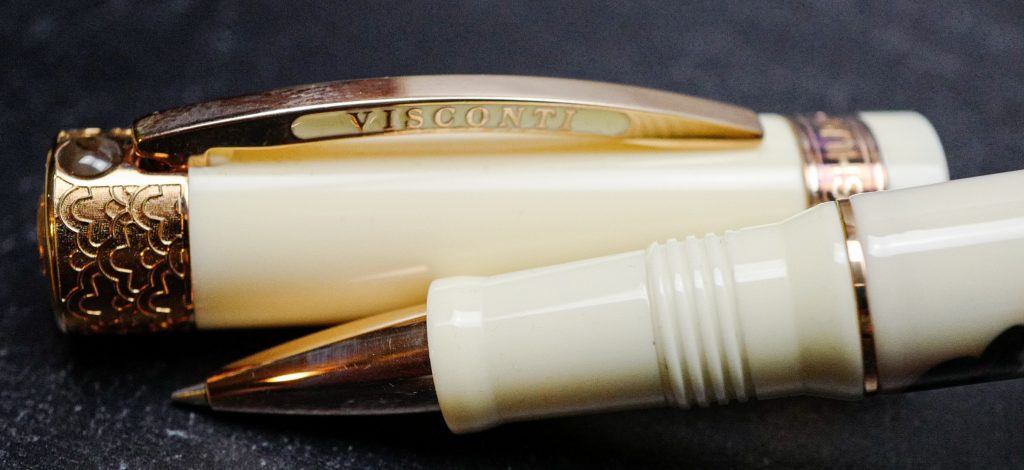 Visconti launches a collection of pens devoted to erotic art. Each pen concealing two hidden secrets and inspired by the pocket watch. In the olden days, pocket watches had opening cases whose covers concealed an erotic picture on the inside. Visconti has created a pen which, just like a pocket watch, has a barrel divided into two sections that allows access to its mechanical parts and conceals an erotic painting on the inside.
They did not stop at just a picture.  Thanks to technology, they also built a touch of healthy voyeurism into each pen.  A keyhole pierced just behind the clip allows us to view an erotic scene made using laser nanotechnology.
They have chosen three themes which they consider to be classics of eroticism as an art form:  Casanova, Shunga and the Kamasutra.
Casanova, the great Venetian lover, represents the typical Italian and extremely romantic and elegant "whispered" eroticism that was so popular in high society in the late 18th and early 19th centuries
Shunga, a Sino-Japanese form of erotic art dating from the 17th to the 19th centuries, were fully-fledged erotic instruction manuals intended for young wives as a form of sex education, but also for troops setting out for war
The Kamasutra needs neither introduction nor explanation.  One has but to recall that while sexual liberation hit the West in the 1970s, it had occurred in India 2,000 years earlier, if we consider that the Kamasutra was written some-time between 400 BC and 200 AD!

The fountain pens are enhanced with a 23kt palladium dreamtouch nib and incorporates the Power Filler filling system.  The pens come packed in a special gift box made from natural ash complete with tarot cards, fragrance and ink.