Visconti Homo Sapiens Florentine Hills Fountain Pen
This pen is like new and has 23kt Palladium Fine nib, its number 76 and has box and papers.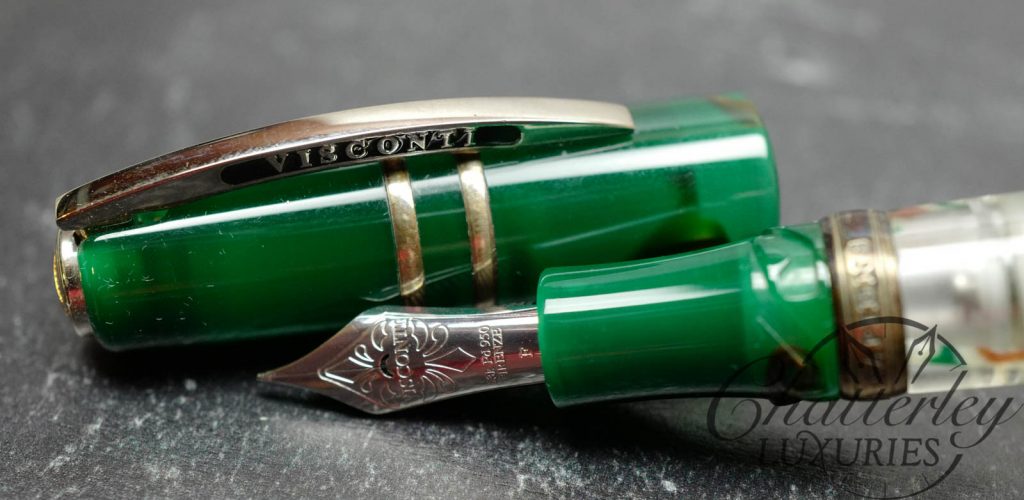 The year 2014 finds Visconti releasing the latest in the Homo Sapiens line, the Homo Sapiens Florentine Hills Demonstrator fountain Pen.
After the worldwide success of its Homo Sapiens collection, Visconti is delighted to present the new Limited Edition Homo Sapiens Florentine Hills fountain pen. The unique design of the demonstrator fountain pen features ribbons of finely shaved celluloid suspended in clear acrylic on the barrel and in the green-brown translucent resin on the cap and plunger.
The see-through effect is an open window to the most important patent from Visconti, its Double Reservoir Power Filling system made with titanium for dependable, long-lasting function. The arc-shaped clip and cap rings are crafted in fine 925 sterling silver. The fountain pen is equipped with Visconti's famous Dreamtouch 23K palladium nib The Visconti Homo Sapiens Florentine Hills Demonstrator is a numbered, limited edition of 1,000 of both fountain pens and capped rollerballs.
Visconti Limited Edition Homo Sapiens Florentine Hills Fountain Pen Features:
Ribbons of finely shaved celluloid suspended in clear acrylic on the barrel
Green translucent resin on the cap and plunger
Arc-shaped clip and cap rings are crafted in fine 925 sterling silver
Double Reservoir Power Filling system made with titanium
Visconti's famous Dreamtouch 23K palladium nib
Numbered, limited edition of 1,000 fountain pens