Wahl Eversharp DECOBAND Gold Seal Oversized Green Seaweed Limited Edition Fountain Pen
These come with your choice of the Superflex or Flexible nib.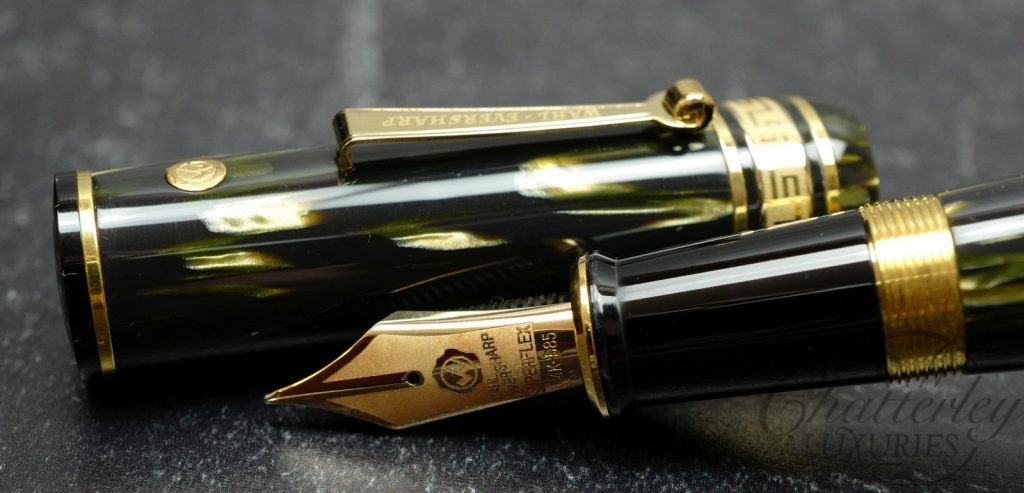 This WAHL-EVERSHARP Oversized DECOBAND pneumatic filling pen with FLEXIBLE or SUPERFLEX nib and 2.0ml ink capacity sets a new standard for beauty, elegance, and performance while recapturing a timeless classic design first introduced in 1929…only bigger and better!  The pen is constructed using the finest materials available.  The pen body and cap material is made of Cellulose acetate exclusive Green Seaweed for Wahl-Eversharp, a gorgeous material.  All exterior metal is heavily gold plated and the internal mechanism is rhodium plated solid brass.
Dimensions: 150mm long 23mm diameter at clip; 18mm diameter barrel.
Material: Celluloid Acetate. Solid Brass internal mechanical parts.
Clip and trim: 14 k Roller Clip and trim heavy 14K Gold Plated. 
Nib: Solid Gold FLEX or SUPERFLEX  personal Point 'All-In-One' nib ranges from fine to double broad by variable hand pressure.
Ink Filling System: One touch "Chilton Style" Pneumatic filling.  2.1ml capacity