Description
Wahl Eversharp Signature Classic Collection Red & Black Fountain Pen with Rhodium Trim
 Please note, that as Authorized Retailers for Wahl Eversharp, there is no discounting on the brand. But we can include free shipping. Use the coupon "DECOBAND" to get free shipping on these pens! The coupon is for $20. For my international customers, please contact me direct and I can invoice you so that you can enjoy the full free shipping benefits.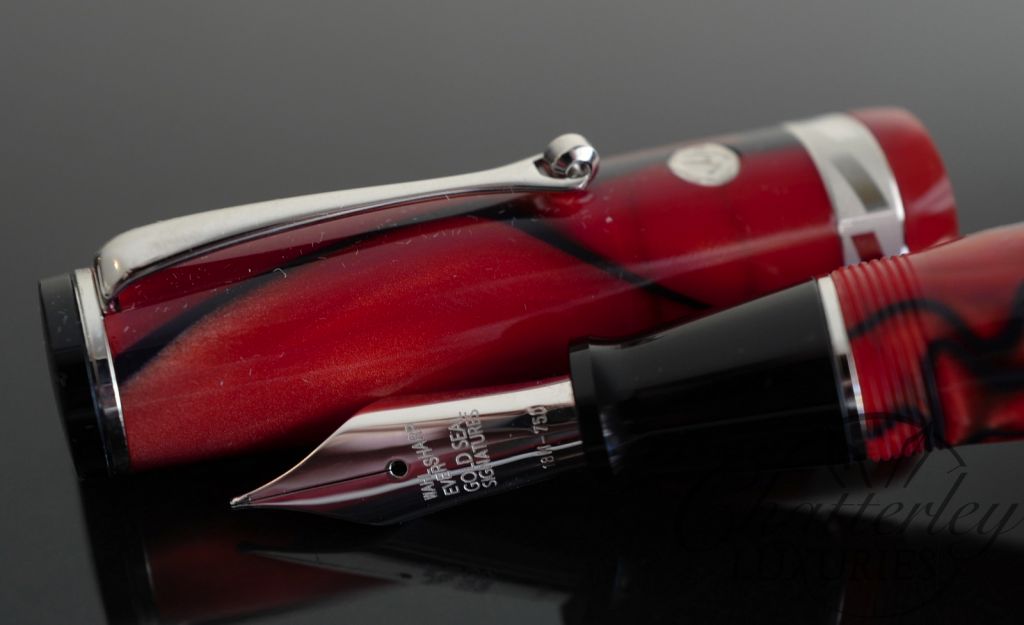 The WAHL-EVERSHARP SIGNATURE piston filling pen with WAHL-EVERSHARP GOLD SEAL nib sets a new standard for beauty and elegance by recapturing the classic design original size DECOBAND pens first introduced in 1928!  The pen is constructed using the finest materials available.  The pen body and cap material is highly polished Acrylic Resin.  All exterior metal is heavily rhodium plated and the internal mechanism is made of solid brass.
Dimensions: 136mm long 18mm diameter at clip; 15mm diameter barrel.
Material: Acrylic Resin Cranberry pearl and Black with rhodium plated solid Brass internal mechanical parts.
Clip and trim: Heavily plated 14k gold Plated Roller Clip and trim.
Nib: 18K Gold Seal engraved special alloy Solid Gold SEMIFLEX
Ink Filling System: Permanent Piston with ink view window
Packaging: While supplies last: Black Piano Lacquer MDF box.  Later: followed by Chic WAHL-EVERSHARP Logo Design display box embossed with gold foil WAHL-EVERSHARP outside with "clamshell" display inner box, WAHL-EVERSHARP booklet, and Warranty Registration Card.