Chatterley/ Montegrappa Extra Bowenite Jade Marble Limited Edition Fountain Pen
Introducing the Montegrappa for Chatterley Extra Bowenite Jade Limited Edition Fountain Pen. This Extra is made from amazing natural Bowenite.
Bowenite is a hard, compact variety of the serpentinite species antigorite, (Mg3(OH)O4Si2O5). Classed as semi-precious gemstone it has been used for tools, weapons and jewelry all over the world by many cultures.
The cutting process for this Marble is exactly the same as is the Sapphire (lapis) pen. They use the most stable parts of the marble and then turn them as they do the normal Otto. Their process makes the pen very stable and suitable for pens that can be used every day.
-Sterling trim with rose gold vermeil plating
-In House Piston Filling system
-Oversized #8 18k nibs, finely engraved
-Ebonite Feed
-Limited to only 4 Pens worldwide
"Chatterley Founders Club" price available. On specific Chatterley Designed, Collaborations or Exclusives we will be offering a special price for anyone who has previously bought any Chatterley Collaboration/exclusives from us. Just email us at info@chatterleyluxuries.com to let us know when and what Chatterley pen you purchased from us to get the Founders Price.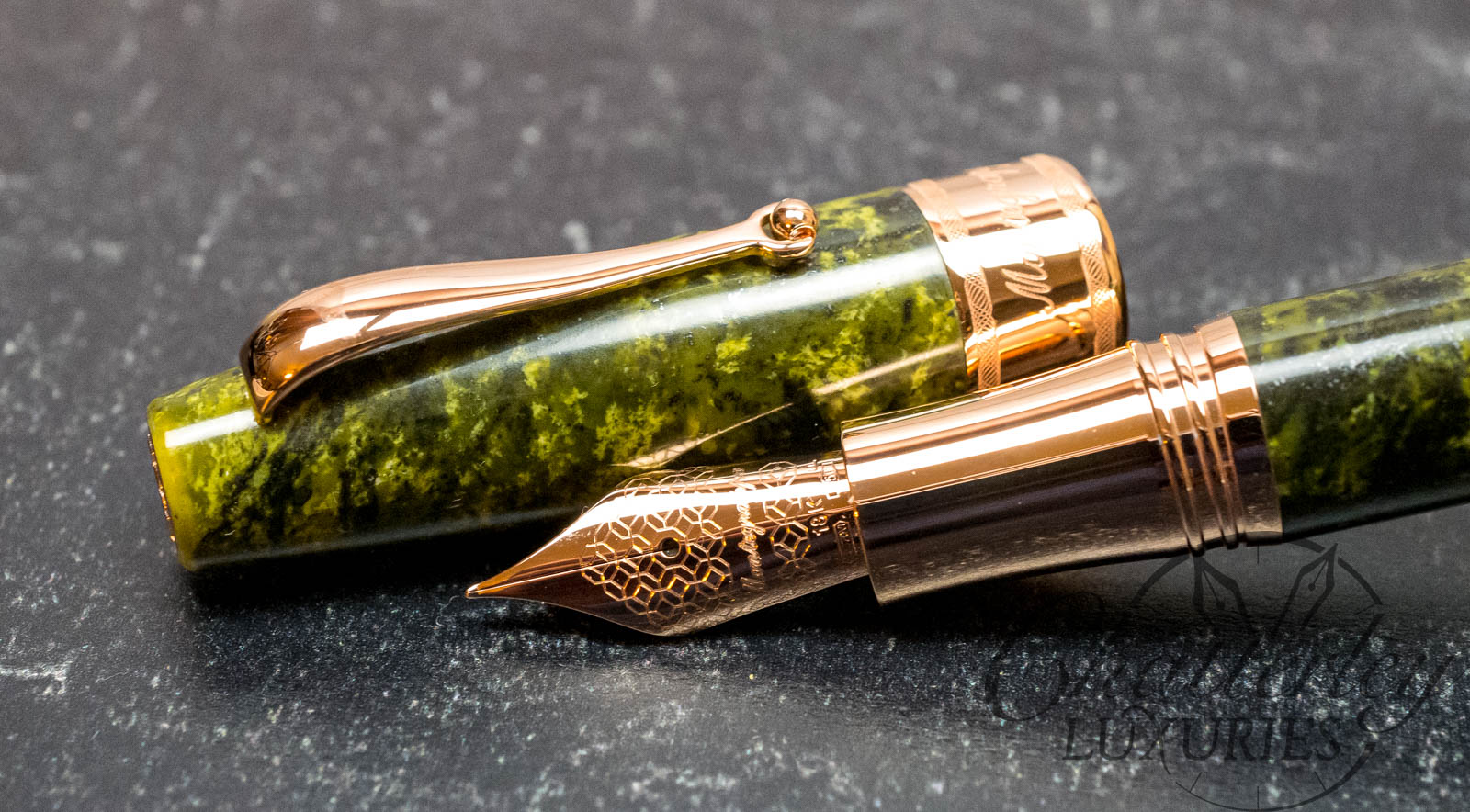 Inspired by a model from the thirties, Extra 1930 was designed for people who love classic design and original colors and decorations. A manifestation of Montegrappa values, Extra 1930 combines the innovation of state-of-the-art technical solutions with the tradition of its aesthetic precious metal, the colors of the quality celluloid chosen for Extra 1930 were inspired by models from the Montegrappa museum.
Montegrappa introduces a terrific line made for lovers of fountain pen writing. The new Extra is named such because of its oversized 18kt gold nib. This unusual size allows the Extra to have a unique flexibility and a generous ink flow.