Classic Pens CP8 Murelli Pens Flamme (Flames) Fountain Pen
This pen has been lovingly used.  It comes complete with box and papers.  It is equipped with an 18kt Medium nib and fills via cartridge convertor.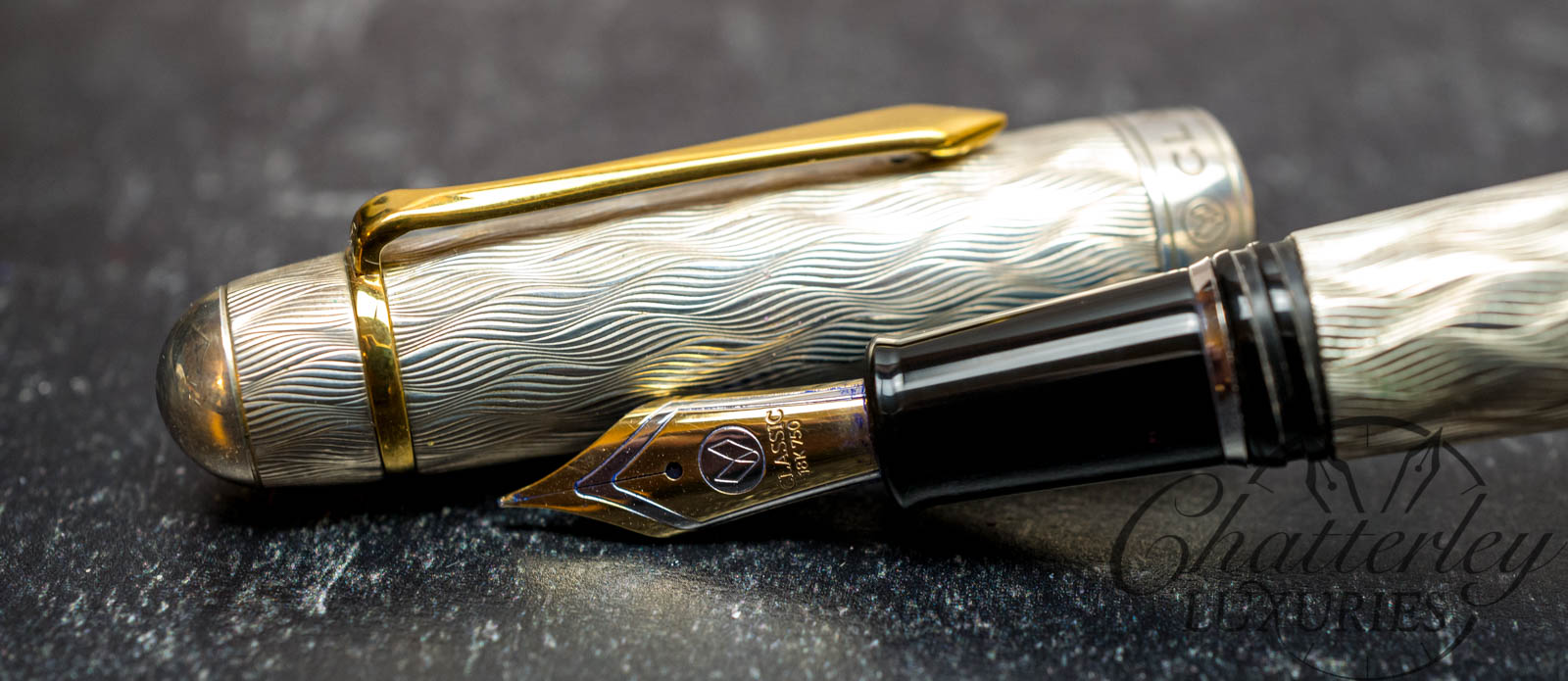 The eighth limited edition in the Classic Pens CP series is the CP8 Murelli Pens Flamme and Vannerie. It is the fruit of the cooperation between Classic Pens, Aquila Brands and Murelli. The series was launched in 2008.
The pens were manufactured in Italy by Aquila Brands to the specification of Classic Pens. The Aquila family is well known and respected in the pen industry for having years of credible reputation as owners and manufacturers of the Montegrappa Brand in the past as well as their current flagship Tibaldi Brand. In particular, they are famed for their sterling silver limited editions.
The CP8 series is named in honor of the Murelli Family. Mr. Robert Murelli, a master craftsman in guilloche engravings, founded the company Murelli R.S.A.R.L. in 1949.
The Murelli Company has established a reputation in working with international pen manufacturers such as Parker, Waterman, Sheaffer, S.T. Dupont, Cartier and others creating, over the years, many exquisite guilloche engravings for fountain pens and lighters.
Nowadays, guilloche engravings can be created with modern, linear engraving machines and computer technology. Despite that, the Murelli family has kept the treasured old machines in impeccable condition and which form a museum of sorts that keeps alive the engraver's art as well as the Murelli tradition.
The working relationship between Classic Pens and Murelli goes back to 1990 with the CP1 Targa, the first series of the CP Collection. Mr. Robert Murelli was supported by his wife Gilda who worked with him over the years and is an expert engraver. His son Marc Murelli, who inherited the talent of his father, is now the head of the company and with his wife Agnes, a part of the company since the age of sixteen, they are continuing the family tradition.
In observance of the Murelli tradition, the family was enthusiastic in reactivating the machines of earlier eras from their museum to create exquisite engraving designs for the Classic Pens CP Collection, unequalled by today's modern technology.