Classic Pens LB6 Virtues Limited Edition in Celestial: Space Blue Faceted Fountain Pen
This pen is lightly used, complete with box and papers. It has a Medium nib Ground to a fine by Michael Masuyama. Its in excellent condition and really a striking pen!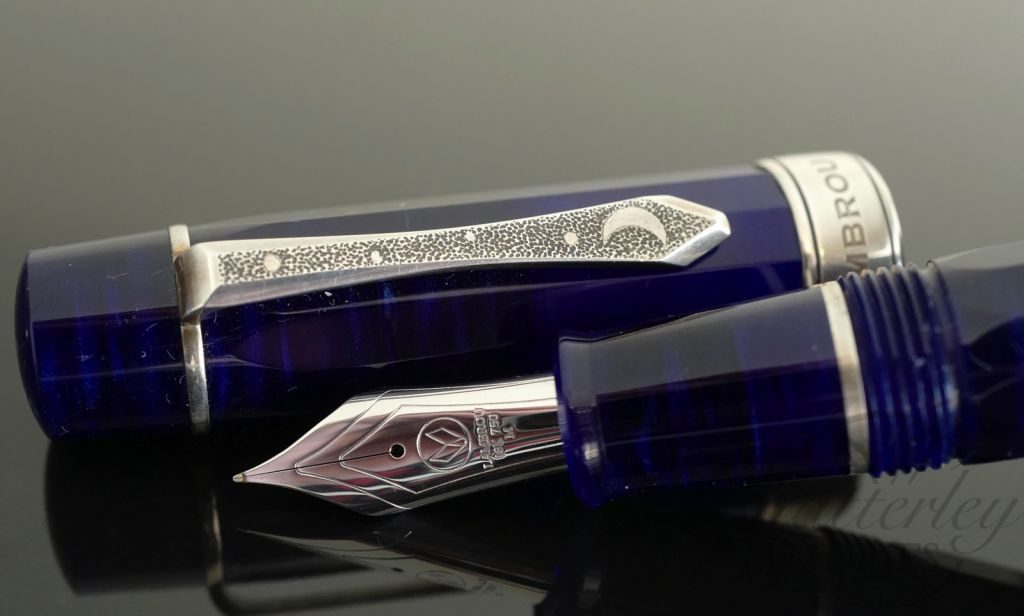 Lambrou Pens continues its positive working relationship with the unique Californian craftsman and artist Paul Rossi, a relationship which began is 1998, to create the LB6 Virtues series.
The canvas is the company's Mythos® oversize pen at 6.0 inches long.
The Virtues are fitted with the Peter Bock G-380, 18-karat gold oversize nib unit. The nibs are adorned with the Lambrou Pens graphics, the ebonite feed enhances writing performance.
The Passion in Flame Red and Celestial in Space Blue were introduced in 2015 and formally launched at the Los Angeles pen show in February,2016. The nibs are rhodium plated, the clip and trim are in sterling silver. The new art pens are housed in quality wood boxes.
Celestial
Astral, Eternal. The art is Stars and Half Moon, the material Space Blue. As such, the art and material compliment the Virtue name.
Superb Detailing
Paul Rossi hand crafts each and every LB6 Virtues art pen. The clips are textured by Paul with a design to compliment both the name, and the material finish of each art pen. The Passion clip is textured with flames, the Celestial with stars and semi moon.