Up for sale is the #1/50 Conway Stewart Burgundy Blush Wordsworth Limited Edition Fountain Pen. This pen is fitted with an Italic Broad 18kt gold nib. Other nib grade options may be available, please contact us at info@chatterleyluxuries.com if you prefer a different nib.
Each of the Wordsworth Burgundy Blush writing instruments is crafted from a unique piece of this wonderful hand made material resulting in every Burgundy Blush being a one of a kind expression of the British pen maker's art.
The Wordsworth model brings a fresh, modern style to the timeless mid-size flat top look. With a slight taper to the barrel end and a gently rounded cap top, the Wordsworth ushers the flat top design into the twenty first century, while still holding true to the classic styling cues that made the original Conway Stewart pens famous during the 1920s. The traditionally styled Conway Stewart clip ensures that the Wordsworth is always ready to hand in your pocket and the cap and barrel are also adorned with 18 carat solid gold bands for the crowning touch of elegance. The combination is at once both warm, rich, and luxurious.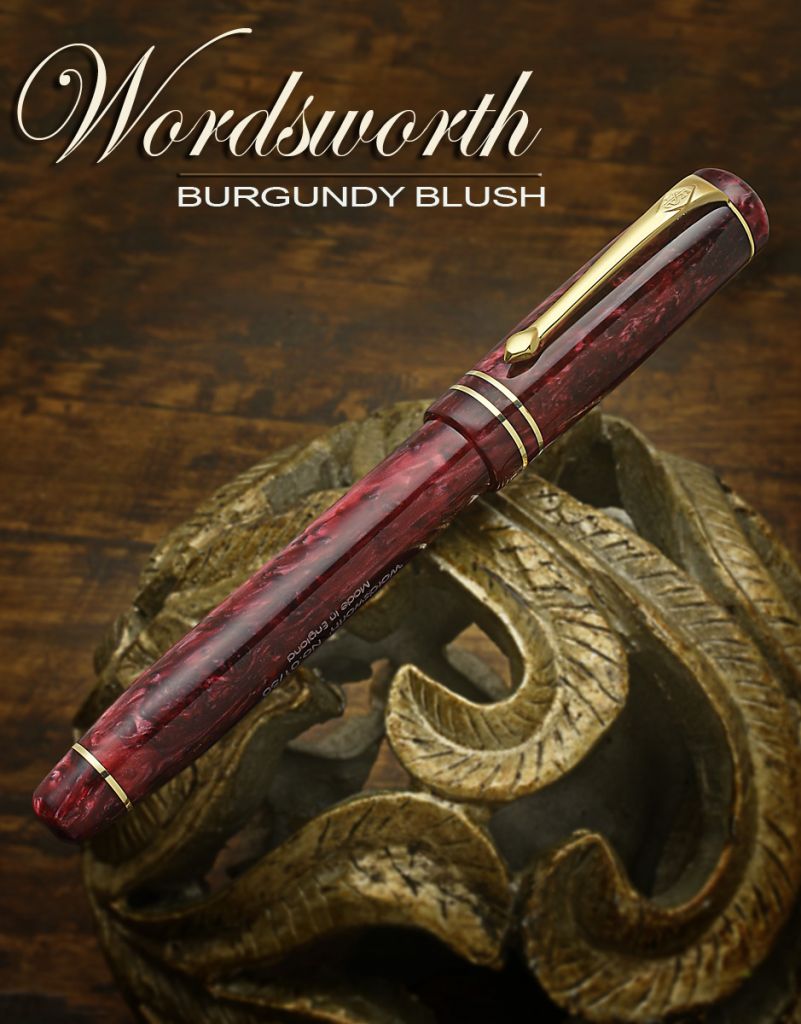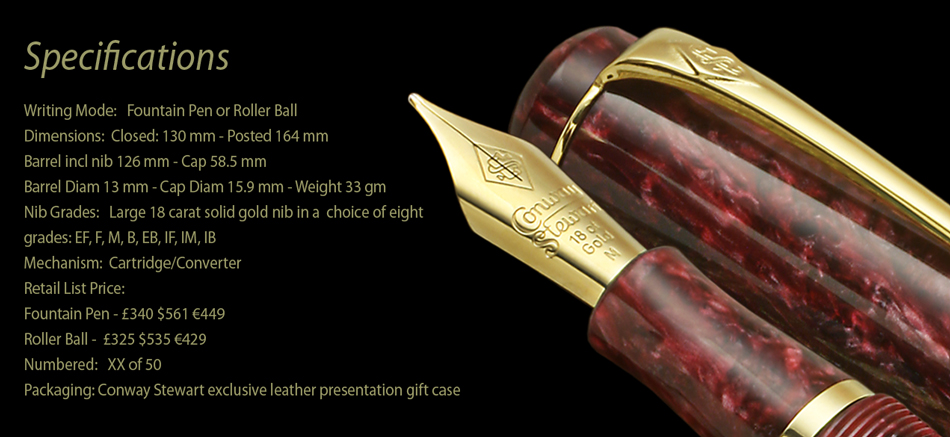 The packaging for the Conway Stewart Burgundy Blush special edition has been designed to house your pen and to serve as a showcase pen stand for the desk. The display box is crafted of luxurious full grain leather in a rich black color. Not only is this an elegant and stylish presentation to house and protect your gift, the top of the lid can be reversed to make an executive desk stand for display.
Retail List Price Fountain Pen – £340 $561 €449
Limited edition of just 50 numbered pieces available in a choice of fountain pen or roller ball writing modes.