Danitrio makes beautiful pens using the Japanese skill and craftsmanship that has been mastered over the last few thousand of years. One of their lines of pens is the Hakkaku, which is an octagonal pen (8 sided faceted pen). The painting on the pen is superb and is the color is very deep, slightly changing on the edges and in the light. This pen is filled via cartridge convertor and has an 18kt gold nib. This pen was made with the Byakudan-Nuri process.
The base for Urushi paintings must be smooth and strong in order to have a good Urushi painting, which will last thousands of years. When the base is ready for painting, the first painting uses Sabi, Urushi mixed with polishing powders, as its base painting and call it Shita-nuri, the base painting. Then, Naka-nuri, the interim painting with Urushi is preparing for better Uwa-nuri, the finishing part of painting. The color of the interim painting has to be selected according to the color of the finishing part of painting. All these works are usually done by Nu-shi, craftsmen of Urushi paintings, painting 7 times in average and it takes 2-3 weeks before the Nu-shi can send back the pens to our Maki-e sh, who will do more Urushi painting works or Maki-e onto the pens.
Basically, Tame-nuri (Ta as tag, me as met ) uses Suki Urushi, transparent (actually rather translucent) Urushi painted over the colored Urushi, which was already painted as the interim layer. If the Shu (red) Urushi was painted as the base color, and then, the transparent Urushi is painted, it is called Shu Tame-nuri or Shu-dame. And if Kuro (black) Urushi was painted first, and then, the transparent Urushi was painted over it, it is called Kuro-dame. After the transparent Urushi was painted, the pen will be finished by Togidashi or Hana-nuri.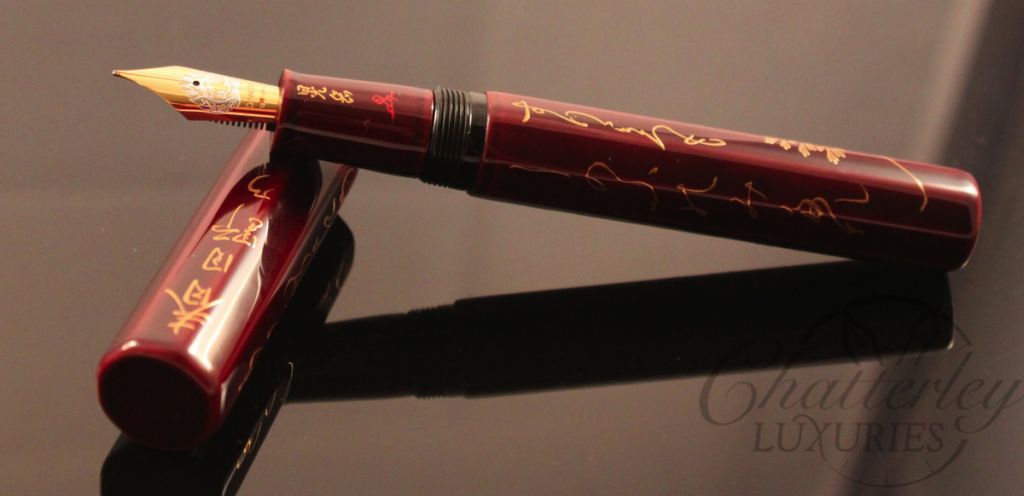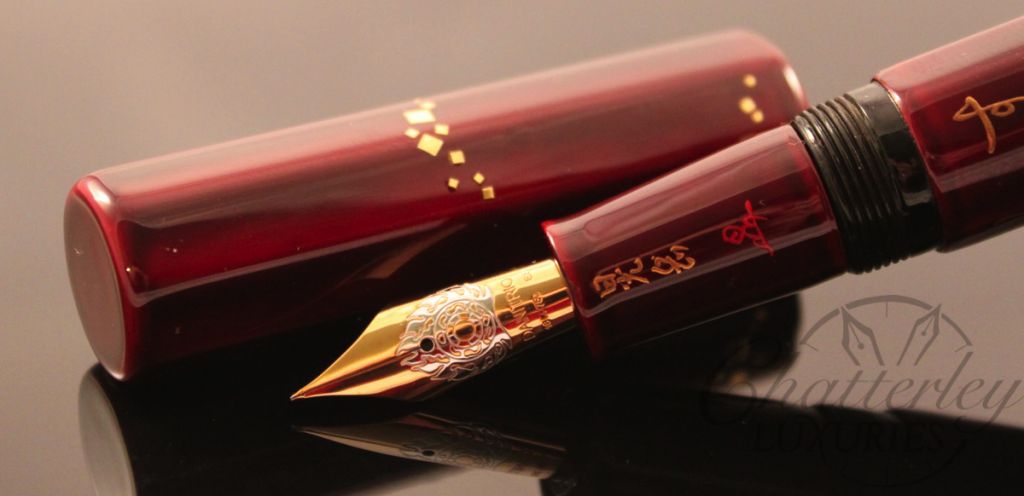 There is no 100% transparent Urushi. The clearest Urushi still has a light brown or amber color. The interesting thing with Tame-nuri is when the transparent Urushi is painted over the color Urushi, the color will change because this transparent Urushi is NOT 100% transparent like man-made "Urushi" which is 100% clear.
The specialness of Urushi is that the Urushi has a layer of membrane and the color of the layer will be lighter and shinier, and the Tame-nuri will look lighter and shinier within several months to a year.
Our Tame-nuri collection has become very popular, because of the matchless quality crafted by our Maki-e artist, Mr. Koichiro Okazaki.
Craftsmen call Urushi is a living thing. Its qualities differ even from the same trees, but quality is different from the trunk or branches. Different qualities from different trees or different areas or countries.  Then, crude Urushi must be refined to make more than 10 different qualities of Urushi for different usage. Now craftsmen have to pay more than $600.00 per pound for genuine Japanese Urushi, $250.00 for Urushi imported from China.  They use it in different occasions and different places, while manmade Urushi or plastic paint only cost a few dollars a pound.   Genuine Urushi is like pure gold only for fine jewelry and pure gold is too expensive for cheap works with cheap materials. The translucent Urushi has to be made with Japanese Urushi, because Urushi from China or Vietnam are all black and the sap from the trees and can never be refined to be Suke-Urushi.
This pen is equipped with a Soft Extra Fine nib. Other nibs available for this pen in Soft grade in sizes EEF, EF, F, M, B, Stub. If you are interested in a different nib, please email directly to info@chatterleyluxuries.com
KG88S-6WN  Kasugano     Filling system   c/c   Short Octagon  MSRP $2,000
Here is the Kasugano poem translation. (It is really a song)
Kasugano-no Wakamurasaki-no Surigoromo
Shinobuno Midare Kagiri Shirarezu
A guy trying to hunt at Kasuga field, he found a girl living there very beautiful and
cut the sleeve from his hunting suit and wrote a song on it to her that he was in love with her
endlessly.
Here is some more information on the origins of this poem/song.
Ise Monogatari (Tales of Ise)
Ise Monogatari is a collection of Japanese poems written in the early Heian period (794-1185) but the writing lasted for more than 50 years. In the beginning, the hero, believed to be an aristocrat, Ariwara Narihira (825-880), was a romantic poet and the tales were  written as a form of biography. But this theory was overturned by the fact that many of the poems were written by some other unknown persons later after Ariwara's death.  The tales include love, travel, game and friendship, etc. and the tales were increased during the period and it is composed of 125 short episodes today.  The tales were highly valued by the people and greatly influenced "The Tales of Genji" in later years.
The Tales of Ise were so popular in Edo period (1615-1868) that there were more than 100 different "Ise Monogatari" with illustrations.