Description
Delta Maya Limited Edition Vermeil Non-Stop Rollerball Pen #1/50
This is limited edition number 1/50 of the edition.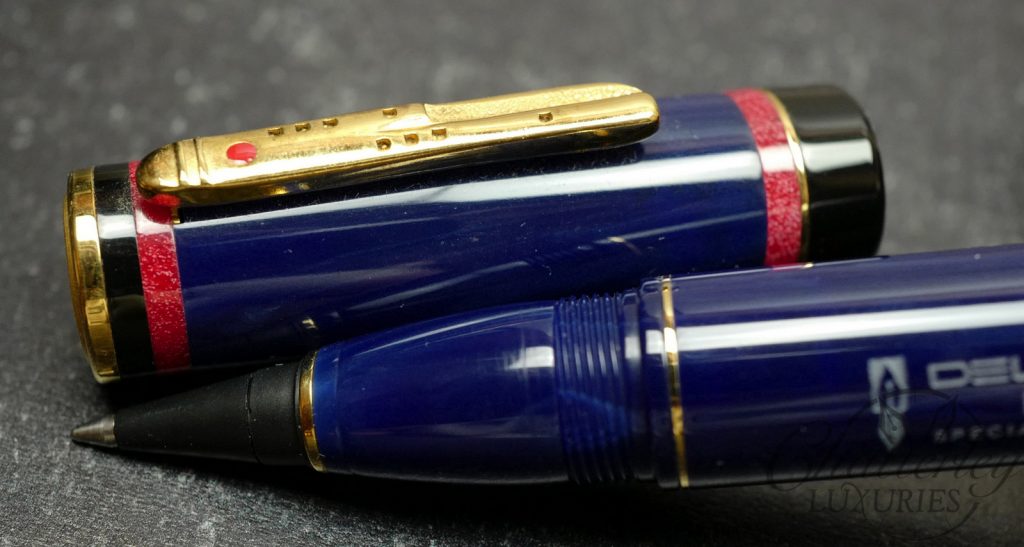 The Delta Maya Limited Edition Vermeil Non-Stop Rollerball honors the Mayan Civilization, and is the 8th edition of Delta's Indigenous People series. The Mayan civilization began around 2,000 B.C. in the Yucatan Peninsula and Central America and is regarded as one of the most sophisticated ancient cultures. The Delta Maya Non-Stop Rollerball is hand-turned from bars of blue and red resin – colors commonly used by Mayan Warriors as body paint. The vermeil accent band is decorated with motifs from Mayan potters. The pen clip represents a clay flute called Chililihtli. On the crown is a depiction of the Mayan calendar.
The Delta Maya is also available in a special edition vermeil fountain pen, vermeil Non-Stop rollerball or limited edition silver fountain pen. Each Maya pen is limited to 800 pieces worldwide.
Additional Information
Regarded as one of the most sophisticated of ancient cultures, the Mayans built magnificent cities and were advanced in astronomy, math and languages. Mayan hieroglyphic writing is a constant source of wonder to scholars, as is the advanced calendar system they developed to keep track of days and foresee the future. The Maya famously predicted the end of the world on December 21, 2012 A.D. Although conquered by the Spanish by the 1600's, Mayan culture still exists in languages spoken by some six million people. The MSRP on the Delta Indigenous Peoples Collection Maya Limited Edition Vermeil Non-Stop Rollerball Pen is $635.00