Description
Montegrappa Desiderio Chocolate Fountain Pen Closeout!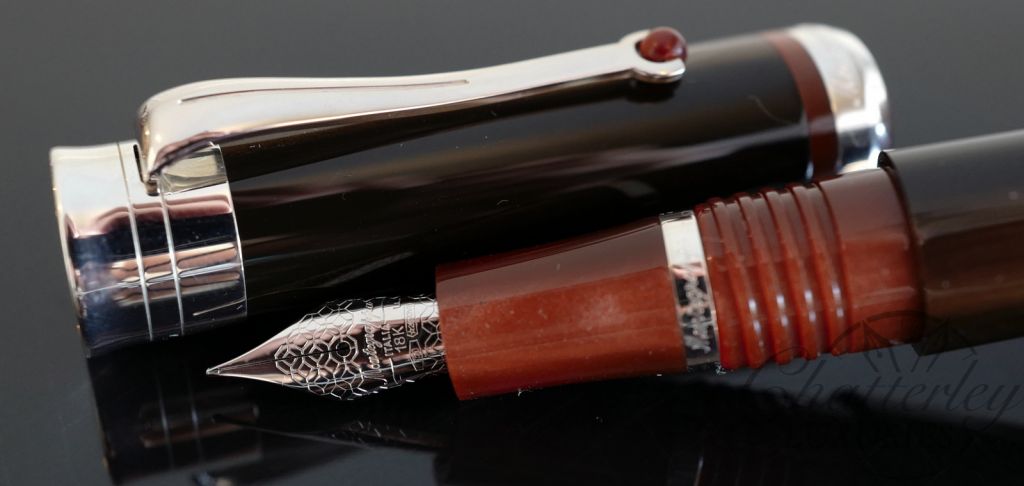 Embarking on a journey to touch the soul of the writer, Montegrappa – Italy's oldest and most respected manufacturer of fine writing instruments – has identified three of the most important human conditions that feed the poet, the songwriter, the belle-lettrist, the lover. Emozione, Desiderio and Passione form a triumvirate of pen families that express our most powerful thoughts and feelings.
Desiderio represents deeply-felt desire, the longing a man or a woman has for the target or their ardour. It may be the need to perform a particular function or role, or having a wish come true. It is a most powerful force, one that fuels great art, heroic achievement, herculean effort. But it is also personal, an inner drive that craves fulfilment or satisfaction. When it flows from the mind of the musician, it can transcribe the notes to an epic symphony or a plaintive ballad. For another, it will yield a love letter that will scorch the page, or a poem that will wrench a response from the heart of the reader.
Embodying this in a pen is a challenge that has produced a series of writing instruments imbued with mystery, for it is impossible to explain the power of sheer desire. Desiderio writing instruments are made in pearlised bi-colour resin, the user choosing from red and black, grey and blue or beige and brown, with trim in sterling silver and a filigree-cut 18kt gold nib.
No two are alike, just as all desires are unique, for the material that forms each cap and body possesses its own swirling pattern.
Montegrappa's signature octagon accents the top, while the rolling ball at the end of the pocket clip and a thin line around the cap are coloured to contrast with the body. Upon removing the cap, the second colour is also revealed at the writing end of the fountain or the rollerball pen.
Desire reaches fulfilment with a choice of four writing tools. Desiderio is offered as a fountain pen in both cartridge and converter-fed form, a rollerball pen, a ballpoint pen and a mechanical pencil. Each exists to express your yearnings and aspirations.
MSRP-$850