Montegrappa Ferracina Timeless Oversized Dark Blue Celluloid Limited Edition Fountain Pen
Dispense with time and lose yourself in the writing.
-Piston Filled
-Oversized #8 nib
-Ebonite Feed
-Oversized body
-Sterling Silver trim
MSRP $1995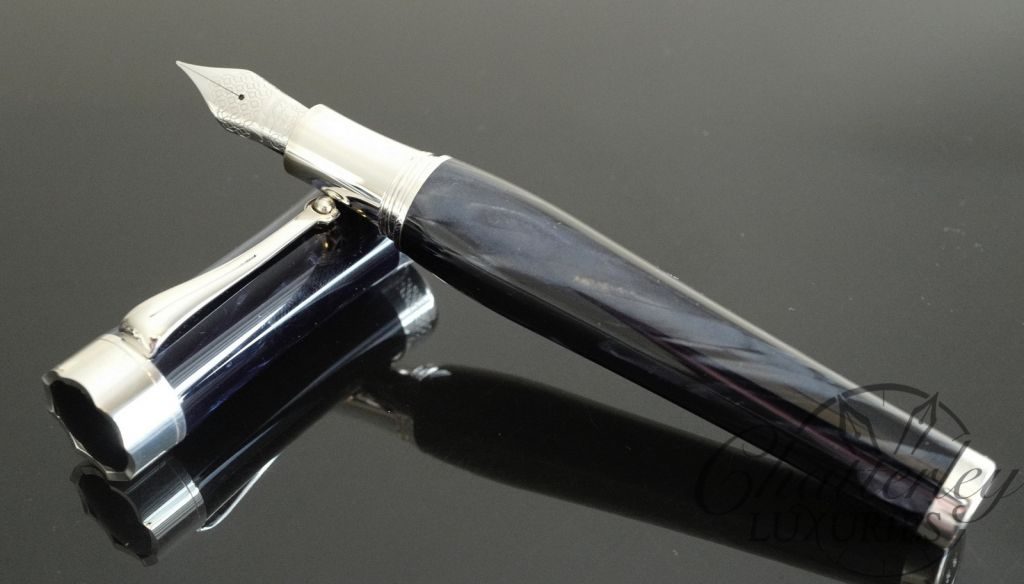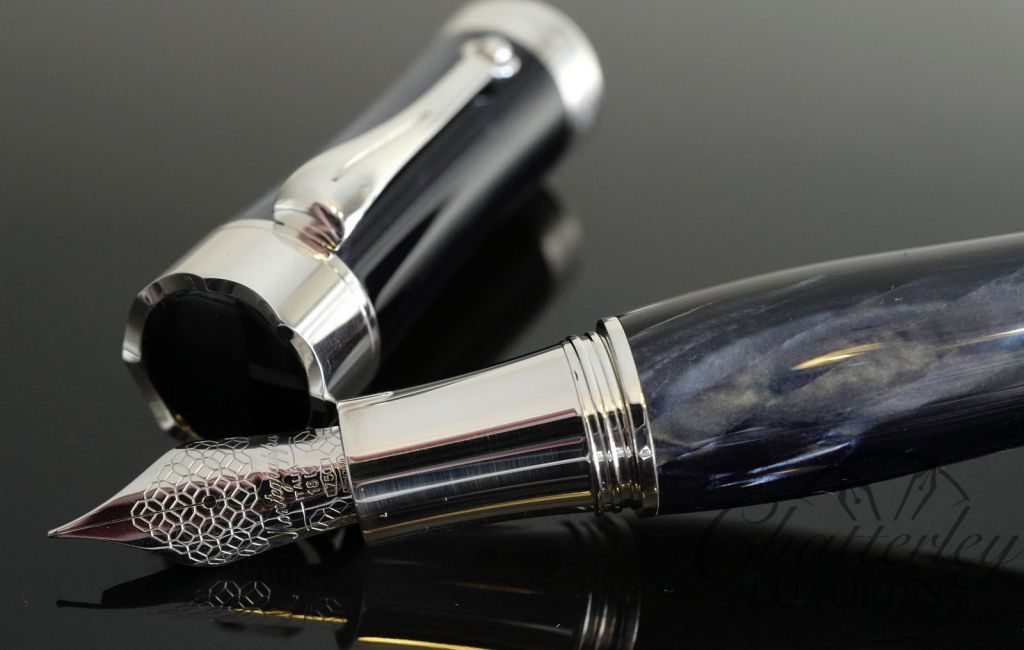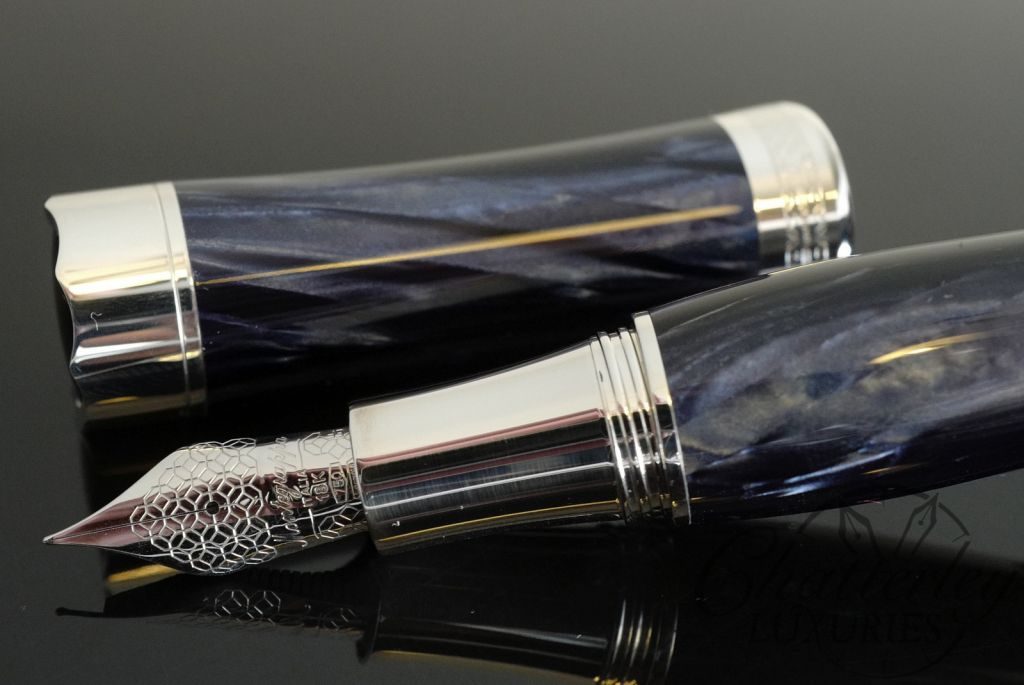 Here is a comparison shot of the Shiny Circles version next to a Montegrappa Extra to show the size of this model.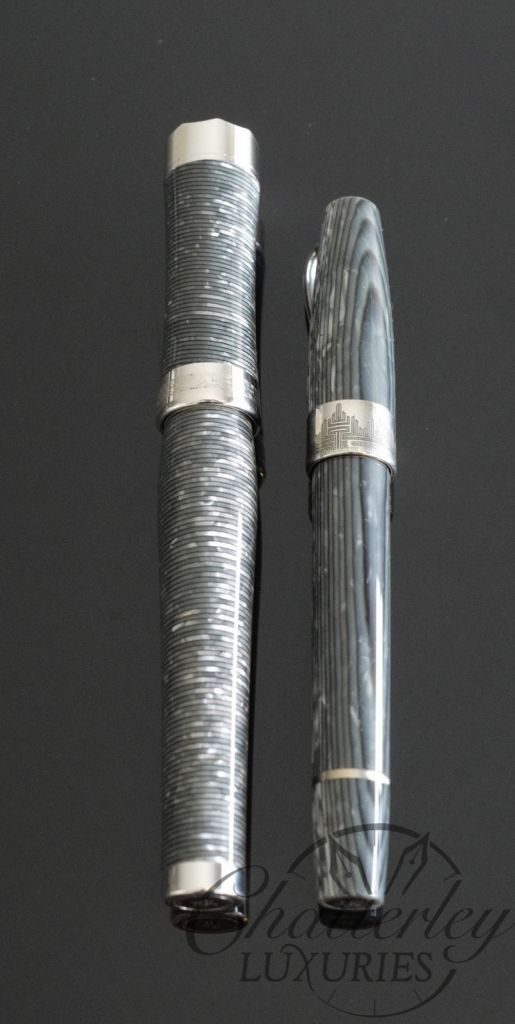 Montegrappa's Bartolomeo Ferracina reappears in a new guise. Two collectible micro-batches strip the expressive silhouette back to its luxurious essentials. Precision engineering, sterling silver and a voluptuous celluloid body add up to timeless Italian quality. 
While Bartolomeo Ferracina's clockmaking prowess made him a celebrity figure in 18th century Italy, his engineering genius helped transform Europe's most prosperous region. The Ferracina Timeless dispenses with timekeeping, but continues a tradition of local engineering supremacy with deep roots.
The clockwork precision of Montegrappa's proprietary piston-fill system is the hidden genius beneath the contoured celluloid exterior of the Ferracina Timeless. This reference-level complication uses a 32-tooth cog and haptic feedback to bring unparalleled exactness to the act of drawing ink.
Two special US-exclusive releases revisit the 2018 Genio Creativo edition by making control their centerpiece feature. For a writing instrument of lesser standing, perfectly handcrafted precious metals and Mazzucchelli celluloid would suffice. But the Ferracina Timeless confirms beauty is more than skin-deep.
The colors applied to this rare, revisionist model reference the legacy of a Venetian technological titan. Dark blue celluloid evokes the waters of the Brenta River. Along its banks, Montegrappa's headquarters lie only a short distance from the signature Bassano bridge that Ferracina rebuilt following the 1748 floods.
Available in a numbered edition of only twenty pieces, its organic blue beauty is contrasted by the structured lines of Shiny Circles. Here, inspiration comes from the roof of Padua's royal Palazzo della Ragione – another monument of innovation created under the leadership of the master engineer.
These intimately designed fountain pens feature an 8mm 18K gold nib with an ebonite feeder. Like the centuries-old designs that informed their creation, Ferracina Timeless delivers a blend of form and function that far exceeds its curvaceous charisma.  
Immaculate mechanics
Venetian engineering supremacy is celebrated in a study of one of its most celebrated exponents. The legacy of Bartolomeo Ferracina (1692-1777) shaped Europe's most prosperous region, and lives on in the satisfying precision of Montegrappa's patented piston filling. For a lesser writing instrument, perfectly crafted precious metals and celluloid would suffice. But beauty is more than skin-deep…