Namiki by Pilot Aya Fountain Pen Collection
Contact us for our Chatterley Loyalty pricing, info@chatterleyluxuries.com
A note on these pens. They are very large, much larger than a 149. We have taken a few comparison pictures next to a MB 149 below. Besides the Emperor, these are the largest pens and largest nibs in the current Namiki line up.
The nib sizes as well are the large size, and the same nib as on the Pilot Custom Urushi. In saying that, they do have some flex/softness to them like the Custom. So it makes this pen the only Current Namiki Pens to have some flex, which is pretty unique.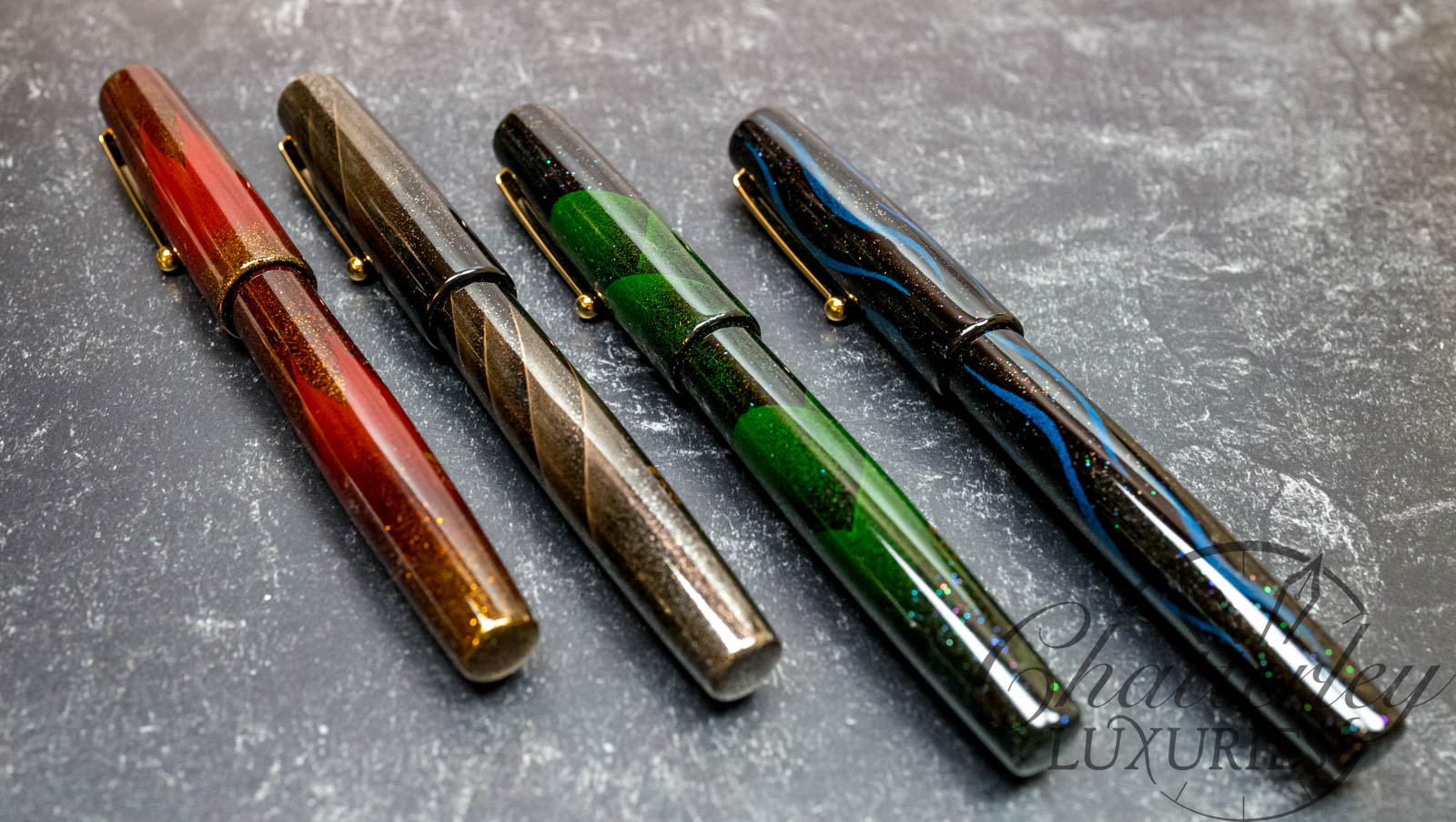 The Aya Collection features a No. 30 pen nib for a soft and smooth touch.  The name of the collection, "Aya", has meanings like beautiful color, luster, shine, and pattern.  Bodies finished with colored lacquer are inscribed with patterns representing various themes, expressing a world of rich color ("irodori") through Togidashi Maki-e (Burnished Maki-e).
There are 4 amazing color options available: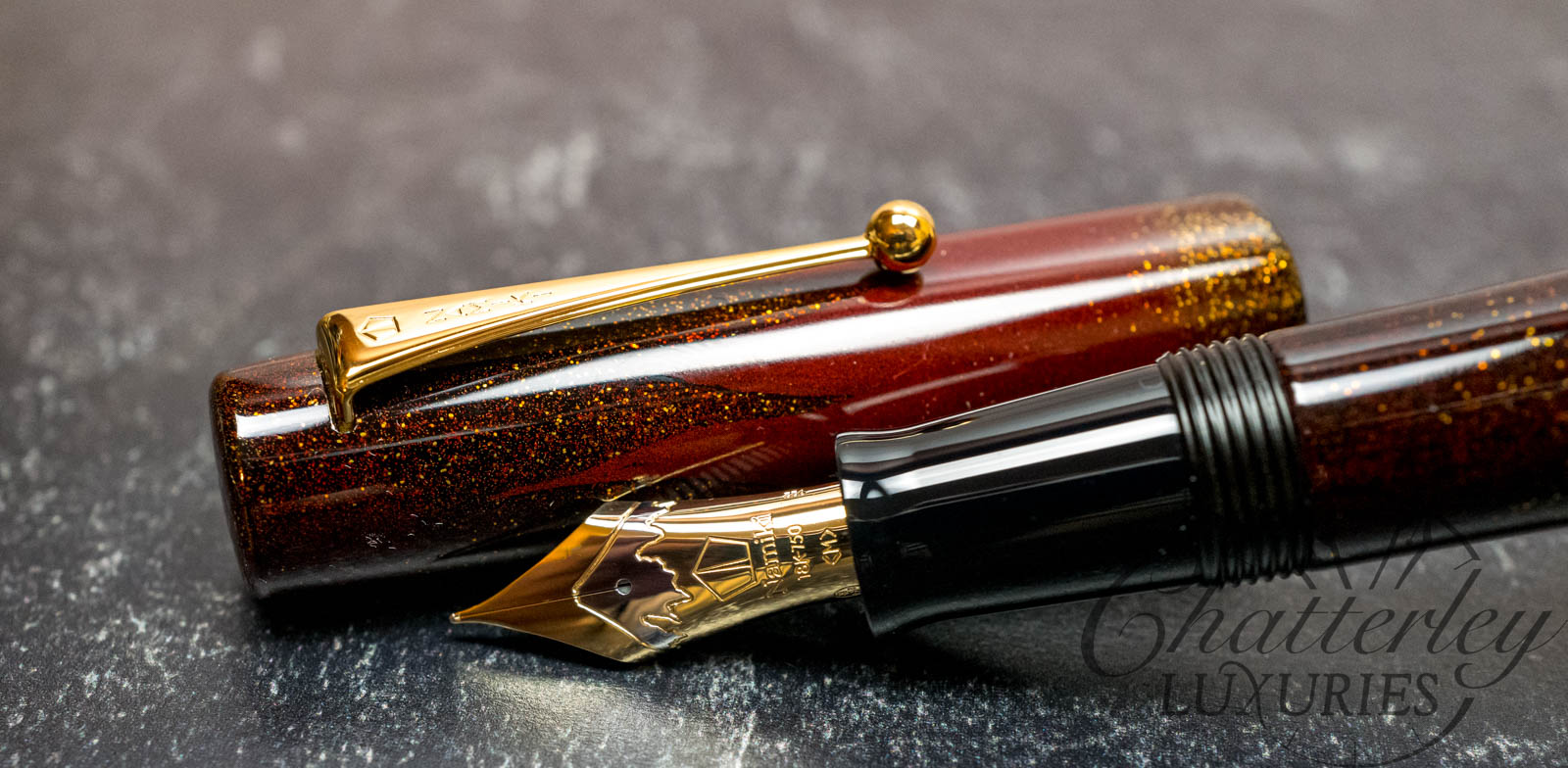 • Akatsuki (Daybreak): the moment when light first appears in the morning. This Japanese word is also
used for a eureka moment or realization achievement. The body of the Akatsuki is a deep, burnished red. Dried red lacquered powders are applied with different intensities, and gold powders and gold-round powders are used in the background before the body is coated in urushi lacquer and burnished and polished to a shine.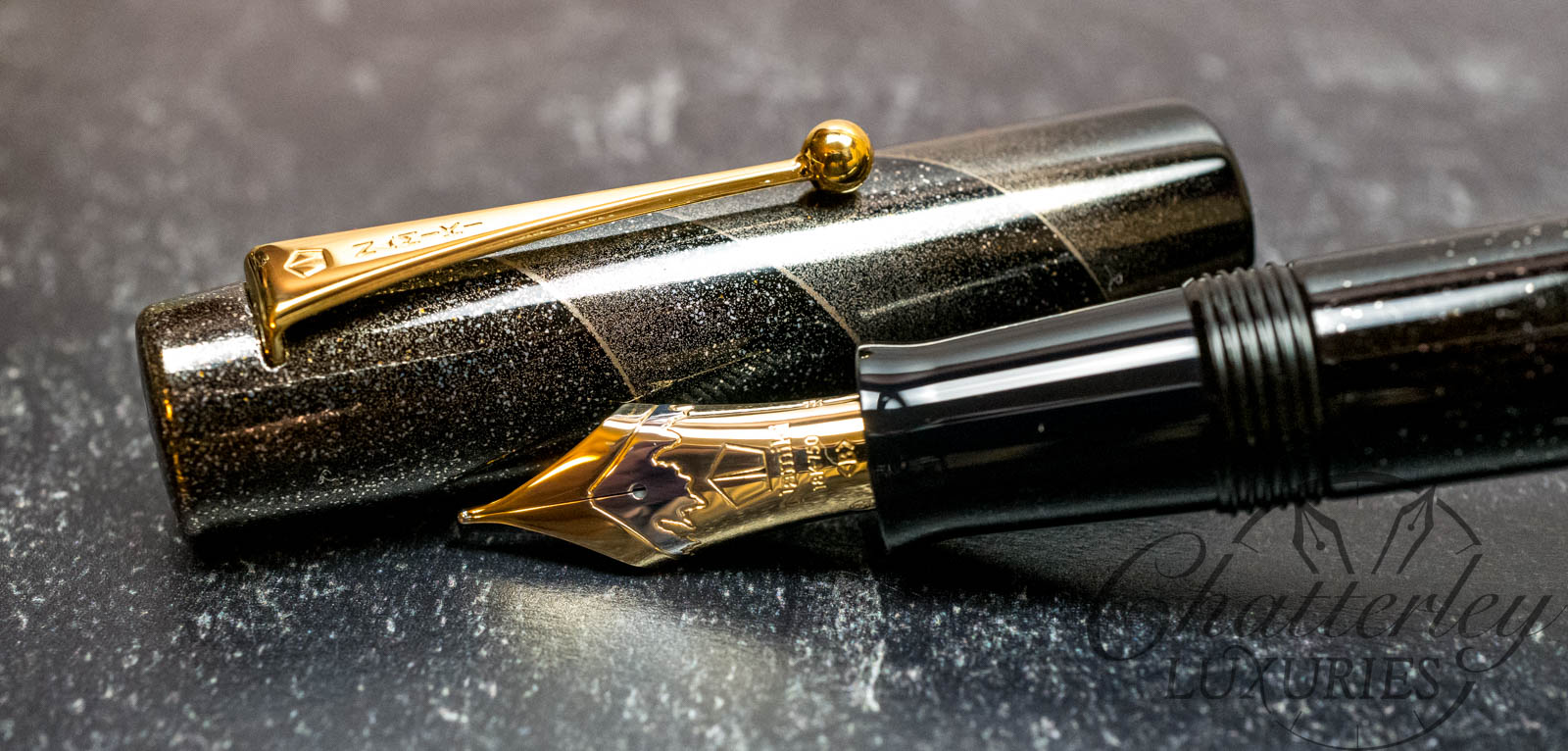 • Hayate (Gale): a powerful gust of wind. This Japanese word is also used to express something that is
pure and lively. The black urushi lacquer is finished with silver-round powders that are applied in various
intensities to express the wind. The design symbolizes the appearance of majestic winds.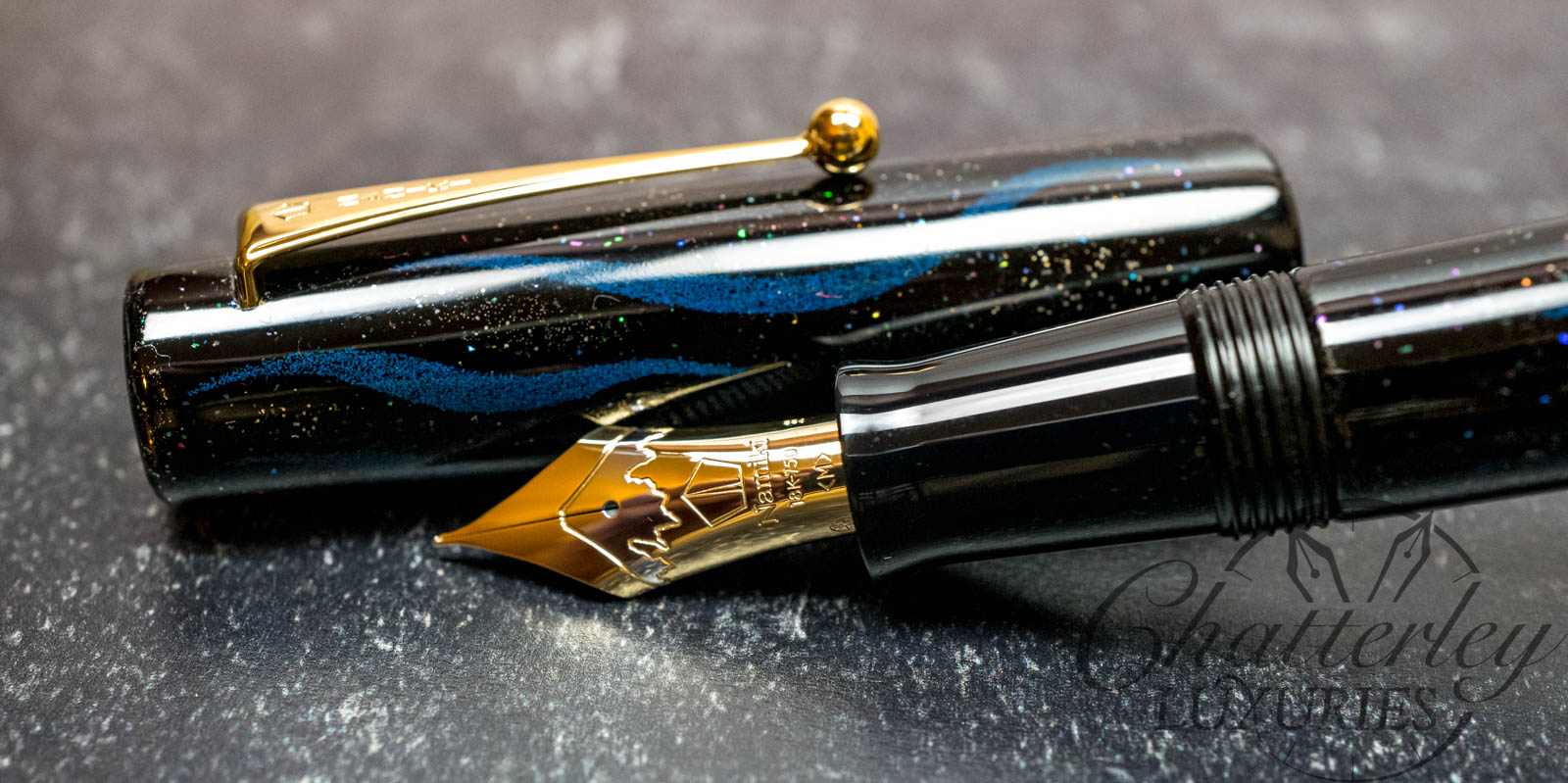 • Seiryu (Limpid Stream): the crystal-clear water that gently flows through the depth of nature in a
calming stream. This Japanese word also symbolizes the calm in nature that enriches the mind. Blue dry
lacquered powders are applied to illustrate the flow of water. In the background, a mixture of crushed
abalone shells, silver-flat powders, and silver-round powders are used to epitomize the brilliant surface
of water.


• Tokiwa (Evergreen): a Japanese word for 'something that will never change.' This design expresses the
evergreen trees on a mountain that flourish without their leaves losing color, even in winter. Dried green
lacquer powders are applied with varying intensities to symbolize the landscapes of mountains using
gradient coloring. Crushed abalone shells and gold-flat-powders are used in the background to evoke a
starry night.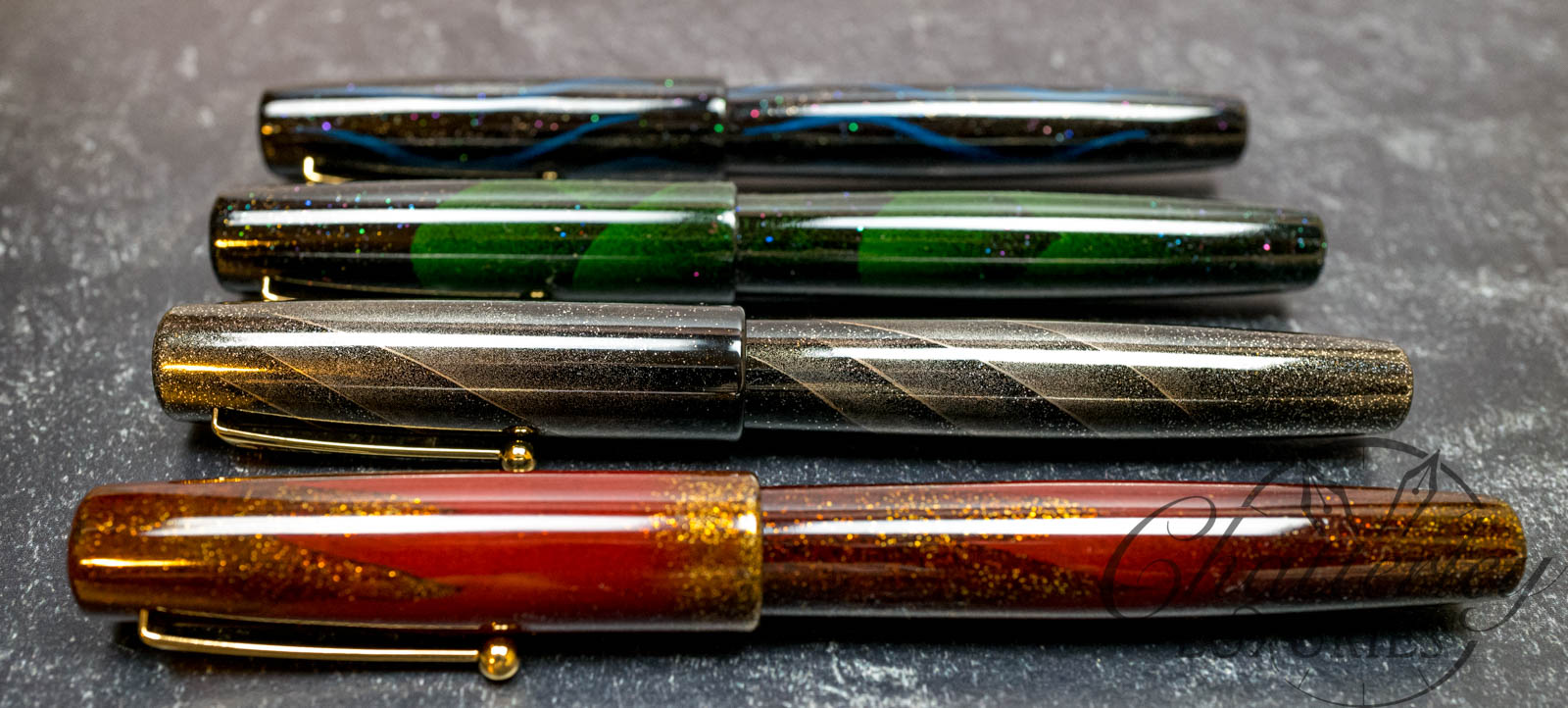 The Aya Collection has a classical vest-type body style and is enhanced with a traditional No. 30, 18-karat gold,
rhodium plated nib featuring the iconic silhouette of Mount Fuji, available in Fine Medium, Medium, or Broad nib
sizes. The Aya Collection offers effortless, smooth writing and is designed to delight the fountain pen collector.
This classical fountain pen is refillable for continued use with a cartridge or Pilot's CON-70 converter and arrives
packaged in a beautiful Namiki wooden giftbox.
PRODUCT SPECIFICATIONS:
• Fine Medium, Medium, or Broad, 18kt gold with rhodium accents, No. 30 nib
• CON-70 converter & blue ink cartridge included
• Maroon cleaning cloth along with Use & Care Guide for Namiki
• Packaged in an elegant, Namiki wooden giftbox
MSRP $3,400
Below is a picture of the Large #30 nib compared to a Montblanc 149 nib.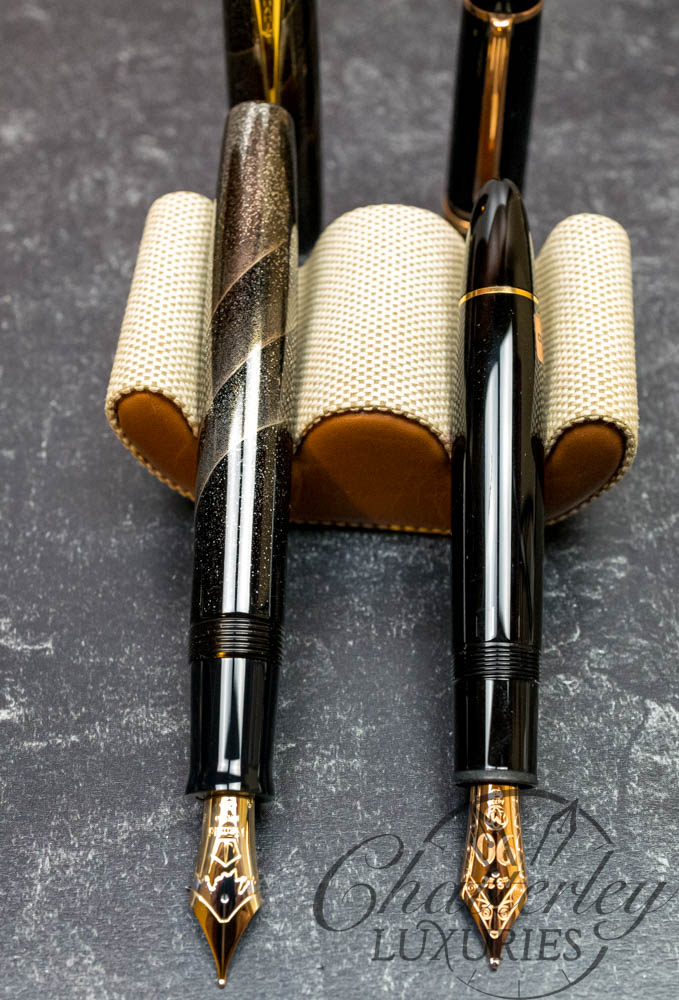 Below is a picture of the Aya compared to a Montblanc 149.