Namiki by Pilot Yukari Tanuki Limited Edition Fountain Pen
Contact us for our Chatterley Loyalty pricing, info@chatterleyluxuries.com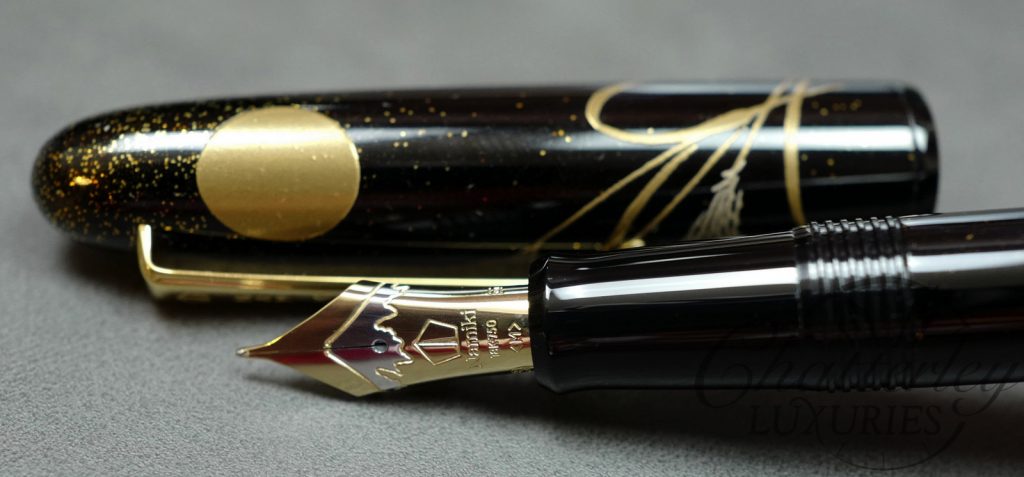 Tanuki are said to be talisman because they bring prosperity and good luck. These legendary creatures are significant in Japanese folklore, art and sculptures throughout history and is reputed to be mischievous and joyful. Tanuki are an important figure to business owners because Tanuki welcome prosperity with the figure's 8 essential attributes, which are called the "8 blessings."
1. Straw hat (protects from hard times),
2. Striking moon eyes (attentiveness to customers),
3. Happy face (joyful life & friendly customer service),
4. Round belly (calm & thoughtful decision making),
5. Flask of sake (virtue),
6. Accounting ledger (confidence & conviction),
7. Impressive tail (balance & strength),
8. Large scrotum (financial luck).
The Limited Edition Namiki fountain pens are made in limited quantity every year. Tanuki will only have 300 pieces available worldwide, 69 of which will be available in the United States. Each pen is carefully crafted and engraved with the traditional Namiki number and artisan signature. Designed and produced by the celebrated artisan group Kokkokai (國光會), Tanuki comes with a #10 18 karat gold nib with rhodium accents that features the customary Mount Fuji illustration. Nib sizes are available in Fine, Medium or Broad.
PRODUCT SPECIFICATIONS:
•              • Fine, Medium, & Broad 18 kt gold nib
•              • 6 Black Ink Cartridges included
•              • CON-70 converted included
•              • Packaged in an elegant presentation box with a signature card and instruction card included
•              • MSRP Price: $1,800