Taccia Limited Edition Horizon- Space Shimmer Fountain Pen
Now fitted with Specialty made nibs by Sailor. The new line from Taccia. A bonus with the Horizon line, is that they come with extra blind cap piece. So, if you would like to post your pen, you can if any urushi gets damaged, you have an extra piece.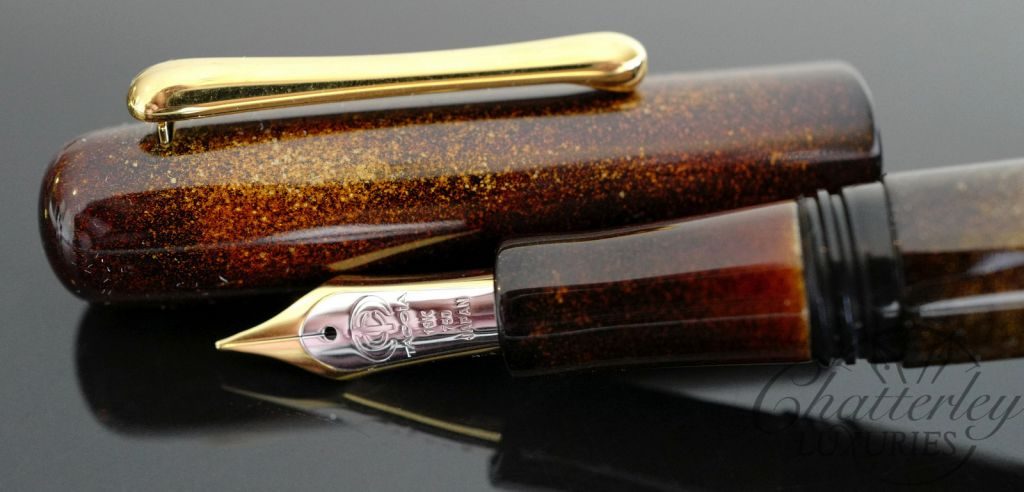 The TACCIA Horizon LE
Each TACCIA collection strives to push the boundaries of what a writing instrument can really be. From our innovative designs to artisan techniques our collections have become renowned for meticulous detail, utility, and elegance.
Our newest collection, the TACCIA Horizon™ Limited Edition Collection, celebrates individual scenes from nature. Each color and pattern was inspired by the colors of the world around us, from summer days to autumn leaves and winter sunsets.
Starting with an ebonite core, each TACCIA Horizon™ LE goes through weeks of painstakingly hand-lacquered Urushi Maki-e. As coats are re-applied and buffed over several weeks, each fountain pen gradually reaches its final form, as a writing instrument worthy of museum display alongside other traditional Japanese lacquerware.
To encourage regular use, we have also included an additional replaceable post (blind Cap). The TACCIA Horizon LE™ comes with a Japanese-made 18-karat gold nib. Limited to 50 pieces.
MSRP is $1295